Spain Verdi, Il corsaro: Generalitat Valenciana Chorus, Comunitat Valenciana Orchestra / Fabio Biondi (conductor), Palau de Les Arts, Valencia, 5.4.2018. (JMI)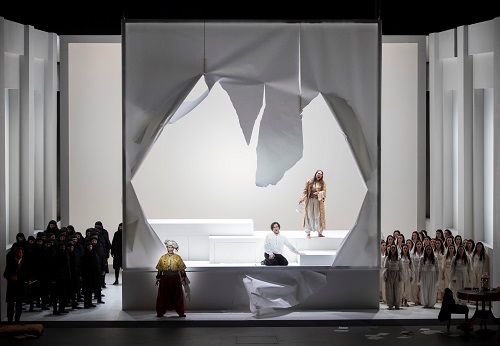 Cast:
Corrado – Michael Fabiano
Gulnara – Oksana Dyka
Seid – Vito Priante
Medora – Kristina Mkhitaryan
Giovanni – Evgeny Stavinsky
Production:
Director – Nicola Raab
Sets and Costumes – George Souglides
Lighting – David Debrinay
It must be said that Il corsaro is not one of Giuseppe Verdi's strongest operas, nor is it among the best work from what he referred to as his galley-slave years. In order for a production of Il corsaro to succeed, all the elements that make up an opera performance must work perfectly. Unfortunately, this was not the case in Valencia. The Palau de Les Art commissioned a new production by Nicola Raab, who had previously done Thaïs here with Plácido Domingo, and it is all rather confusing.
Ms. Raab begins with the huge success that Lord Byron enjoyed in 1814 at the publication of his poem 'The Corsair', in which there are some autobiographical aspects. The protagonist in this staging is none other than Lord Byron himself, who takes the form of Corrado, the Corsair, and the events in the production spring from the poet's memories and imagination.
For my taste, the stage direction is inadequate, and the movements of the chorus are particularly confused. The actors lack direction as well and, to a large extent, seem abandoned on stage. The sets are quite simple, and the costumes are generally appropriate.
Fabio Biondi, one of the two musical directors of Les Arts, is best known for his work in Baroque music, of which he has given outstanding performances in the past. His Verdi, however, lacked nuance and was much too noisy, mainly due to his decision to raise the height of the pit. It makes sense that the pit be raised for Baroque operas, but the size of the orchestra in Verdi's operas makes it unnecessary – unless one wants to turn the orchestra into the main protagonist. The orchestra was very good, as it usually is here, but the chorus wasn't especially notable.
The performance of the singers seems to have been affected by the raising of the orchestra pit – in all cases there was an excess of open sounds. I expect that the singers were aware that the barrier they had to surmount was bigger than usual.
Corrado/Lord Byron was played by tenor Michael Fabiano, from whom I was expecting more. He is an excellent singer who usually pays attention to nuances, but this time there were more open sounds than is usual with him.
I had last heard soprano Oksana Dyka some six years ago, and in this house. Her voice seems to have lost quality, and she continues to offer more decibels than pure singing.
Baritone Vito Priante was Seid, and his voice does not really respond to the demands of the character. It is somewhat light and short on nobility, and he forces it on occasion.
Perhaps the best of the performance of the night came from soprano Kristina Mkhitaryan in the part of Medora. Her voice is appealing, and she sings with gusto, even if the production did not help her. In the secondary characters, the best was Evgeny Stavinsky as Giovanni.
José M. Irurzun