Canada Schubert, Brahms, Turnage, Ravel: Benedetti Elschenbroich Grynyuk Trio [Nicola Benedetti (violin), Leonard Elschenbroich (cello), Alexei Grynyuk (piano)], Vancouver Playhouse, Vancouver, 8.4.2018. (GN)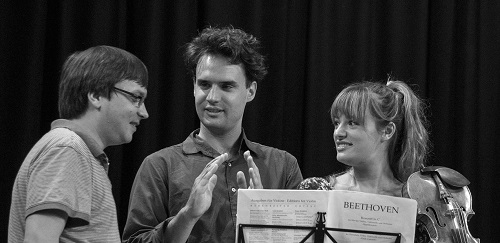 Schubert – Notturno for Piano Trio in E-flat major D897
Brahms – Piano Trio in C major Op.87
Turnage – Duetti d'Amore for cello and violin
Ravel – Piano Trio in A minor
Celebrated British violinist Nicola Benedetti has visited Vancouver regularly over the past decade, but this concert marked the Canadian debut of her trio collaboration with German cellist Leonard Elschenbroich and Kiev-born pianist Alexei Grynyuk. Formed in 2009, originally out of associations at the Yehudi Menuhin School, the trio has a gorgeously large and well-appointed sound that offers playing of strong unanimity, colour and blend. For all of the charismatic qualities of its individual members, the ensemble displays a strong seriousness of purpose on stage.
This concert made quite an impression, revealing a piano trio that not only scores through its interpretative strength but endears in its pursuit of romantic ardour. The results are glowing but reveal some innocence as well: their youthful intensity worked particularly well in the sensual, passionate terrain of the Ravel Trio but less decisively so in the Schubert Notturno and the Brahms Second Piano Trio. Nonetheless, it all charmed in the end, and Benedetti and Elschenbroich came together for a rewarding performance of a duo piece on 'modern love' written for them in 2015 by esteemed British composer Mark-Anthony Turnage.
One has to be slightly in awe of the tonal beauty and strength of these three artists: Benedetti has a wonderful clarity, resilience and expression in her playing; Elschenbroich is slightly more modest, but cunning and probing, while Grynyuk has enviable keyboard touch and flexibility. The musicians pull together with a lovely tonal sheen and overarching weight at climaxes, and always secure transparent detail. Their performance of the Ravel Trio illustrated these attributes to a tee. They found a delicious rhapsodic sense and sensuality in the opening Modéré, moving out to the most explosive surges of energy in the subsequent movement. Everyone contributed to the frisson and tonal weight in the latter, and one observed the tremendous feeling in Benedetti's playing and her ability to spring out to dramatic assertion like a coiled cat. The following Passacaille belonged to Elschenbroich: he opened with a most sensitive cello, with Benedetti joining him to sustain the expressive line with perfection. The finale moved to full throttle, starting from beautifully-appointed filigree textures, then increasing the weight and sense of emotional angst to a fully tempestuous level – just as Ravel intended. Here the sheer strength and sense of yearning in Benedetti's playing was striking, as was the passion and weight in Grynyuk's piano.
The ensemble's inclination towards emotional ardour and resplendent tonal weight perhaps made for a less easy fit with Schubert and Brahms. Nonetheless, the opening Schubert Notturno – the composer's often-forgotten piano trio fragment – started off thoughtfully at a methodical pace, revealing structural and harmonic strengths and a fine lyrical shape to the phrasing. Yet the expositional style eventually became a bit outsize and heavy: somewhat fulsome with too much of a romantic veneer. This seemed to limit the ensemble's ability to probe the varieties of ease and intimacy that are hallmarks of this composer. While the group's tonal synergy was superb, the continuing desire to push forth lyrical lines with overarching feeling – especially in many appearances of the 'big theme' – actually ended up reinforcing the composition's repetitive nature and sentimentality. The reading turned out slightly overbearing for a work that might better be treated with kid gloves.
The Brahms Piano Trio No.2 can take a weightier approach, and much of this performance proved interesting, though the expressive thrust of the playing was again a dominant feature. The opening allegro evinced considerable thought about the movement's structural line and joining transitions, but I'm not sure how spontaneously it worked out. While there was power aplenty in the assertive moments, mixing with moments of a gentler beauty, Brahms' wistful lyrical line did not breathe that naturally. Overall, the playing seemed to aim for strong emphasis and intensity within a 'big' structure, making lots of interpretative points along the way, not least when Elschenbroich would suspend the music with the softest dynamics for contrast. Much of this was instructive, but was there not a trace of calculation present too? This sort of concern was raised when the young Barenboim, Zukerman and du Pré formed their trio years ago – and perhaps a comparison can be taken as a compliment. The ruminative Andante carried this approach on, more fulsome than usual, though it seemed that Benedetti's expression was marginally too impassioned at spots, moving away from Brahmsian lines and more towards those of Franck and Fauré. The sharp precision and playfulness of the Scherzo was interesting and perhaps placed the movement closer to Mendelssohn. The finale hit hard, bringing the work home with true fire; again, some of the piano's emphasis and rubato, and some of the group's 'charging' of climaxes, might be tempered without lessening dramatic effect. But there was a lot of glorious playing here.
A more intriguing highlight was Mark-Anthony Turnage's violin/cello duo, Duetti d'Amore. As its title suggests, this is a modern take on love relationships, a piece commissioned by the artists themselves. The set of five pieces is tightly argued and quite ingenious, mixing lyrical reach with an acerbic spikiness, and it was nice to see the purity of Benedetti and Elschenbroich's articulation in a finely-knit, modernist work. One interesting feature of Turnage's distillation is that conversational elements and argument are mixed with a more elusive fabric of questioning and mystery. The second and fourth pieces are slower and more nocturnal, and seem to probe the vulnerability and transience in relationships. The subtle 'rocking' rhythm at the start of No.2 actually reminded me of the opening of Britten's Third Quartet – with all its 'Death in Venice' imagery. No.4 suggests an underlying fragility too, and it was here that a member of the audience decided that 'modern' love might be updated still further by the intrusion of a cell phone ring. Absolutely spot on: what modern love relationship isn't a slave to the cell phone?  The 'Blues' finale had a lovely truculence to it, starting with a motion resembling that of a large elephant and ending in brazen stride – a true testimony to a love relationship that has battled everything and still survives.
This concert served as a most enjoyable introduction to the Benedetti Elschenbroich Grynyuk Trio, giving particular insight into the talents and personalities each of these illustrious artists. Certainly, there may have been instances of dramatic overexpression in their efforts (actually fairly common in young ensembles these days), but I left the concert with only one thought: How often does one see instrumental playing of this exalted stature?  Not very often indeed!
Geoffrey Newman
Previously published in a slightly different form on http://www.vanclassicalmusic.com.