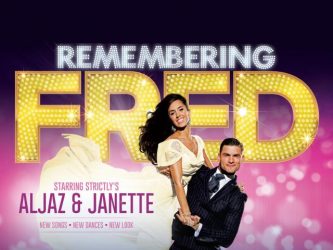 United Kingdom Various composers, Remembering Fred: Aljaž Škorjanec and Janette Manrara (co-creators and choreography) and Company (Adrian Hansel, Miranda Wilford [featured singers], Charlie Bruce, Aaron Bryan, Scott Coldwell, Alastair Crosswell and Veronica Fulton), Gareth Walker (director and choreographer), Barnaby Dickenson (musical director), London Palladium, 7.4.2018. (JPr)
I have been fortunate to have seen at the London Palladium many of the legendary entertainers I wanted to see live during nearly five decades; from Bob Hope, Bing Crosby and Liberace to Shirley MacLaine, Victor Borge, Sammy Davis Jr and Liza Minnelli (to name just a few). It is always a pleasure to go back there and see a show and this time it was a tribute to another stellar entertainer of last century, Fred Astaire. Now I must admit that while I admired his obvious artistry I was never an Astaire fan but if anything could convert me it is Aljaž Škorjanec and Janette Manrara's Remembering Fred returning for a second year for another nationwide tour.
The audience drawn to the theatre for this matinee performance – mostly by the two dancers' involvement in Strictly Come Dancing – were clearly in a mood to enjoy themselves from the get-go. They gave another of the star dancers from that staple of BBC TV's winter Saturday nights, Anton du Beke, a right royal reception for just coming along to see his colleagues perform.
The format for the show was established from the moment we see Aljaž beaming from the large LED screen at the rear of the stage to say 'Welcome to Remembering Fred. Fred Astaire, the complete showman, he can act, he can dance, he can sing, he can choreograph, you name it.' Then Janette commented 'Tonight we are going to take you on a rollercoaster ride through Fred Astaire's career paying homage to some of the most famous dance routines and most famous partnerships.' Aljaž concluded 'It is an absolute joy to be every night performing these amazing songs and these amazing dance numbers.' We hear tributes from Gene Kelly and Twiggy and then the multi-talented Alastair Crosswell led the excellent small company in a toe-tapping mashup of Irving Berlin's 'Top Hat, White Tie and Tails' and 'Cheek to Cheek' which set the tone for the first half where Aljaž and Janette explored 'Classic Fred', 'Fred & Ginger' (we hear how Ginger Rogers 'did everything Fred did but backwards … and in heels!'), and his fashion, choreography, style, poise and fusion. We hear contributions from those who admire Astaire, knew him, worked with him, and from the man himself during the interludes between the dancing. One of the first highlights was Aljaž and Janette interpreting the 'Night and Day' routine from Cole Porter's 'The Gay Divorcee' (to Adrian Hansel's smooth singing). Their dancing – whether a slow number like this or a more upbeat one – revealed all the qualities of Astaire and his various partners in their ability to show us the mood of the dance; they were always in perfect harmony whether it was the high spirits of a new potential romance or the wistful memories of a bygone one. Courtship and seduction was shown in a sultry Argentine Tango-flavoured 'Dancing in the Dark' (from Top Hat) which featured some suitably bluesy vocals from Miranda Wilford before an exuberant Samba to 'Flying Down to Rio' ushered along the interval.
What was good in the first half with each member of the company getting their moment in the spotlight reached even greater heights in a memorable second half. Much is made throughout the show about Astaire's 'triple threat' because he could dance, sing and act and from the moment the curtain goes up for the second half of Remembering Fred – if it wasn't clear from what he had done already – Alastair Crosswell proves himself to be just as potent a 'triple threat'. He raises the venerable Palladium roof with a virtuosic display of singing, tapdancing, and playing the drums with sticks and feet (as Astaire did for the Gershwins' 'Nice Work If You Can Get It' from Damsels in Distress) which had to be seen to believed as he performed to himself on screen. There is not dud moment from now till the end of this celebration of the golden years of Hollywood. I shall not soon forget the mutual accord and sense of love Aljaž and Janette revealed in their American Smooth to 'The Way You Look Tonight' from Swing Time. We hear about Astaire's rhythm, his cool and it was the section about his collaborations that summed up all that was best with this show as we seemed to be transported to another place and another (better?) time. Adrian Hansel and Miranda Wilford paid tribute to Astaire and Judy Garland with a joyful 'We're a Couple of Swells', Aljaž and Janette danced a slinky, stylish and immaculate 'Girl Hunt Ballet' from The Band Wagon (though Cyd Charisse probably had legs longer than Janette is tall). Finally, the only time Gene Kelly and Astaire danced together on screen – for the Gershwins's The Babbitt And The Bromide in Ziegfeld's Follies – was lovingly recreated by Alastair Crosswell and Scott Coldwell showing the extraordinary depth of talent Remembering Fred brings us.
As good as it had been to hear from Aljaž and Janette in their video clips it was even better to hear in person from them at last; they thanked us for coming to see them and got to sing as well as dance! Aljaž is very (too?) self-deprecating and gave a more than creditable performance of 'One for My Baby (And One More for the Road)' from The Sky's the Limit … and I heard Sinatra sing that more than once live! Janette does even better with her jazzy 'Steppin' Out with My Baby' from Easter Parade.
The show was an 'absolute joy' from beginning to end and it is telling that it was never a let-down when the supporting dancers and singers are contributing their own Astaire-inspired routines. You never get the feeling you miss Aljaž and Janette … because everyone is really that good! A standing ovation was guaranteed and richly deserved and whether or not you are a Strictly fan or an Astaire fan or just someone who loves the great Hollywood musicals, I urge you to see Remembering Fred.
Jim Pritchard
For more about the Remembering Fred tour click here.