Canada 2018 Juno Awards Classical Showcase: Isabel Bayrakdarian (soprano)/Robert Koenig (piano)a, Philippe Sly (baritone)/ John Charles Britton (guitar)b, Johannes Moser (cello)c, Jan Lisiecki (piano)d, Mark McGregor (flute)/Rachel Iwaasa (piano)e, David Gillham (violin)/Corey Hamm (piano)f, ARC Ensembleg, Paolo Pietropaolo (host), CBC Studio 1, Vancouver, 24.3.2018. (GN)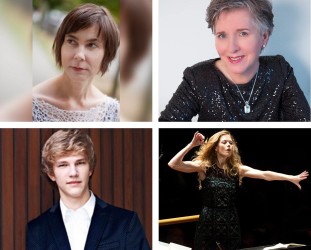 Armenian Marian Chant – 'Arise, graceful one'a
Ravel – 'Kaddish'a
Falla – Siete canciones Populares espangnolasa
Morlock – I conversed with you in a dream
J. S. Bach – Selections from Suite for Solo Cello No.1 BWV1007
Schubert – 'An die Musik' D547; 'Alinde' D904; 'Der Lindenbaum' and 'Der Lieiermann' from Winterreise D911b
Ho – Coeur à Coeurf
Chopin – Andante Spianato e Grande Polonaise Op.22d
Laks – Piano Quintetg
It has been decades since the Juno Awards were last held in Vancouver, and while the popular music side invariably dominates the public's attention, the sponsorship of both the CBC and the Canadian Music Centre inspired a very worthy on-air Juno Classical Showcase this year. The concert took place at the CBC studios and was hosted by Paolo Pietropaolo in front of a small group of invitees. The event featured a distinguished selection of current nominees and indeed some of Canada's finest classical musicians and composers. As to the awards, the biggest cause for celebration locally was the Juno received by the Vancouver Symphony's Composer-In-Residence, Jocelyn Morlock; My Name is Amanda Todd was voted Classical Composition of the Year. The Junos received by Jan Lisiecki and Janina Fialkowska for their Chopin recordings and Barbara Hannigan for Crazy Girl Crazy further highlighted the variety and strength of Canada's classical recording artists, where the likes of James Ehnes, Louis Lortie, Johannes Moser, Isabel Bayrakdarian and Gerald Finley figured among the nominees.
It was an inspired idea to start the concert off with the strong, sensual tones of soprano Isabel Bayrakdarian with pianist Robert Koenig. She was nominated for Mother of Light: Armenian hymns and chants in praise of Mary, and few singers could inhabit this expressive world more sensitively. This was amply shown in the opening Armenian chant 'Arise, graceful one'. The wonderful certainty of her legato line, her pristine detailing and the richness of her expression carried one forward completely in Ravel's 'Kaddish', and the sentient pleasure was  extended to all the dramatic shades of De Falla's Siete canciones Populares espangnolas as well. Koenig's accompaniment showed a wonderful comradery of spirit.
The second vocal installment was from baritone Philippe Sly and guitarist John Charles Britton, giving us a taste of their more intimate and informal view of Schubert: Schubert Sessions: Lieder with Guitar. I recall when tenor Peter Schreier chose the guitar presentation in early romantic lieder years ago, and it does highlight the intensely personal nature of the expression. Sly exhibits a beautifully clean and rich baritone fabric and particular sensitivity, though I sometimes noted less expansion of the lyrical/dramatic line. (Perhaps this reflected his more modest singer-songwriter style.) One novelty was the singer's use of a hurdy-gurdy in Die Winterreise's closing 'Der Liebermann' – only the second time Sly had played the instrument in public – but quite authentic and colourful all the same.
Of the Juno nominated compositions, Jocelyn Morlock's work for flute and piano, I conversed with you in a dream, certainly exhibited flights of fancy while posing many virtuoso challenges for the flute. It starts from a pensive fabric, becoming increasingly rhapsodic and dramatic as the flute punctuates the lyrical flow. A more ethereal sense of fantasy takes over in the next part of the dream, spawning a scherzo-like sequence where rhythms augment intensity. The work finishes with a deeper, more suspended lyricism (an expansion of the work's opening) where the piano takes on a striking zither/harpsichord registration. Everything eventually dies down to haunting intangibility: a rippling piano and a barely-audible flute 'whistling through the grass'. There is freshness to this construction, and one can only marvel at how well flutist Mark McGregor and pianist Rachel Iwaasa negotiated the work's challenges.
A richer human passion permeates Toronto-based composer Alice Ping Yee Ho's Coeur à Coeur. This Juno-nominated composition is strongly motivated, modernist in degree, but sometimes takes one back to the sensual ardour and flow of, say, Cesar Franck's Violin Sonata and Piano Quintet. It has some interesting imaginative forays (not least in the piano) though at times it seemed that the emotional line could have been carried with less adornment. Violinist David Gillham and pianist Corey Hamm, UBC faculty members, gave a particularly sensitive reading.
After hearing Johannes Moser's finely-honed selections from Bach's First Cello Suite – piped in from Montreal – the highlight of the concert was probably Jan Lisiecki's Andante Spianato e Grande Polonaise Op.22, drawn from his Juno-winning recording, Chopin: Works for Piano and Orchestra. The young pianist's andante was beautifully poised, full of the right type of melancholy, while the polonaise was simply electrifying in its range of dynamics and feeling.
The last performance led us into the relatively unknown world of Szymon Laks (1901-1983), a Polish/Jewish composer deported to Auschwitz in 1942, who eventually ended up conducting the orchestra in the concentration camp and luckily survived the war. His Piano Quintet (1967) derives from his String Quartet No.3 (1945), and featured the distinguished ARC Ensemble (from Toronto's Royal Conservatory of Music). Their Juno-nominated recording of Laks' music is part of Chandos Records 'Music in Exile' series, and their recordings of related composers such as Fitelberg, Ben-Haim and Weinberg have already produced three Grammy nominations.
Much like Pavel Haas, Berthold Goldschmidt, Erwin Schulhoff and other Jewish composers who were deemed part of 'Entartete Musik', one finds a clear sense of nostalgia in Laks' writing: the giddy, swirling dances and rustic energy of happier times, but with a hint of craziness too, mingling with shadows and remorse. There is a bevy of Polish dance in Laks' Piano Quintet, starting from an urgent, but elegantly articulated, mazurka. The darker shadows appear in the Adagio, and here one thought of a Dvořákian 'dumka'. For all its touches of modernism and feeling, there is really a lot of Dvořák and Brahms in the remaining movements, making the work an intriguing combination of new and old. It received an enjoyable, tightly-knit performance from the ARC Ensemble: Todd Yaniw's pianism was particularly inspired, and it was a treat to see venerable, locally-born violist Steven Dann back in the city again.
So there it was: almost two and a half hours of continuously played music, featuring a stream of magnificent artistry and repertoire, and interspersed with brief conversations with the nominees. We must thank CBC producer Denise Ball and Sean Bickerton of CMC-BC for all their efforts to make these Juno Classical Awards the occasion they should be. The CBC has very kindly released the YouTube for this concert (note that the proceedings start at 7.00 minutes on this).
Geoffrey Newman
Previously published in a slightly different form on http://www.vanclassicalmusic.com.
JUNO CLASSICAL NOMINEES AND WINNERS
CLASSICAL ALBUM OF THE YEAR: SOLO OR CHAMBER ENSEMBLE
David Jalbert – Stravinsky & Prokofiev: Transcriptions pour piano (ATMA)
James Ehnes with Andrew Armstrong – Beethoven: Violin Sonatas Nos. 6 & 9 (ONYX)
*Janina Fialkowska – Chopin Recital 3 (ATMA)
Louis Lortie – Louis Lortie Plays Chopin, Vol. 5 (CHANDOS)
ARC Ensemble – Chamber Works by Szymon Laks (CHANDOS)
CLASSICAL ALBUM OF THE YEAR: LARGE ENSEMBLE
James Ehnes with Royal Liverpool Phil. Orch. – Beethoven & Schubert: Violin Concerto (ONYX)
*Jan Lisiecki with NDR Elbphilharmonie Orch. – Chopin: Works for Piano & Orchestra (DG)
Johannes Moser with Orchestre de la Suisse Romande – Elgar & Tchaikovsky (PENTATONE)
Winnipeg SO, Nunavut Sivuniksavut – The Shaman & Arctic Symphony (CENTREDISCS)
Arion Orchestre Baroque – Rebelles Baroques (INDEPENDENT/NAXOS)
CLASSICAL ALBUM OF THE YEAR: VOCAL OR CHORAL
Isabel Bayrakdarian with Coro Vox Aeterna – Mother of Light: Armenian hymns & chants in praise of Mary (DELOS)
Philippe Sly & John Charles Britton – Schubert Sessions: Lieder with Guitar (ANALEKTA)
*Barbara Hannigan with Ludwig Orchestra – Crazy Girl Crazy (ALPHA)
Daniel Taylor with The Trinity Choir – The Tree of Life (SONY)
Gerald Finley with Bergen PO – In the Stream of Life: Songs by Sibelius (CHANDOS)
CLASSICAL COMPOSITION OF THE YEAR
Andrew Staniland – Phi, Caelestis (ANALEKTA)
James Rolfe – Breathe (CENTREDISCS)
*Jocelyn Morlock – My Name is Amanda Todd (ANALEKTA)
Vincent Ho – The Shaman (CENTREDISCS)
Alice Ping Yee Ho – Cœur à Cœur (MARQUIS)