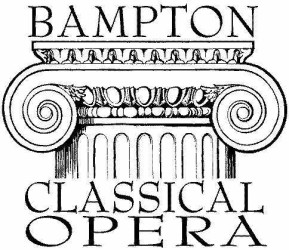 BAMPTON CLASSICAL OPERA 2018 – 25th ANNIVERSARY SEASON
NICOLÒ ISOUARD's CINDERELLA (CENDRILLON)
Performances:
The Deanery Garden, Bampton, Oxfordshire: Friday, Saturday 20, 21 July
The Orangery Theatre, Westonbirt School, Gloucestershire: Monday 27 August
St John's Smith Square, London: Tuesday 18 September
Libretto: Charles Guillaume Etienne after the fairy-tale by Charles Perrault
Sung in a new English translation by Gilly French, dialogues by Jeremy Gray
Director: Jeremy Gray
Conductor: Harry Sever
Orchestra of Bampton Classical Opera (Bampton, Westonbirt)
CHROMA (St John's Smith Square)
Bampton Classical Opera celebrates its 25th anniversary with the UK première of Nicolò Isouard's Cinderella (1810), a charming and lyrical telling of Perrault's much-loved fairy-tale, continuing the Company's remarkable exploration of rarities from the classical period.  The Bampton production will be sung in a new English translation by Gilly French with dialogues by Jeremy Gray.  Isouard died in Paris in 1818 and so this new production also marks his bicentenary.
Cinderella (Cendrillon) is designated as an Opéra Féerie, and is in three acts, to a libretto by Charles Guillaume Etienne.  Cinderella and her Prince share music of folktune-like simplicity, contrasting with the vain step-sisters, who battle it out with torrents of spectacular coloratura.  With his gifts for unaffected melody, several appealing ensembles and always beguiling orchestration, Isouard's Cinderella is ripe for rediscovery.  Performances will be conducted by Harry Sever and directed by Jeremy Gray.
Born in Malta in 1775, Isouard was renowned across Europe, composing 41 operas, many of which were published and widely performed.  As a young man and following the success of his first operas which were performed in Italy, Isouard became director of the Teatru Manoel in Valletta, Malta.  Moving to Paris in 1799, Cendrillon of 1810 was one of his many successes at the Opéra-Comique and was performed across Europe to great acclaim, especially in Germany and Austria, until knocked off its perch by Rossini's La Cenerentola in 1817.  Isouard's Cendrillon was nominated in the 'Rediscovered Opera' category in the recent International Opera Awards, after its first modern-day performance at the Manhattan School of Music last year.  Opera Magazine described it as 'a little-known jewel of French opera'.
Cast:
Clorinde – Aoife O'Sullivan
Tisbe – Jenny Stafford
Cinderella – Kate Howden
Dandini – Benjamin Durrant
Prince Ramir – Bradley Smith
Alidor – Nicholas Merryweather
The Baron – Alistair Ollerenshaw
Creatives:
Director – Jeremy Gray
Associate Director – Louise Bakker
Conductor – Harry Sever
Bampton Classical Opera was founded in 1993 by its artistic directors, Gilly French and Jeremy Gray, and has built a national reputation for breathing new life into little-known works of the classical period.  Their inventive and accessible productions of exceptional musical standards feature some of the best of the country's young singers. Their staged operas are always sung in English, often in their own lively new translations. The company is committed to relaxed, accessible opera at affordable prices, and the performances can be enjoyed even by those with little opera experience.  The company also provides valuable performance opportunities for the country's finest young professional singers, and hosts a Young Singers' Competition every two years.
Bampton Classical Opera stages productions in rural venues in Oxfordshire and Gloucestershire as well as regularly in London at St John's Smith Square.  Other significant venues and festivals have included Wigmore Hall and Purcell Room, Buxton Festival, Cheltenham Festival and Theatre Royal Bath.  Amongst their many performances have been UK premières of Bertoni Orfeo, Marcos Portugal The Marriage of Figaro, Paer Leonora, Benda Romeo and Juliet, Gluck Il Parnaso confuso, Philemon and Baucis, Salieri Falstaff and La grotta di Trofonio.
The delightful Deanery Garden at Bampton provides a charming and picturesque venue for open-air opera, with an excellent natural acoustic.  Westonbirt School is a spectacular Victorian mansion, with extensive Grade I listed gardens: the performances take place in the Orangery Theatre.  Audiences are encouraged to bring their own garden chairs to Bampton and enjoy a pre-performance or interval picnic.
St John's Smith Square is the most historic of London's concert halls and provides an outstanding and appropriately eighteenth-century setting for this performance.
Cinderella performances, with free pre-performance talks:
The Deanery Garden, Bampton, Oxfordshire OX18 2LL 7.00 pm Friday 20 and Saturday 21 July
The Orangery Theatre, Westonbirt School, near Tetbury, Gloucestershire GL8 8QG 5.00 pm Monday 27 August
St John's Smith Square, London SW1P 3HA 7.00 pm Tuesday 18 September
Booking Information, Bampton and Westonbirt:
Tickets: £38 (under 18: half-price)
By Telephone: 01993 851142
Online: www.bamptonopera.org
By Post: Bampton Classical Opera, 1 Deanery Court, Broad Street, Bampton, OX18 2LY
Booking information, St John's Smith Square:
Tickets: £18, £28, £38.  Booking opens in July.
By Telephone: 020 7222 1061
Online: www.sjss.org.uk
By Post: St John's Smith Square, London SW1P 3HA