United Kingdom Bach, Brahms, Dean, Debussy (arr. Borwick), Berg, Ravel: Benjamin Grosvenor (piano). Queen Elizabeth Hall, London, 26.4.2018. (CC)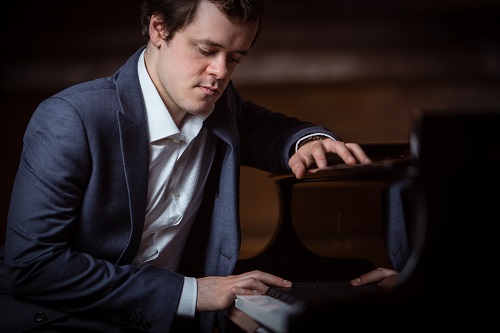 Bach – French Suite No.5 in D, BWV516
Brahms – Four Piano Pieces, Op. 119
Brett Dean – Hommage à Brahms
Debussy – Prélude à l'après-midi d'un faune (arr. Leonard Borwick)
Berg – Piano Sonata, Op.1
Ravel – Gaspard de la Nuit
How nice to return to the Queen Elizabeth Hall, now spick and span; to remember the low lighting in the foyer (now adjusted so you can just read the programme booklet); and to notice the new space looking out over the bridge. Seats are newly upholstered – a more important point than one might thing as they used to make all sorts of flatulent noises when one sat down – but more importantly, the International Piano Series is back home where it belongs.
A finalist in the 2004 BBC Young Musician Competition (at age 11!). Grosvenor's career has grown steadily: he became a BBC New Generation Artist and in 2011 he signed with Decca Classics. The very look of his programme points towards a questing spirit in the inclusion of Brahms interspersed with Dean, and a piano arrangement of Debussy's most famous piece, the Prélude à l'après-midi d'un faune. Closing with Ravel's Gaspard indicates bravery, and Grosvenor has the technique to live up to the promise.
First, though, he played Bach. It is not the first time this season a substantial chunk of Bach on the piano has opened a recital, as Vikingur Olafsson opened his St John's recital with the Sixth Partita in November 2017 (review). Grosvenor's Bach is individual, with pedal favoured in the opening Allemande and an emphasis of line that can sometimes tend towards the point-making. The movements were nicely coloured, though, with the Courante brilliantly bright of tone – and very even, to boot. The slow Sarabande rightly became the emotional heart of the Suite, but that point-making again became interruptive in the Gavotte, tending now towards the interpretatively clumsy. In Grosvenor's hands, the Loure meandered; it was only the supremely fast Gigue, with some very impressively delineated counterpoint, that showed just what Grosvenor really has to offer.
It was a wonderful idea to perform Brett Dean's 2013 Hommage à Brahms as the composer ideally intended, with Brahms's Op.119 set (published 1893). Dean's pieces take their inspiration from the accompaniments in Brahms's sonatas and Lieder, deliberately shunning the melodic lines so as to imply an absence – as in Clara Schumann's absence from Brahms's life. Grosvenor's Brahms was good, the first piece displaying carefully weighted descents of thirds but perhaps not conveying to the full the mystery within. Dean's response is veiled, its language perhaps a bridge to the Ravel in the second half. Brahms's Op.119/2 tended towards over-projection, Dean's response a scintillating, post-Lisztian piece. Op.119/3 could have been a touch more gemütlich than in Grosvenor's reading; Dean offered slowly oscillating chords, again with hints of Ravel, before Brahms had the last word in a reading in which a touch more bass would have secured a richer sound. Fascinatingly, Dean gives the movements titles: the outer ones, 'Engelsflügel' (Angel's Wing), the middle 'Hafenkneipenmusik' (Harbour Music), referring to Brahms's Hamburg bar playing. Incidentally, Grosvenor played the Dean from memory.
There was an unannounced reversal of pieces in the second half of the recital. Expecting the Berg Sonata and getting the sinuous opening of the Debussy Prélude is a bit of a surprise, but once that was over one could revel in Leonard Borwick's arrangement. Borwick was a pupil of Clara Schumann and partnered violinist Joseph Joachim. He offers a fine transcription for solo piano, in the sense that only occasionally did one feel the reduction (chordal tremolos, for example), and Grosvenor played with a huge palette – his invocation of horns was particularly impressive. Then to the Berg, a carefully considered reading, coherent and intelligent, pointing out an almost Scriabinesque colour to some passages.
Ravel's Gaspard is a pianist's graveyard. The outer movements, 'Ondine' and 'Scarbo', were spectacular, repeated notes astonishingly energetic, and textures crystal clear. Only the central 'Le gibet' was not quite as atmospheric or technically controlled as one might wish. Encores were de rigeur, however: a superb Liszt Gnomenreigen and a lovely Grieg 'Erotik' from the Op. 43 Lyric Pieces.
Colin Clarke
For more about events at the Southbank click here.