United Kingdom Blavet, Telemann, Guignon, Couperin, Forqueray: Ensemble Molière (Flavia Hirte (baroque flute), Alice Earll (violin), Kate Conway (viola da gamba), Satoko Doi-Luck (harpsichord)), St Mary's Church, Totnes, 28.4.2018. (PRB)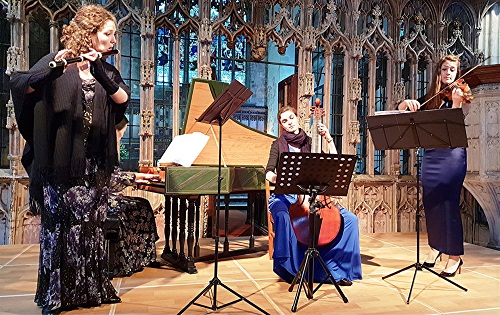 Michel Blavet – Overture from Le Jaloux Corrigé; Flute Sonata Op.2 No.3, La Dherouville
Georg Philipp Telemann – 'Paris Quartet' Nouveaux quatuors en six suites, Deuxième Quatuor in A minor, TWV43:a2; Fantasie No.8 in G minor for Harpsichord; 'Paris Quartet' Six Quadri, Sonata II in G minor TWV43:g11
Jean-Pierre Guignon – Violin Sonata Op.6, No.1 in A major
François Couperin – La Françoise and L'Impériale from Les Nations
Antoine Forqueray or Jean-Baptiste Forqueray – Cinquième Suite, Pièce de viole
Totnes Early Music Society (TEMS), up and running since 1999, presents a season of six or so early-music events from September to the following April each year. During that time, it has offered music from the medieval period up to late baroque (about 1750), contrasting both music of the streets with that of the royal courts, intimate ballads with rousing dance music, the sacred and the secular, instrumental and vocal, and music that crosses national boundaries – and generally provided by small ensembles. Totnes itself is essentially a small market town at the head of the Dart Estuary in South Devon, so in terms of music, art and theatre it punches way beyond its weight. Of late, TEMS has been most fortunate to enjoy the added support of The Arts at Dartington, and mount its events in joint association. But it is still a fantastic tribute to the support of TEMS's rank-and-file membership, and the indefatigable input from its administration team, that it continues to function so successfully. Many larger conurbations around the country would find it an almost impossible task to compete on an equal footing with this cultural mini-metropolis of a mere 8,000 or so, according to the last UK Census.
It was especially apt that TEMS had booked Ensemble Molière to round off the current season, because the group was formed initially by participants at the Dartington International Summer School, which takes place annually about two miles up the road.
The programme was entitled 'Telemann and his Friends in Paris'. In 1737, Telemann left Hamburg for Paris to perform what are now known as the 'Paris' Quartets. Flautist Michel Blavet, violinist Jean-Pierre Guignon, gambist Jean-Baptiste Forqueray and a cellist named Prince Édouard, whose precise identity is unknown, had previously invited the German composer to come and collaborate with them in France. In return, he composed a set of six quartets written in the national styles of Italy, Germany, and France. Music by these four, and by one of the other great French composers of the time, François Couperin, certainly ensured that this was destined to be an end-of-season party to savour.
The Overture from Blavet's opera Le Jaloux Corrigé got things off to a flying start. The opera is sometimes considered the first French comic opera – or opera bouffon – and a parody of the Italianate style doing the rounds in France at the time. From the outset, there was real spontaneity in the playing; it finely captured the style and idiom, along with a disciplined feel for a taut ensemble. This provided an ideal aperitif for the first of Telemann's 'Paris' Quartets, No .2 in A minor, here where the composer favours the French manner of a number of separate dances. Baroque flautist Flavia Hirte makes mention of the fact that, for this particular concert, Ensemble Molière is not using the cello of the original performances. Instead, the harpsichord is drafted in, to provide both the 'missing' bass-line, as well as fill out and elaborate on the underpinning harmonies. If a large and powerful harpsichord is available, then the bass is reasonably reinforced. However, the logistics of transporting such an instrument on a round-trip of some 400 miles makes it a less viable option. A cello in lieu of a harpsichord works, of course, but then limits the availability of items during the rest of the programme. True, having them both might be ideal, but often, it is simple economics that can dictate the number of personnel involved.
In any case, while it was not always easy to pick out the bass-line from the harpsichordist's left hand, the three solo instruments blended perfectly on top, and the overall harmonic structure did not suffer at all. There were so many highlights along the way, especially the charming lilt of the Légèrement, the real sense of humour in the Vite, and the highly-focussed interplay between violin and gamba in the Coulant, that the slightly weakened bass-line was of little consequence.
Having the harpsichord on hand opened up more opportunities, which not only made the programme more varied from the listener's standpoint, but also afforded some respite to individual performers. In her brief introduction, Alice Earll pointed out that Guignon's violin music was not for the faint-hearted, and his Sonata Op.6 No.1 in A very much confirmed this in each of its four movements. However, Earll's finely-honed technique made light work of the difficulties, in a performance that was both musically shaped and eminently impressive, which then left Couperin's La Françoise from Les Nations to bring the first half to an exhilarating close.
The second half took up very much where the first had ended, with another piece from Couperin's four sonatas and suites, Les Nations, this time L'Impériale. Solo harpsichordist Satoko Doi-Luck performed one of Telemann's Fantasies, No. 8 in G minor, an example of taut, articulate playing, effectively-given ornaments, and a fine sense of onward progression in the A section, with expressive shaping in the short contrasting B section. And, of course, it provided listeners with an opportunity to hear it more clearly.
Gamba player Kate Conway introduced us to the French father-and-son double act of Antoine Forqueray and Jean-Baptiste Forqueray respectively. Both were highly skilled exponents of the instrument, as well as composers in their own right. Unfortunately for musicologists and historians alike, there was not, apparently, much love lost between them, so with many works by 'Forqueray', it is difficult to be absolutely sure which one actually wrote it. Either way, the Pièces de viole represent some of the most demanding writing for the instrument, and the one dedicated to Jean-Pierre Guignon is certainly no exception. Despite its bristling difficulties and extreme technical demands, Conway emerged virtually unscathed, with a reading that really fired up the auditorium.
Hirte then put her quite delicately-voiced flute through its paces in Blavet's Flute Sonata Op. 2 No. 3 La Dherouville. In her brief introduction, she commented that most of Blavet's music was composed more with the amateur in mind, which of course, had sound financial implications, as well as significantly widening the instrument's appeal at a time when the recorder had really seen better days. However, with Hirte's skilful delivery and interpretation, there was nothing in the five varied dance-movements to suggest that the work was conceived as little more than a mere pedagogic exercise – except, perhaps, as Hirte also pointed out, E minor is a comfortable key for the instrument, and as such perhaps a concession for the interested amateur.
Coming virtually full circle, this highly engaging and enjoyable recital ended with another of Telemann's 'Paris' Quartets – this time in G minor, and here following the Italian Sonata da chiesa format of Slow-Fast-Slow-Fast. Particularly noticeable is the abundant virtuosity as well as the complex interplay between the three soloists; in Ensemble Molière's more-than-capable hands, it was despatched not only with great élan, but with a sense of real enjoyment. That had been evident from the start of the programme, both in the playing itself, and the informal yet still erudite spoken introductions which preceded each item.
Despite the physical and emotional drain of this final work, the performers delighted the audience with a further item from Blavet's Le Jaloux Corrigé, ensuring that everyone present left with a decided spring in their step, and eager to book for the next TEMS season, where, hopefully, there will be much more of the same, in terms of pure music quality, allied with sheer entertainment value.
Philip R Buttall