United Kingdom Puccini, Tosca: Soloists, Chorus and Orchestra of Welsh National Opera / Carlo Rizzi (conductor), Theatre Cymru, Llandudno. 20.4.2018. (RJF)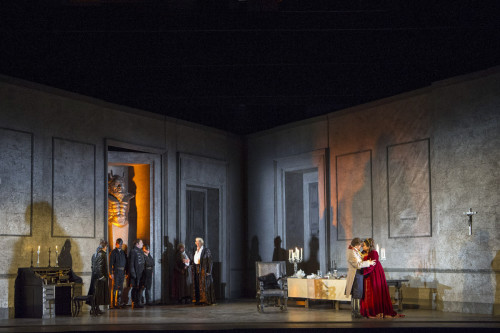 Cast:
Floria Tosca – Claire Rutter
Mario Cavaradossi – Hector Sandoval
Baron Scarpia – Mark S. Doss
Cesare Angelotti – Daniel Grice
Sacristan – Donald Maxwell
Spoletta – Michael Clifton-Thompson
Sciarrone – George Newton-Fitzgerald
Gaoler – Jack O'Kelly
Production:
Original director – Michael Blakemore
Revival director – Benjamin Davis
Designer – Ashley Martin-Davis
Lighting Designer – Mark Henderson
This staging, originally dating from 1992, was last seen in Llandudno in 2013 as an add-on to the Tudor themed season of the three Donizetti operas, Anna Bolena, Maria Stuarda and Roberto Devereux. Mary Elizabeth Williams, who has made an admired success of the taxing role of Leonora in the companion performances of Verdi's La forza del destino in this 2018 season sang the eponymous role of Tosca on that occasion. Clare Rutter sang the eponymous role in this opera throughout the season and also in the two performances in Llandudno, including the night before her scheduled replacement of Ms. Williams in the Verdi opera. Some call! WNOs seeming reluctance to better order the programmed sequence to accommodate that demand on a singer was amply justified by Miss Rutter's performance as Tosca on this occasion of the second of the Llandudno season. In the 2010 performances WNO had brought in Naomi Harvey as a late replacement and she really delivered. So too did Miss Rutter on this occasion, never shirking her high notes or committed acting, creating as good a sung and acted performance as one is likely to see on the international stage!
The staging is traditional in the best sense. It avoids Regietheater gimmicks whilst delivering the story in a setting as Puccini and his librettists intended – often a too rare occurrence – including in WNO seasons in productions of the last fifteen years and more and certainly appreciated by the audience on this occasion. Of course, there is the odd 'novelty', or divergence as when the Sacristan cleans the floor when the words say he is cleaning Cavaradossi's brushes, but with Donald Maxwell's characterful acting as the fussy man one scarcely notices or worries. In fact, the biggest problem in Act I came from Maestro Rizzi letting orchestral decibels drown out some of the solo singing. This affected both Hector Sandoval as Cavaradossi, and the Scarpia of Mark S. Doss, who both failed to make an impact as a consequence. Doss came more into his own in Act II singing and portraying the saturnine Scarpia with ideal vocal nuance and acted brutality without overt violence. Rutter's acting and singing of 'Vissi d'arte' was also outstanding as she thwarted Scarpia and then stabbed him to death.
In Act III, Hector Sandoval sang a better 'E lucevan le stelle' than his Act I 'Recondita armonia', but overall, he failed to convince me as having the necessary vocal heft despite his capacity to hold a climactic note. By the last two acts Rizzi had found his form in respect of both tempi and volume and with the acting improved Puccini's work showed itself in its best light.
Robert J Farr