Argentina Stravinsky, Dvořák, Bach, Mozart: Camerata Salzburg, Bernarda Fink (mezzo-soprano), Mozarteum Argentino at Teatro Colón, Buenos Aires. 17.4.2018. (JSJ)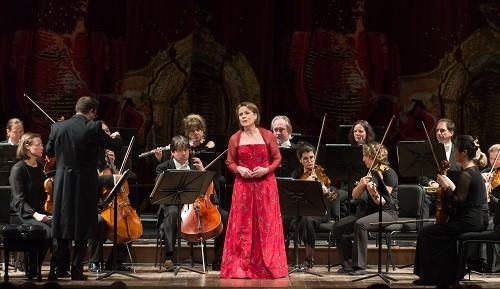 Stravinsky – Pulcinella Suite
Dvořák – Biblical Songs. Op.99
Bach – 'Schlummert ein, ihr matten Augen', aria from cantata 'Ich habe genug'. BWV 82
Mozart – Symphony No.35 'Haffner'. KV 385
Once again Mozarteum Argentino has scored a coup for music in Buenos Aires – this time with the appearance of mezzo-soprano Bernarda Fink, along with the Camerata Salzburg, in her home country, and in its opening concert of the year no less.
While the last Teatro Colón record dates from 1986, her last performance in Argentina isn't stated but it hasn't been within the last 10 years. And so, this return was very welcome for one of the number of Argentines who have forged a successful career in the northern hemisphere.
Ms Fink's repertoire is primarily focussed on the baroque and Lieder and this was reflected in the choices for this concert – Dvořák's Biblical Songs and the aria 'Schlummert ein, ihr matten Augen' from Bach's cantata 'Ich habe genug'.
The Biblical Songs dating from 1894 are ten in number and comprise texts from the Book of Psalms. None are very long but they are diverse in terms of mood from the dark 'Clouds and darkness' that opens the cycle to the more reflective 'Lord is my shepherd' of No.4 and the final exuberant 'Sing to the lord a new song'. Ms Fink, with clear diction in the original language, sung these exquisitely giving full expression to these differences in an elegant performance of this cycle.
In comparison, the short aria 'Schlummert ein, ihr matten Augen' opening the second half, though technically irreproachable, just did not draw out the same emotions – an opinion apparently shared with the applause somewhat muted compared with the enthusiasm after the earlier work.
As accompanists and solo performers, the Camerata Salzburg, sans conductor, impressed with their unity and style. The 34-strong group led by Gregory Ahss, who simply stood up when some specific timing was needed, opened with a lyrical performance of Stravinsky's Pulcinella Suite. The full work is based on Pergolesi's La serva padrona, and the humour of the music was well captured.
For their closing work, the Camerata played Mozart's 'Haffner' Symphony, giving it both spirit and style. At times, such as in the opening, one was marvelling at the weight of sound of so few players but at others at the lightness of a chamber orchestra. Well-chosen tempi made for an upbeat performance that capped the evening.
Jonathan Spencer Jones