Sweden Rossini, Il barbiere di Siviglia: Soloists, male chorus and dancers of Gothenburg Opera, Gothenburg Opera Orchestra / Henrik Schaefer (conductor), Gothenburg Opera, 8.4.2018. (NS)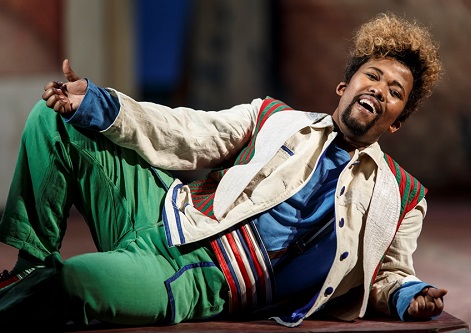 Cast:
Count Almaviva – Randall Bills
Doctor Bartolo – Markus Schwartz
Rosina – Ann-Kristin Jones
Figaro – Luthando Qave
Don Basilio – Anders Lorentzson
Fiorello – Jonas Landström
Berta – Mia Karlsson
An officer – Stefan Berkieta
Guitarist – Peter Stirner
Dancers – Christian Jensen, Gustaf Jönsson, Sara Suneson, Sara Wikström
Production:
Gothenburg Opera, original premiere 2000. Sung in Italian with Swedish and English surtitles.
Director (original) – David Radok
Director (revival) – Andreas Björklund
Set and costume design – Ivan Theimer
Lighting design – Torkel Blomkvist
Choreography (original) – Håkan Mayer
Choreography (revival) – Lina Räftegård
David Radok's 2000 production of The Barber of Seville has been phenomenally popular in Gothenburg and is now in its fourth (and last) revival. But it is still fresh and hilariously funny, thanks to Rossini's immortal music, playful direction and choreography, as well as some outstanding soloists.
As in Mr Radok and company's production of La Cenerentola (previously reviewed click here) the set and costumes take inspiration from the commedia dell'arte (most obviously in the case of the four fantastic dancers, whose mime adds an extra dimension to the comedy). The simple but ingenious set is done in pastel colours and very sympathetically lit. The costumes show us that we are enjoying a farce and don't need to take everyone so seriously, with such details as Rosina's ridiculously long red shoelaces and the Count's two wigs (one for Lindoro, the other for Don Alonso).
The delightful choreography by Håkan Mayer and Lina Räftegård employs not just the dancers but also the chorus and soloists with superb comic timing. Henrik Schaefer conducted with a light touch, bringing out the bounce and rhythm of Rossini's music and marshalling the set pieces with ease.
Markus Schwartz gave yet another fantastic performance as a buffo bass-baritone and vividly acted out an arrogant but decrepit Doctor Bartolo. His voice is rich but also capable of versatile mimicry and agile patter. His interactions with the other characters were always spot on. Anders Lorentzson acted wonderfully as Don Basilio, being amusingly outfoxed by Figaro and the Count in the opening of Act II. He sang well, though perhaps not with the lower range to sound best in 'La calunnia è un venticello'. Since Rosina was sung by a mezzo we could enjoy Mia Karlsson's soprano Berta, with a confident top line in the ensembles and an engaging performance of her aria.
The American tenor Randall Bills made his debut in Gothenburg as Count Almaviva, and looked every inch the aristocrat. After a somewhat shaky start vocally he showed an easy technical confidence with his cool and elegant tenor. His acting fit the bill completely – in particular both the paralytically drunk army officer and the faux-decrepit Don Alonso were screamingly funny (most of all when he had the Don Alonso wig on the wrong way round!).
Ann-Kristin Jones excelled from her wonderful coloratura in 'Una voce poco fa' to the end of the opera, her overtone-rich mezzo perfectly in character for a passionate but also crafty Rosina. The warmth of her voice matched with the warmth of her interactions with the people Rosina likes (Figaro and Almaviva), but she also had the timbre for Rosina's rage at Bartolo and the beginning of the final scene where she thinks 'Lindoro' is merely pimping her to the Count.
Another Gothenburg debut for this production is for Luthando Qave who made a terrific impression as Figaro. From his entrance he exuded Figaro's charm and self-confidence (as well as his sense of fun). His warm and well-projected baritone with a gleaming top was a joy to listen to both solo and in ensembles. In addition he delivered his patter with ease. You really couldn't ask for a better Figaro.
Niklas Smith 
On 15 April and 2 May Nick Davies conducts instead of Henrik Schaefer.