Leicester Hosts Let's Dance International Frontiers (LDIF) 2018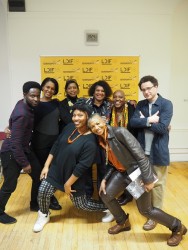 From 29 April to 12 May, Leicester will host the eighth edition of Let's Dance International Frontiers (LDIF). In different venues across the city, discussions, performances, workshops, masterclasses and films will reflect on the traditions of dance from the African and African Caribbean diaspora.
At the festival's media launch at The Place in London on 27 March, Artistic Director Pawlet Brookes explained that the aim is to make 'the invisible visible'.
LDIF18 will begin on International Dance Day at 2Funky Music Café, where Nora Chipaumire (Zimbabwe/USA) performs 100% POP, a work inspired by the model, singer and actor, Grace Jones.
Under the title Ancestral Voices: Dance Dialogues, a day-long conference in City Hall on 8 May brings together leading dance practitioners from Senegal, Jamaica, Cuba, Haiti, Trinidad and the UK. Germaine Acogny (France/Senegal), 'Mother of contemporary African Dance', will act as the keynote speaker. Other speakers include Namron (UK), a founding member of London Contemporary Dance Theatre, and L'Antoinette Stines (Jamaica), creator of Caribbean dance technique.
Namron and Germaine Acogny will also be giving masterclasses and performing. Biography: An Evening with Namron (5 May) includes dance and conversation. In Somewhere at the Beginning (11-12 May) Germaine Acogny looks back at her own past and at the 'very current issues of emigration and exile'.
Excerpts from the work of seven emerging dancers and choreographers will be showcased in the Signatures section. Autograph is a platform for two dance artists already launched on their careers to present new work. There will be a performance by Urban Jazz Dance Company (10 May), featuring deaf and hearing dancers. Films screened include From the Streets to the Stage (3 May), which focuses on Dance Theatre of Harlem ballet dancer, Frederick Davis, and Tango Negro (4 May), an investigation of the African roots of tango.
David Mead, editor of SeeingDance.com: It's unusual to have a festival that includes everything: conference, performance, workshops, films…. LDIF does just that. It's small enough to feel friendly and welcoming but big enough to host important companies from overseas; often making their UK debuts.
For more information about LDIF18, visit the box office by clicking here.
[LDIF18 LAUNCH photo above left to right: Performer/choreographer Freddie Opoku-Addaie; Jeanefer Jean-Charles, director of Mass Movement; Pam Johnson, Arts Council England; Pawlet Brookes, LDIF18; Oluwatoyin Odunsi of One Dance UK; Robert Hylton, former Phoenix Dance performer; and in front Vicki Igbokwe, Uchenna Dance and Maureen Salmon, Freshwaters Consultancy.]