Markus Poschner talks to Gregor Tassie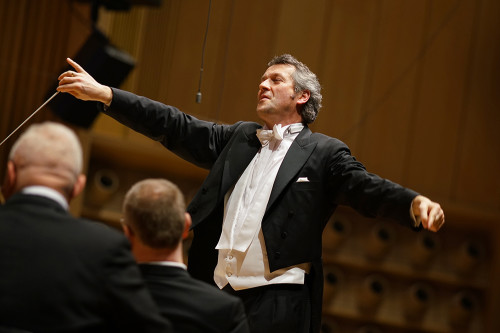 Born in a musical family in 1971 in Munich, Markus Poschner has become one of the most sought-after conductors in recent years. He has worked extensively in both opera and concerts, all the major European orchestras, and in the United States and the Far East. Currently Markus Poschner is general music director of Opera Linz and principal conductor of the Bruckner Orchestra Linz, which he shares with and the principal conductorship of the Orchestra della Svizzera Italiana in Locarno with whom he has made a highly regarded cycle of the Brahms symphonies. As he prepares his orchestra from Linz on their third UK tour he spoke to me about his career and ambitions in music.
Gregor Tassie: You are bringing your orchestra together with choirs from Sheffield and Leeds for Mahler's massive Second Symphony. This is quite an unusual programme for a big international tour. What were your reasons for touring with such a mammoth work?
Markus Poschner: We like to have this joint venture with a [British] choir and our orchestra and to do this great symphony by Mahler. It's a good idea because we opened the season with Mahler's Second, it's a personal approach too as Mahler was born only 120 kms north of Linz, and many of the folk themes he worked with come from here.
GT: What started you on the road to becoming an international conductor?
MP: First of all, it's because of my family, my parents were both musicians, and my father was a pianist and a conductor, you could say that I had no choice as my family is musical, but it was normal to play music every day. I played on different instruments, I sang in a choir too. There was no specific plan to be a conductor. But conducting is a way for me of working and communicating with people. I don't like to sit playing at my piano all day downstairs practising. This is my way of articulating who I am and of talking to people, it works in both opera and in concerts.
GT: Did you have any models in your conducting career, which conductors of the past or present do you most admire?
MP: I want to say that I learn from everybody, and am inspired by no one in particular, but my approach is that I don't want to be a copy of anyone. I like to watch other conductors at work, but a special point was my father.
GT: You are working at the same time with symphony orchestras and opera theatre, do you have a preference of one over the other?
MP: I wouldn't to live without one or the other. You need two legs to stand on. It is enormously important to have the stage before you and with an orchestra together. It's a different game. This orchestra in Linz gives me a great opportunity. Orchestras in Austria have a special sound. You can't find it in other countries.
GT: What do you think about the modern-day habit of conductors working with two or even three orchestras at the same time? Do you think this is good for music?
MP: Yes, I think it is about having a focus in life, it makes no sense just to [work] with one orchestra [all the time] but extremely focused, the repertoire overlaps, with two different orchestras, there are different styles, and different goals, and different approach to repertoire, and to programmes. In Locarno, we have a brand-new concert hall, by the lake, and here in Linz we have the second biggest orchestra in Austria. It is fantastic we have 45 musicians in Locarno, there is more freedom, and we can do crazy things, I am so interested in different things, jazz is my passion, and am constantly looking for new things and new ideas.
GT: You were highly praised for your Beethoven cycle in Dresden, do you believe the classical core repertoire is the most important in your work?
MP: Repertoire is changing all the time, and we are very close to Bruckner, it's my first year in Linz, and I try to draw and understand what his music means, there are so many different aspects to his music, the cathedrals of sound, and the religious aspect, and is he the godfather, what does it all mean, and do we need Bruckner? You know some five or six years ago, I was very close to Brahms, and we made new recordings with Orchestra Suisse Italien of all the Brahms symphonies which was awarded a prize by ICMA in 2018. We try to show Bruckner as much as we can, and we are constantly looking at different repertoire.
GT: What contemporary composers do you like to work with?
MP: I work with a German composer Jörg Widmann, he is also a great clarinet player, and have played with him and also an Estonian composer Erkki-Sven Tüür, with whom I have worked often, and he is also very close to the music of Bruckner.
GT: What about teaching students separately, is this an important aspect of a conductor's work?
MP: At the University of Bremen where I am a professor, it is a very free regime, and am inviting my students here, its not a regular job like every Tuesday, for me it is extremely important to reflect, but teaching means actually learning about music for myself most of all.
GT: Today it is difficult to distinguish a different sound quality from orchestras in America, Europe, and the Far East; they seem to use the same instruments, and the same teaching methodology. What do you think about the quality of sound in today's orchestras?
MP: It also about the way of listening, an orchestra is a group, listening to an orchestra is the art of listening, how to bow, and the phrasing, it is impossible for example to describe how to play a waltz for instance, today music doesn't respect any passports, it is all about a way of listening, and about being affected [by music], if you spend time on how to play, to play a Schubert melody, you have to listen. Here in Austria, the music is very present in our everyday lives because every village has a little orchestra, and a choir, they have their own songs and traditions. It starts with the kids, on how to create phrases, and the cantabile phrasing this is specifically Austrian. Whereas in Locarno, it is the Italian singing which gives a different sound.
GT: What are the greatest challenges for classical music today, and how do you think we can bring young people to classical music? And what about jazz, you are a gifted jazz pianist, perhaps this would help bring young people to your concerts?
MP: It is not a problem with Beethoven or Debussy [to find audiences], it is how we experience in this time, we have no time. People are afraid of this, we need to open the windows, we have to go out and show people about what classical music and period music is for them. For young people coming to concerts, a special point is how we  have Beethoven or Mozart concertos or symphonies which has a time scale of 30 minutes, whilst Bruckner or Mahler [symphonies] are taking 90 minutes, we need to build, we have to come to you, and show people period music and has to meet them and to give them no reason to fear, for so many [of the young people] don't need to read music, just listen, we hope to move on, it is up to us. We need to show that music is the language of the soul, music of the heart, we need to break down the walls, to break down this barrier and make people listen to music.
Gregor Tassie
The Bruckner Orchestra of Linz under Markus Poschner begin their UK tour with a concert at the Usher Hall Edinburgh on 29 April (for more information click here) and visit concert halls through until early May.