Michael Sanderling talks to Gregor Tassie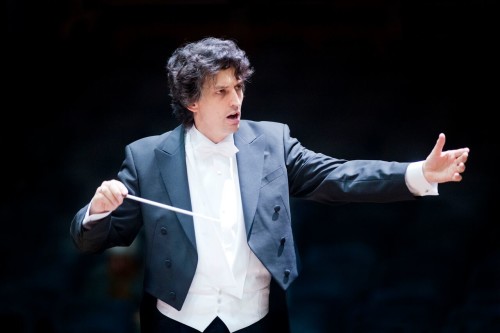 There are several dynastic families in the world of conducting; perhaps most prominent is that of the Estonians Neemi, Paavo, and Kristjan Järvi who have all achieved major careers across the globe, there are too the Latvians of Arvīds and his son Mariss who were both educated in Leningrad and developed international careers; Arvīds Jansons was guest conductor at the Hallé Orchestra and Maris is currently at the Bavarian Radio Symphony Orchestra. However, the German family of Sanderlings have straddled world music since the 1930s when Kurt Sanderling began working as a repititeur at the Deutsche Opera in Berlin before he was forced out and he took up the conductorship of the Kharkov Philharmonic in 1939. He became second conductor at the Leningrad Philharmonic to Mravinsky and he toured with them to the West in 1956 before settling in East Berlin in 1960. His first son, Thomas was born in Novosibirsk in 1943 (where he is now chief conductor of the Philharmonic), and his two other sons Stefan (1964) and Michael (1967) were born in the German Democratic Republic and studied there. Both Stefan and Michael started their careers as musicians before advancing to taking up the baton following their father. Stefan Sanderling after starting as a pianist and clarinettist, currently is chief conductor of the Liechtenstein Symphony Orchestra following appointments with several American orchestras. A notable event was in 2005 in Florida when Stefan directed Michael in the Shostakovich Second Cello Concerto with his mother, Barbara playing the double-bass and his wife Isabelle was in the cello section!
Michael Sanderling studied at the Hochschule für Musik in Berlin in cello studies and studied with William Pleeth. He became solo cello with the Leipzig Gewandhaus in 1987 and later with the Berlin Radio Symphony Orchestra before switching to conducting in 2000, and in the last decade and a half, he was worked with orchestras world-wide, since 2006 he was artistic director of the Kammerakademie Potsdam, and as of  2011 he was appointed chief conductor of the Dresden Philharmonic with whom he has toured America, Europe and the Far East and have a series of new recordings for the Sony label. He teaches at the University of Music and Performing Arts in Frankfurt, and also works with the Federal Youth Orchestra and the Schleswig-Holstein Festival Orchestra. He has given notable opera performances of The Fall of the House of Usher by Phillip Glass at Potsdam and Prokofiev's War and Peace at Cologne. Following two previous successful tours in recent years, in May Sanderling will be touring with the Dresden Philharmonic in the United Kingdom.
GT: There are many former string players who have achieved success as a conductor in their later careers, notably Oistrakh and Menuhin and among cello players, Rostropovich, so why did you decide to take up this most difficult profession?
MS: Well I don't think that I am in that league of players, they were great musicians, but I can say that I didn't plan to become a conductor as it happened entirely by accident. I didn't want to disturb my cello career, but it happened in 2000 when I was engaged to play with the KammerorchesterBerlin chamber orchestra for a series of concerts and it was all for fun leading the orchestra from the cello. Afterwards I discussed it with the Intendant and we agreed on future concerts. It seemed to spark a fire within me to conduct.
GT: Your father was one of the great conductors in the 20th century and he made many fine recordings of Shostakovich. Did his career influence you in your own career, and in your repertoire?
MS: First of all, I think everyone is influenced by their parents, of course my father was a big influence on me, but it was most of all the pleasure of being introduced to music and it wouldn't have happened without him.
GT: Your father lived in Leningrad for many years. Did he ever tell you something about his life there that sticks particularly in your memory?
MS: My father didn't speak much about his time there, but what came out was general things such as the suffering, the loneliness, that he experienced in the Soviet Union, but he helped me to know and understand the composers of that period in the Soviet Union, and to know the music of Shostakovich, he spoke about his living circumstances. Of course, I got to know Mariss, and also Arvīds [Jansons]. I try to keep in contact with him.
GT: You were born in the DDR and your musical education was also there, how do you think we should regard the heritage of classical music in the DDR, does it have good memories for you?
MS: I feel this is a complicated question, and there are always two sides to this, a good side and a bad side, the good side was that it was very concentrated, and focused intensely on the music. We knew the socialist system was keen to show its potency, so either you became a sportsman or an artist and this was much supported by the state. I really felt supported by an audience, I think that the concentration remains in ones' memory most.
GT: How important is teaching in your career, do you find this helps you in working with your orchestra and other ensembles?
MS: This is my job, and an important part of it, but as a person, and there is an element where one can be exhausted by constantly repeating one and the same repertoire, however, if one can use an example, if I am conducting Brahms Fourth for the 125th time, rather than becoming exhausted, I feel like I need to share this experience, to feel it anew for me, so both sides can help each other, as a teacher and have a sound, more than teaching the basic subjects, so teaching scales is something else, how do you use scales.
GT: You have conducted some opera in your career, do you have an ambition to work more in the theatre or do you prefer symphony orchestra conducting?
MS: I will finish my contract in Dresden in 2019, so I want to go back to opera, I enjoy it very much, and recently there has been so little time for opera, I have almost done performing opera, and want to do much more opera. I have only Hänsel und Gretel booked for Frankfurt in 2020, but currently am planning for more.
GT: From an early period, with the Potsdam Kammerorchester, you made recordings of Shostakovich, and most recently you started a series combining the symphonies of Beethoven and Shostakovich. This is a very interesting choice mixing the symphonies of these two composers. Why did you decide to do this series?
MS: The simple reason is that I love both Beethoven and Shostakovich and I wanted to do something for the 250th anniversary [of Beethoven in 2020] which would be different, and I thought about this for a very long period, Beethoven was the first composer to reflect on the social and political life of his time and period, and Shostakovich was the last one to reflect on the social and life of his day. Although they are quite different composers, I think there is something that may be linked in several of the symphonies reflecting on the storm and stress of their times. Of course, it is not possible to match them in recordings through Beethoven's Nine symphonies and Shostakovich's Fifteen symphonies, but we have already done it with Nos Three and Ten, and we think there are links between the Ninth of Beethoven and Shostakovich's Thirteenth that are actually corresponding with each other.
GT: Do you have any favourite musicians that you most like to work with?
MS: Oh, there are so many, its difficult to mention someone without offending anybody else by missing them out.
GT: You work with an orchestra with a great tradition and from a city with a glorious musical history. Do you think conductors working with as many as three major orchestras on different continents has led to some orchestras losing their identity and tradition?
MS: Yes, but I think the world has changed so much and the relationship has completely changed between the players and the conductor, music education is much better, and the role of the conductor has changed radically, for instance, my father was a conductor and an educator. But today its different, my time is so limited that a chief conductor only has something like twelve weeks across the season while other conductors work with the same orchestra over the other periods. I don't think I need to teach the orchestra now. The times have changed now with the orchestra, its quite difficult to change this system now. Ansermet worked with the Orchestre de la Suisse Romande for 49 years, and the orchestra after him lost its identity. I remember what the Leipzig Gewandhaus was like when I was there as the concertmaster so many years ago, under the baton of Riccardo Chailly, more sound patterns and colours – that are already well-known throughout the world were added and now one cannot tell it apart from the orchestras in Stuttgart, Hamburg or elsewhere, it's our life.
GT: On June 3 in Dresden, you are giving the world premiere of a piece called the Requiem for Syria, can you tell us something about this music?
MS: It's a piece by a very good conductor and composer George Alexander Albrecht who used to be the director in Hannover and in Weimar, he was very much troubled by the events of the last years in Syria, now in 2018 it is still so violent, and it is in a human message, like Beethoven's, about the theme of universal brotherhood, the texts are from the bible and from other religions, Monzer Masri, Nazmi Bakr, Edward Said, and from Goethe. The message is that we are all the same and we should take care of each other, it has a big chorus and three soloists.
GT: When you started your musical career, the world has changed fundamentally, sometimes we think it has become a more dangerous place, how do you see the present place of classical music in today's world?
MS: It has changed fundamentally, still divided between rich and poor, the same corrupt practices, and abuses of power, but for us musicians it is possible that music should help bring people together, I think we are ambassadors without words, like Shostakovich Thirteenth and Beethoven's Ninth – they are my statement.
For details of Michael Sanderling's concerts in the UK please see these websites – Usher Hall click here and Dresden Philharmonic on IMG Artists click here.