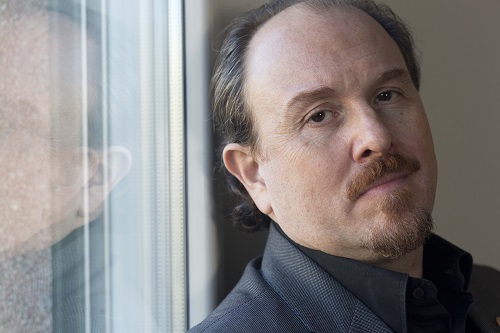 Franco Vassallo is an acclaimed interpreter of leading Verdi roles – amongst many others – in the world's most important opera houses (including Teatro alla Scala di Milano, Opéra de Paris, London's Royal Opera House and New York's Metropolitan Opera). He has just sung Scarpia for the first time in Puccini's Tosca at the Staatsoper Hamburg in the Robert Carsen production and performed with Anja Harteros and Jonas Kaufmann. Franco Vassallo has spoken of how he was looking forward to 'debuting a role which is a milestone in the career of every baritone. Despite his cruelty, I love Scarpia. He's a character rich of lights and shades, his psychological dynamics are a challenge for the acting quality of a singer. It's also vocally very demanding, that's why I chose to debut it in the mature phase of my career. It's a point of arrival for me but also a starting point towards a verismo repertoire that I deeply love and reckon more refined than it's usually considered'. The Hamburger Abendblatt said how Franco Vassallo created the nasty Scarpia as a purebred cynic with his fine, bright baritone. Fascinatingly Franco Vassallo plays a Baron in Puccini's opera when in in real life he is actually a Marquis, the last descendant of the Marquis of Brignano in Tortona.
His next engagements are Lucrezia Borgia with Edita Gruberova at Bayerische Staatsoper in Munich, Iago in Otello back in Hamburg and La bohème with Kristīne Opolais and the Boston Symphony Orchestra conducted by Andris Nelsons. Franco Vassallo answers Seen and Heard International's questions and looks back on his life and his career and talks about future roles.
Where were you born?
In Milan, while, for the first time, humanity was walking on the moon!
What music did you listen to at home as a child?
Classical music and opera was what I loved since I was very young because of the wonderful sense of peace and harmony they irradiated around.
What was the first opera you saw?
Turandot at La Scala in 1983, but I remember as a dream my first time in La Scala. It was for a ballet some years before, in 1978, The Nutcracker, with Carla Fracci and Rudolf Nureyev.
Do you play any musical instruments?
Unfortunately not!
Was it at school you first started singing and how did it progress from there?
Yes, I was singing at mezza voce during a pause between lessons at high school and a teacher of architecture, son of the baritone Carlo Meliciani, who was listening told me: 'You have a very good voice indeed, why don't you come to my father for an audition?'. And so it was and his father became my teacher.
At which point did you decide that singing might be a possible future career?
I always felt it, since I was 11 years old; and after my first concerts it was clear that it would be possible to go this way.
You studied Literature and Philosophy at the State University of Milan, has this proved useful to you during your career?
Of course. Literature, arts and theatre are very well connected and history and geography are as well. A character lives in a certain age and in a certain place, with a special mentality, thoughts, beliefs, and the cultural conditionings of his historical period. A man of the Renaissance thinks in a totally different way from of a man of modern times or of the middle ages or of a more ancient age. And you have to feel this, to incorporate these attitudes or ideas into your personality unconsciously and give them back to the audience when you bring a character to life. Thinking of baritone roles, how many big differences there are in terms of cultural conditionings, mentality and visions of life we find, for instance, between Nabucco, Guglielmo Tell, Rigoletto, Carlo Gérard in Giordano's Andrea Chénier and Michele in Puccini's ll tabarro? It's difficult to think to more diverse and distant worlds…
How good was winning the international singing competition 'As. Li. Co' in 1994 and the Budapest Competition for Verona Opera in 1997 for your career? Tell us more about these please.
That was the real beginning of the career. Before that I had eight years of experience as a singer of concerts, but from 1994 I started to live opera on stage with costumes and scene direction. My first role was David in Mascagni's L'amico Fritz at Teatro Coccia di Novara, organized by 'As. Li. Co'. In January 1997 I won in Budapest the first prize for the role of Ford in Falstaff, performing it two months later in Verona at Teatro Filarmonico beside Renato Bruson in the title role, who was very kind with me, as well as Fedora Barbieri, who was the president of the jury of the competition.
No doubt you would consider competitions like this are a good thing for a young singer?
Yes, because a young singer starts to face a jury and an audience and starts to understand better how to deal with his nerves and find the courage to be on stage, as well as, what their real options to sing professionally are.
You have become well known for singing the title role in The Barber of Seville,  if this was not the first opera role you sang on stage what was?
Not the first, but definitely the first most important role I sang in a very important theatre, Venice's La Fenice. After that Figaro became one of my favourite roles that I sang for years in the most important theatres in the world. Next year I'm very happy to sing as 'The Barber of Seville' again in Hamburg.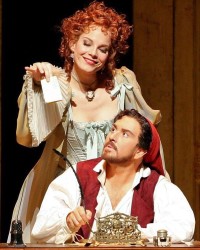 What is special for you about Figaro?
The sense of pure joy and vitality from the beginning to the end of the role! There's great light, a magical energy, it's brimful of life and inner joy!
You sang a lot of Donizetti and Bellini in your earliest days, what roles and performances do you have particularly good memories of?
Of course, expecially the roles of Sir Riccardo Forth in Bellini's I puritani and Lord Enrico Ashton in Donizetti's Lucia di Lammermoor. And operas such as Roberto Devereux, Lucrezia Borgia, La straniera and L'elisir d'amore are some of my very best memories too, and also the wonderful role of Malatesta in Don Pasquale, a delightful comedy I love a lot.
Do you have a teacher now and how do they help you?
Yes, I still have my first teacher, Carlo Meliciani, and even though he is now 89 he's in very good shape and his energy is still strong! I still go to him when I have time and he always has some pearls of singing wisdom for me.
In recent years you have concentrated on Verdi roles. What is special about his music and what have been your particular highlights?
Verdi is probably the opera composer with the most important demands on the human voice; colour, extension, dramatic accent, volume, strength, blare and nobility. And he is – in my opinion – the master of the masters, for the intensity, the poetry and the most clear vision about human life in all its aspects. If Wagner is 'the bard of the gods', Verdi is, without any doubts, 'the bard of the human beings'. I love him so much that I cannot say…
What actually is your favourite role and why?
Simon Boccanegra. He is a superior man, not because of the power, but because of his striving for unity and peace.
You made your debut in 2008 at Covent Garden as Marcello do you have any particular memories of that?
Yes, it was a wonderful experience! The director John Copley, a real gentleman, came to me at the end of the first performance, very moved and told me, with tears in his eyes: 'your singing and your acting moved me deeply … bravissimo!' …that was a magical moment for me.
Are there any other new roles you are hoping to be invited to sing in future that you do not sing now?
I'll make my debut as Barnaba in Ponchielli's La Gioconda next year in Bruxelles (another wonderful veristi role!) and I also hope soon to sing the Doge Francesco Foscari in I due Foscari and Miller in Luisa Miller, the two big Verdi baritone roles I have yet to debut.
What are you most looking forward to singing in the near future?
I would like to sing again Gérard in Andrea Chénier and to debut in Puccini's Il trittico as Michele and Gianni Schicchi, and also Jack Rance in his La fanciulla del West.
For more information about Franco Vassallo click here.