Updated 20 July 2018:
The Invictus Games Choir team up with classical singer Carly Paoli for single release
'Liberty' by Carly Paoli featuring the Invictus Games Choir will raise funds for Help for Heroes
** LISTEN TO / BUY 'LIBERTY' HERE: fanlink.to/liberty **
Watch teaser video here: YOUTUBE
The single is released TODAY (July 20th 2018) and will also be included on Carly's forthcoming album 'Live At Cadogan Hall', released August 24th 2018 on ABIAH Music.
'Alive, the fire in our heart will never die.
Alive for freedom, we are standing you and I.
United joined as one through troubled times.
A prayer for our humanity,
The sun will never set on liberty.'
A choir formed of members of the Armed Forces who have been affected by their service have teamed up with classical star Carly Paoli on her latest single 'Liberty'. The Invictus Games Choir, who feature on the track, are a community choir for serving and veteran personnel from all services, who are wounded, injured or sick, to help them in their recovery.
Supported by Help for Heroes, the Choir's rehearsals and performance opportunities build confidence and provide a creative outlet to help support the choir members. The choir have now been given the opportunity to sing on Carly Paoli's latest single 'Liberty'. The song is written by the Grammy Award winning songwriter Walter Afanasieff whose many credits include hits for Celine Dion, Barbra Streisand and Mariah Carey. Featuring The London Symphony Orchestra, the song was recorded at Abbey Road and Strongroom Studios.
Carly met members of the Invictus Games Choir at the 2018 'Soldiering On Awards' and felt the lyrics reflected the endeavours of the group and asked if they would like to record backing vocals to enhance the track. Speaking about 'Liberty' and recording with the Invictus Games Choir, Carly said 'It's really special to have the choir singing with me, they have all experienced so much more than I could ever imagine. The words in 'Liberty' say "from ashes…we'll rise above it all" and the members of the choir are the epitome of individuals who have done just that in different circumstances and situations. Being together as a choir exemplifies that unity and the healing power of music. Every so often a song comes along that has a powerful message. This is such a song and I don't think there could be a more powerful group of people to share such a strong message with.'
12 members of the Invictus Games Choir are featured on the single including Sue, a retired Senior Royal Navy Nurse. Sue sustained multiple fractures in an accident during service in 2009, since injury she has built her strength again through sport and rehabilitation and gone from being in a wheelchair to now walking on crutches.
Sue was introduced to the Choir when they performed at Invictus Games Orlando 2016 opening ceremony, where she was competing, and inspired by their performance, she took the step forward to join the Invictus Games Choir. Sue said of the recording session with Carly Paoli: 'It was a real privilege and honour to be part of the team and to have the wonderful opportunity to go to a recording studio and sing.  The experience has touched my heart greatly and it has been an incredible journey.'
The recording choir comprised 12 volunteers from the Invictus Games Choir, representing all branches of the Armed Forces. The group consisted of 1 Serving Soldier in the British Army as well as 8 Army Veterans, 1 Royal Navy Veteran and 3 Royal Air Force Veterans.
James who was also part of the recording session said: 'After being discharged from the Household Cavalry with a diagnosis of cancer at the age of 25, I found a new passion for singing thanks to Invictus Games Choir.  It was absolutely amazing to be able to perform with such a phenomenal singer. Carly and her team made the Invictus Games Choir feel so welcome from the very start and made collaborating with them a dream for all of us, catering for all abilities, physical, mental and vocal. 'Liberty' almost feels like it has its own heartbeat; it is poignant, emotional charged and really hits home for a lot of the choir. With Carly's enchanting vocals and the stirring lyrics, I really could not have wished for a better song to work with her on.'
As well as being released as a standalone single, 'Liberty' will also feature as the bonus track on Carly's forthcoming album 'Live At Cadogan Hall'. Recorded in February 2018 in London, the album features live renditions of songs from Carly's debut album 'Singing My Dreams' as well as a selection of songs from across the musical spectrum.
Conducted by the Grammy award winning Steven Mercurio and featuring the world renowned flautist Andrea Griminelli, the 65 piece Abiah Symphony Orchestra and the winners of the BBC's Songs of Praise Choir of the Year 2016, Tring Park 16 the concert received a glowing 4 star review of the concert in the Mail on Sunday, from Classic FM's David Mellor, under the headline 'Nobody does it better'.
Proceeds from the single will be donated to Help for Heroes to help military personnel, Veterans and their families affected by their service on their recovery journey, with activities like the Invictus Games Choir.
For a review of Carly's recent Cadogan Hall concert click here.
Updated  1 June 2018: Rising classical singer and lyricist Carly Paoli has been shortlisted in the first ever Sound of Classical poll, with the winner to be revealed at the Classic BRIT Awards on June 13th.
The winner will collect the award in person during the Classic BRIT Awards ceremony at the Royal Albert Hall in London, to be broadcast on ITV.
Speaking about the news Carly said 'I had to pinch myself when I found out that I was nominated for a Brit Award and I've been thanking the Lord ever since I received this incredible and completely joyous news. Since I was a little girl, I dreamt about singing and sharing my music with an audience. Now that my dreams have come true, I hope other young people can be inspired to follow theirs. I am so excited, so grateful and so thrilled by this prestigious nomination.'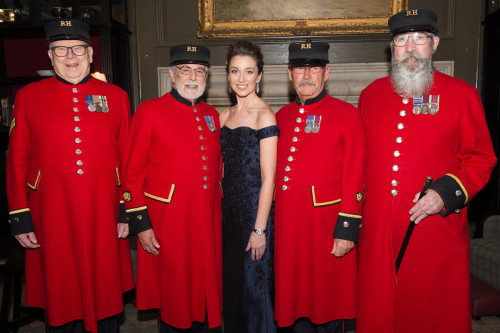 Carly Paoli, the rising star of the classical music world, performed a special concert for the Chelsea Pensioners on Friday 26 January 2018. The private performance, which took place in the Pensioners' Club at the Royal Hospital Chelsea, was a special preview of Carly's forthcoming concert at Cadogan Hall on 15 February 2018.
'I often see the Pensioners out and about in Chelsea and wanted to invite them to my concert at Cadogan Hall in February. When I realised that, for some, it might be too difficult for mobility reasons I suggested taking the concert to them' said Carly. 'It was a thrill and honour to perform for so many of the Pensioners, and to thank them for the contribution and sacrifice they have made for their country.'
The acclaimed English singer – who can count Pope Francis and Prince Charles amongst her fans and who has sung, several times, with both Andrea Bocelli and José Carreras – performed a selection of familiar and iconic songs, including 'A Nightingale Sang In Berkeley Square', 'I Could Have Danced All Night' and 'The White Cliffs of Dover', as well as songs from her celebrated album 'Singing My Dreams'.
Pearse Lally the Sergeant Major at the Royal Hospital said, 'We were delighted to host Carly at our Chelsea Pensioners' Club. She put on an excellent show and Pensioners who are not able to travel far were touched that Carly made a special visit to the Royal Hospital to perform just for them. On behalf of the Royal Hospital I would like to thank Carly for her generosity.'
Peter Henry, Pensioner, said 'It was beautiful. She sounded incredible, a wonderful singer with a beautiful voice. I would love to hear Carly sing in the world-famous chapel here next time and I look forward to seeing her perform at Cadogan Hall.'
Ron Chapple, Pensioner, said 'The performance was very good. It is wonderful that an international star like that should come here. It was really wonderful entertainment for us.'
Carl Hayhurst, Pensioner, said 'I enjoyed the concert very much. I enjoy good singing. Carly captivated the audience. You could hear a pin drop.'
Having performed at some of the world's most iconic venues, including Carnegie Hall, the O2 Arena and the Roman Forum, performed her debut UK headline concert at Cadogan Hall, in Chelsea, on 15 February.
For Seen and Heard's review click here.
In April 2018 Carly Paoli has been signed to Sony/ATV, as part of a deal struck between the world's No.1 music publishing company and the independent publishing and record company ABIAH. The deal covers London-based ABIAH's entire song catalogue, including songs by Carly and celebrated composer, arranger and conductor Romano Musumarra which feature on Carly's highly-acclaimed debut album Singing My Dreams.
'I could write a long list of phrases from Queen and Michael Jackson song lyrics that have captivated me. Then, from a very different musical world, songs like "Singing in The Rain" and "Moon River" have inspired the performer I am today. Lyrics are the first thing that draw me into a song – the beautiful ability to tell a story through music. So, it's very humbling and so fulfilling as an artist to know that my music will become a part of Sony/ATV's wonderful history' said Carly
'[Carly Paoli] effortlessly straddles two countries – Britain and Italy – and two musical genres, classical and popular….What a talent" **** David Mellor, Event Magazine, Mail on Sunday
Carlypaoli.com Facebook  Twitter  Instagram YouTube
Praise for Carly
'Carly is a wonderful person to work with. I admire her voice, artistry and her charisma. It's a pleasure for me to sing with her.' – José Carreras
'It's always my pleasure to share the stage with Carly Paoli.' – Andrea Bocelli
'The world really is hers for the taking.' – You Magazine
'A powerful voice in the classical recording world' Sunday Post
'Carly is an amazing singer. She's got an incredible future. One of the best I've ever heard.' – Larry King
'She's very special. I have seen her confidence and the way she can hold a note forever and ever and that's the money – that's what people want to hear. The proof is in the pudding.' – David Foster
'It's been wonderful to work with a down-to-earth young lady who has a beautiful voice. It's going to be fascinating to watch her, and I will follow her progress with interest.' – Elaine Paige
'Congratulations on a beautiful recording. I'm deeply honored! Best wishes on the release of your album – I'll look forward to it!' – Jason Robert Brown
'The world really is hers for the taking.' – You Magazine, Mail on Sunday
'The moment her album 'Singing My Dreams' started, I was swept away into a different place.' – Louder Than The Music