United States Rising Stars in Concert: Soloists, Lyric Opera Orchestra / Edwin Outwater (conductor), Patrick G. and Shirley W. Ryan Opera Center, Chicago. 7.4.2018. (JLZ)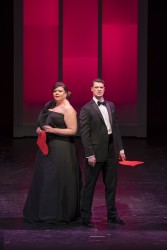 The 2018 edition of Lyric Opera of Chicago's annual Rising Stars in Concert included all twelve singers of the Ryan Opera program. Accompanied by the Lyric Opera Orchestra, this recital of arias, duets, and other ensembles was a chance to hear these musicians in both standard and less often programmed literature. These young performers are in various stages of their careers, with third-year members about to embark on opportunities elsewhere. Of the latter, tenor Alec Carlson was outstanding, including the character piece 'Il était un fois à la cour d'Eisenach' from Offenbach's Les contes d'Hoffmann. Its charm came from Carlson's nuances that made each strophe distinct, and then brought the aria to a well-conceived conclusion.
Mezzo soprano Lindsay Metzger performed several pieces, but her characterization of Rosina in the trio 'Alfine eccodi qu' from the second act of Rossini's Il barbiere di Siviglia offered a fine example of her vocal and dramatic acumen. Her clear diction and secure pitch were distinctive.
Bass Patrick Guetti often stole the show whenever he was on stage. An accomplished performer with experience at Glyndebourne, he strongly etched the character of Massimiliano from Verdi's I masnadieri in the duet 'Un ignoto, tre lune or saranno'. Guetti's deep, resonant bass was particularly articulate, and he made the narrative memorable with his expressive phrasing. The dramatic pitch fit the piece as deftly as the comic touches Guetti gave to the quartet 'O! che muso, che figura!' from Rossini's L'italiana in Algeri. Here, Guetti's resonant lyricism gave way to pitch-perfect staccato articulations as he made the patter-song lines fit the musical and comic demands with great assurance.
In the latter piece, contralto Lauren Decker demonstrated her commanding style and consummate skill, and this excerpt showed her ready to take on the role of Isabella. Decker's deep voice was completely flexible and even throughout. Likewise, her dramatic intensity emerged powerfully in the aria from Mussorgsky's Kovanshchina, 'Sili potayniye'. The latter has affinities with the séance from Verdi's Un ballo in maschera, and Decker would be an Ulrica of consequence if she performed that role. With another year ahead at the Ryan Opera Center, it will be a treat to hear Decker in the coming season.
As Lindoro in the excerpt from Il barbiere, first-year member Josh Lovell demonstrated his impressive tenor in a stellar performance of this challenging part, executing the florid lines with style and poise. His phrasing made any breaths he took unnoticeable, as he delivered lines and phrases with the finesse of a seasoned professional. In a similar way soprano Ann Toomey gave an intensively passionate and persuasive interpretation of the aria 'Ebben? Ne andrò lontana' from Catalani's La Wally, well-suited to her voice. Her duet with tenor Mario Rojas from Catán's Florencia en el Amazonas offered a view of Toomey's lyrical style and she was entirely convincing.
Soprano Diana Newman, who has given fine performances in the last three years, was captivating in the famous Gavotte from Massenet's Manon, and her duet with Emmett O'Hanlon from Ricky Gordon's Grapes of Wrath, 'One Star' gave a poignant touch.
While the singers were the focus of the evening, the challenges in the pit included rapidly shifting style between pieces, and the orchestra responded well to Edwin Outwater's reliable direction. Outwater admirably navigated the spectrum of styles, and also kept the pace of the ambitious program from flagging. He elicited some extraordinary timbres in the Catán excerpt, which requires clarity. In more intimate places, like the reflective passages in the Catalani aria, the sound was warm and rich. Outwater also delivered the comic pieces with delightful precision.
James L. Zychowicz