Germany Tchaikovsky, Beethoven: Julia Fischer (violin), Dresdner Philharmonie / Michael Sanderling (conductor), Kulturpalast, Dresden, Germany 13.5.2018. (MC)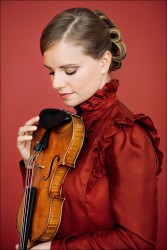 Tchaikovsky –  Violin Concerto
Beethoven – Symphony No.5
Prior to this Dresden concert I did wonder if a programme of standard repertoire namely Tchaikovsky and Beethoven would still attract large audiences to concert halls in German cities. Yet any doubt I had was misplaced as the newly refurbished Kulturpalast holding almost 1,800 seats was full with several people outside looking for tickets. Dresdner Philharmonie under its principal conductor Michael Sanderling is recording a cycle of recordings coupling Beethoven with Shostakovich on Sony so it was no surprise to see Beethoven's Fifth Symphony on the programme. I have reviewed the first two releases click here and here). There is nothing like the smell of new wood the material you see mostly when entering the concert hall of Kulturpalast together with the white painted terraces and seats upholstered in orange cloth. Yet all this counts for nothing if the acoustic is poor but I need not have worried as the glorious sound of the orchestra from my seat made quite an impact.
This was a relatively short programme with no overture or prelude serving to warm up the orchestra. So Julia Fischer, wearing a haute couture outfit, entered the stage to play Tchaikovsky's enduringly popular Violin Concerto. By my reckoning this warhorse of the repertoire has in recent years become rather less of a fixture in the concert hall. Tchaikovsky wrote the work in Clarens, a Swiss resort on the shores of Lake Geneva, where he had gone for a rest cure from his depression brought on by his disastrous marriage to Antonina Miliukova. Today it is hard to believe that violinists Josef Kotek and Leopold Auer refused the composer's offer to premiere the work. One immediately became aware of the sense of total assurance in Fischer's mature and convincing approach to the concerto which soon drew this listener in. There was certainly no whiff of anything routine about her hard-driven performance that provided significant drama marked by a broad range of tone and dynamic. Particularly effective was Fischer's passionate playing of the brooding central movement Canzonetta: Andante and at times it felt as if her violin was weeping such was the intensity of emotion, as if casting a special spell. Personally, I would have liked to have known if Fischer was playing her 1742 Guadagnini or a modern Philipp Augustin violin. It is a shame that no violinist around today seems able to match the intensity and the special Russian flavour that David Oistrakh and Leonid Kogan bought to the work, especially the final movement. Maybe the impact of one's first recordings are remembered too fondly. Totally responsive to the needs of the soloist the empathetic Sanderling ensured that his Dresdner Philharmonie players never smothered the soloist's tone with excess volume.
After a gestation period of several years Beethoven completed his Fifth Symphony in 1808 which has become one of the landmark works of the genre. Dedications to both Prince Lobkowitz and Count Rasumovsky appear on the printed score. Beethoven himself introduced the symphony the same year at Theater an der Wien. Michael Sanderling and his orchestra lavished great care and attention on this Beethoven performance. Most of the players will have performed this enduringly popular symphony countless times yet their impressive, unfailingly stylish playing sounded eminently fresh, generating an ideal level of drive and energy. Marked Allegro con brio, in the bold opening movement Sanderling created a resolute rather serious tone in a powerful, firmly focused performance. One of my favourite movements in Beethoven's symphonies is the Andante con moto and Sanderling fashioned a proud sense of engagement with an inner glow redolent of a magnificent Alpine valley setting. Here, I am often reminded of the spine-tingling intensity that Karajan and his Berliner Philharmoniker brought to the Andante con moto in their 1962 Jesus-Christus-Kirche, Berlin account on Deutsche Grammophon. In the third movement Allegro, cast in a scherzo and trio form Sanderling conveyed an optimistic feel and demonstrated how the orchestra can play with such marked contrast of dynamic. Admirable and celebratory the Finale: Allegro as exhilarating as I have heard, provided a satisfying sense of resolution. Compared to the approach of big-band Beethoven with immense tonal power, as encountered in many of the older recordings of the Fifth for example Wilhelm Furtwängler with the Berliner Philharmoniker in 1943 and 1947, Sanderling adopted a less weighty performance with a stylish contemporary feel that had real gravitas. Undoubtably many of the audience will not forget this captivating concert in a hurry.
Michael Cookson