Germany J. Strauss, Die Fledermaus: Orchestra and Chorus of the Deutsche Oper / Donald Runnicles (conductor), Deutsche Oper Berlin, 8.5. 2018. (JMI)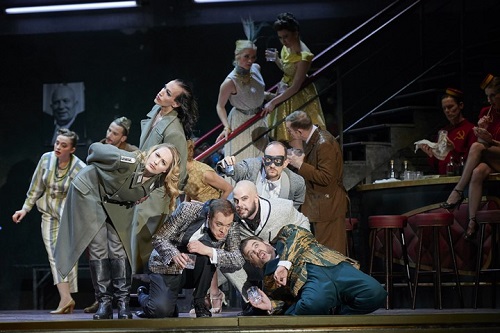 Cast:
Rosalinde – Annette Dasch
Eisenstein – Thomas Blondelle
Adele – Nicole Hasslett
Prince Orlofsky – Angela Brower
Frank – Markus Brück
Dr. Falke – Philipp Jekal
Alfred – Enea Scala
Dr. Blind – Jörg Schörner
Ida – Kathleen Bauer
Ivan – Samir Dib
Production:
Director – Rolando Villazón
Sets – Johannes Leiacker
Costumes – Thibault Vancraenenbroeck
Lighting – Davy Cunningham
There's no question that Die Fledermaus is one of the most popular operettas, especially in German-speaking countries where performances are never lacking at the Christmas season. It is less commonly performed in the spring, but the truth is that it is always well received here, and on this occasion – as usual – the public enjoyed it.
This new production is directed by Rolando Villazón, who has also staged Puccini's La rondine at the Deutsche Oper. I found it all quite uneven, beginning with the basic concept. Die Fledermaus develops in quite a clear way, but Villazón has turned the operetta around. The first act takes place in the nineteenth century in the Eisensteins' very traditional house, where everything works in an attractive and predictable way. But then, in Act II at Prince Orlofsky's party, we move to an underground cave in the Communist era where things begin to seem less convincing. Finally, the third act takes place in outer space with Frosch as a robot!
Villazón's stage direction is very elaborate, especially with regard to the crowd scenes and in the second part of Act II. There are funny touches throughout the performance, but these sometimes can be a bit too much.
There is no doubt that Donald Runnicles is a very notable conductor, as he has shown so many times in this house and throughout his long career. However, this time his conducting was less convincing. An operetta demands lightness and a special joy, and this is where his reading fell short. The orchestra gave a strong performance, but once again I found the chorus fell below their usual excellent level.
Rosalinde was played by soprano Annette Dasch, who offered the most accomplished vocal and stage performance of the entire cast. She was funny and sang remarkably well, including the 'Czardas'.
Tenor Thomas Blondelle as Gabriel von Eisenstein was a competent interpreter of the character. Soprano Nicole Hasslett gave life to Adele, but she was no more than correct in the part, even in her great moment singing to the Marquis.
Mezzo-soprano Angela Brower in the part of Prince Orlofsky was less impressive than I had expected her to be. I have seen her on several occasions in Munich and had enjoyed her earlier performances.
Markus Brück was Frank, the director of the prison, and he gave a hilarious performance throughout the opera. His voice was as brilliant as ever, but it was his strong acting that surprised me.
Philipp Jekal as Dr. Falke and Enea Scala as Alfred were correct in their roles, and the supporting characters were covered appropriately by Jörg Schörner (Doctor Blind), Kathleen Bauer (Ida) and Samir Dib (Ivan).
Jose M. Irurzun