Germany Dresdner Musikfestspiele 2018 [9] – Britten, Bernstein, Brahms: Nicola Benedetti (violin), Royal Scottish National Orchestra / Peter Oundjian, Kulturpalast, Dresden, 20.5.2018. (MC)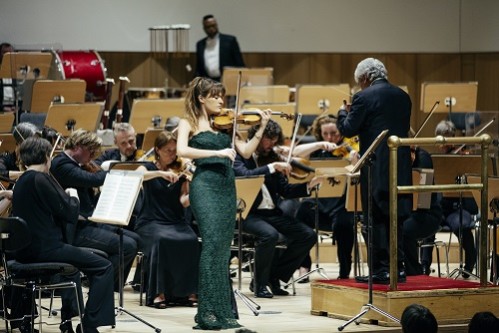 Britten – Four Sea Interludes from Peter Grimes, Op 33a
Bernstein – Serenade, after Plato's Symposium, for solo violin, string orchestra, harp and percussion
Brahms – Symphony No.4, Op.98
Prior to this concert what puzzled me was that this visiting Royal Scottish National Orchestra was performing Brahms Symphony No.4 at Dresdner Musikfestspiele when Staatskapelle Dresden under Christian Thielemann had performed it at a festival concert just two days before (for review click here), whose repeat performance I attended only the day before.
Britten's Four Sea Interludes – an orchestra suite from his opera Peter Grimes – is a popular work with which to open a concert. Peter Grimes was the first of Britten's operas to be a critical and popular success internationally. It is a dark work with Grimes a deeply troubled fisherman whose young apprentices perish while working in his employment. Requiring a large orchestra, the playing under the direction of Peter Oundjian successfully captured a snapshot of life in the isolated coastal village in Suffolk of the misunderstood outcast Grimes. I especially enjoyed the darkly shimmering opening of Dawn and Sunday Morning the scene of a village gradually coming to life. The depiction of Moonlight a surging and unnerving nocturne and Storm proved a convincing portrayal although the timpani seemed far too loud, swamping much orchestral detail notably the high strings.
Whilst writing his opera Candide in summer of 1954 Bernstein also managed to compose an orchestral piece featuring the violin which became his five-movement Serenade. The Serenade resulted from a re-reading of Plato's philosophical text The Symposium. With the five movements representing the view of a Greek philosopher Bernstein explained 'It's one of Plato's shortest dialogues and it's on the subject of love.' Scottish soloist, Nicola Benedetti, pulled off this challenging work with aplomb. Described 'as a treatise on love' Benedetti fully understood the emotional diversity of the writing and was able to alternate around these components while the technically difficult third movement proved little problem for her either. Especially enjoyable was the fifth movement dialogue, a duet, between Benedetti and principal cellist Aleksei Kiseliov. Admittedly the Serenade would not rank among my favourite concertos and within the festive mood of the final movement with its jazz elements I confess to wishing that instead I had been hearing the Symphonic Dances from West Side Story.
Brahms worked on his Symphony No.4 in 1884/85 at the Austrian summer resort of Mürzzuschlag in the Styrian Alps. Its esteem has endured and remains for many Brahms's most popular symphony. Hans von Bülow, after conducting a rehearsal of the score enthused that the symphony was 'stupendous, quite original, individual, and rock-like. Incomparable strength from start to finish.' Compared to Thielemann's reading which I heard yesterday Peter Oundjian's performance was like chalk and cheese. Thielemann's watchwords were drama and excitement and one can imagine him constantly challenging his players to achieve greater heights whilst Oundjian adopted an approach that was more about obtaining gratifying beauty from his RSNO than generating excitement. Overall, we heard a comforting mood of serenity and joy which suffused the swaying opening Allegro non troppo although thankfully additional weight and intensity did develop some way into the score. With plenty of restraint from Oundjian it felt as if we had smoothly embarked on an agreeable stroll on a warm spring day through marvellous verdant Alpine countryside. Unlike Thielemann, Oundjian's rather bland direction of the slow movement had little that could be described as beguiling heights of fantasy and grandeur. Nevertheless, this carefully prepared interpretation might easily depict a gentle Rhine cruise through magnificent countryside. Admirable was the good humour of Oundjian's Scherzo generating only little drama while with Thielemann it felt like depicting a celebration of a great occasion taking the music forward with majestic weighty strides. In the dark key of E minor, the final movement – a Passacaglia – had some vestiges of drama together with lovely solo contributions especially from flute and oboe. Here Brahms introduces contrasts of the broadest imagination including chorale-style variations featuring horns and trombones which sounded splendid. However, towards the conclusion Oundjian's brass burst into life before a mildly uplifting ending.
This was an entertaining concert with some very fine playing from RSNO and soloist Nicola Benedetti but the over cautious Oundjian did not delve deep enough into the Brahms score or ask enough of his excellent players for any thrilling drama.
Michael Cookson