Germany Verdi, Rigoletto: Orchestra and Chorus of the Deutsche Oper / Guillermo Garcia Calvo (conductor), Deutsche Oper, Berlin, 7.5.2018. (JMI)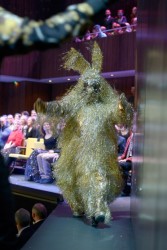 Cast:
Rigoletto – Simon Keenlyside
Duca – Stephen Costello
Gilda – Albina Shagimuratova
Sparafucile – Tobias Kehrer
Maddalena/Giovanna – Judit Kutasi
Monterone – Derek Welton
Count Ceprano – Byung Gil Kim
Countess Ceprano – Nicole Hasslett
Marullo – Sam Roberts-Smith
Borsa – Paul Kaufmann
Page – Meechot Marrero
Production:
Director – Jan Bosse
Sets– Stéphane Laimé
Costumes – Kathrin Plath
The Deutsche Oper has dedicated a large part of its May program to Verdi, with six different operas and a special concert on the schedule. The second of these Verdi operas to be presented was Rigoletto, in a Jan Bosse staging which I had attended and reviewed in 2016. (Review) Unfortunately, I did not find the production any more convincing on a second viewing.
The musical direction was entrusted to Guillermo García Calvo, who is increasingly active in Germany where he is currently the musical director in Chemnitz. I give him much credit for conducting this Rigoletto: it would be best to do it with one's eyes closed so as not to be distracted by what is happening on stage. His reading was solid and possibly the highlight of the performance. The orchestra collaborated well with the conductor, but the chorus, which is usually great, was less impressive.
The role of Rigoletto was sung by baritone Simon Keenlyside, whose performance was generally unconvincing. His voice does not have the necessary weight to be a Verdi baritone, and I found him a bit too tight at the top of the range. He was not at his best here, and the production is of no help.
The Duca di Mantova of tenor Stephen Costello was also disappointing. His voice can be rather monotonous, and his tightness at the top is well known. He avoided many of the high notes written in the score (and he was lucky that the maestro did not stop the orchestra after his 'La donna è mobile').
Of the three main characters, the best vocal performance was offered by soprano Albina Shagimuratova, with a voice that is well suited to the character but can be somewhat impersonal.
Sparafucile was sung by bass Tobias Kehrer, who again offered a powerful voice of undeniable quality and a strong performance. I would highlight the exhibition of air control he gave at the end of his duet with Rigoletto in Act I.
Judit Kutasi sang the parts of Maddalena and Giovanna, as she did two years ago, and did especially well as Maddalena, the supposed sister of Sparafucile. Derek Welton was a sonorous Monterone, especially in the middle range.
The rest of the characters were well covered by Byung Gil Kim, Nicole Hasslett, Sam Roberts-Smith, Paul Kaufmann and Meechot Marrero.
José M. Irurzun
For more about what is on at the Deutsche Oper click here.