Germany Dresdner Musikfestspiele 2018 [7] 'Cellomania' – J.S. Bach: Christian Poltéra, Christian-Pierre La Marca, Harriet Krijgh, Alban Gerhardt, Alisa Weilerstein, Pieter Wispelwey  (cellos). Palais im Großen Garten, Dresden, 18.5.2018. (MC)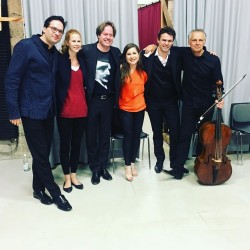 J.S. Bach – Suite No.1, BWV 1007 (Christian Poltéra); Suite No.2, BWV 1008 (Christian-Pierre La Marca); Suite No.3, BWV 1009 (Harriet Krijgh); Suite No.4, BWV 1010 (Alban Gerhardt); Suite No.5, BWV 1011 (Alisa Weilerstein); Suite No.6, BWV 1012 (Pieter Wispelwey)
Part of the 'Cellomania' series at Dresdner Musikfestspiele 2018 this was quite an event held at Sommerpalais in Großen Garten. Concerts comprising of all J.S. Bach's six cello suites do not happen too often, especially when played with a roster of six renowned cellists. It is natural to want to compare the individual performances which varied more than I expected. An advantage of having six cellists is being able to contrast the individual interpretative approach and insights: varying of tempi, dynamic, bowing and ornamentation.
Regarded as some of the most profound works ever written the cello suites are now almost three hundred years old. It seems that Bach probably composed the suites during the period 1717–23, whilst serving as Kapellmeister at Cöthen but it is not known if they were ever performed in Bach's lifetime. The suites are each designed in six movements comprising of a: Prelude, Allemande, Courante, Sarabande, two Menuetts or two Bourrées or two Gavottes and ending with a Gigue. It has been suggested by some cellists, including Steven Isserlis, that these suites are not dance-suites but 'mystery-suites' marking Jesus' Journey from the Nativity (No.1), Agony in the Garden (No. 2), Descent of the Holy Spirit (No.3), Presentation of Jesus at the Temple (No.4) Crucifixion (No.5) and Resurrection (No.6).
First on the stage was Zurich born soloist Christian Poltéra with Suite One who gave a satisfying standard performance clearly lavishing considerable care and attention on the writing and was careful not to get too carried away with excessive attack. Striking was Poltéra's lovely interpretation of the Sarabande with a near hypnotic quality and his cello gave a rich tone, especially mellow in the low registers. Next with Suite Two was French cellist Christian-Pierre La Marca who was a new name to me. A most elegant and assured cellist La Marca's approach seemed quite close to that of Poltéra as he used a fairly wide dynamic and wasn't afraid of using vibrato too. I will definitely make a point of hearing La Marca play again in concert. Although I have heard of Harriet Krijgh this was my first time seeing the Dutch cellist play. In Third Suite Krijgh gave a promising performance of serious resolve with a particularly fine understanding of dance forms and rhythmic patterns, yet the playing would have benefited from a more varied tone.
Berlin born Alban Gerhardt with Fourth Suite was the next cellist to take the stage, but it wasn't one of his finest hours. I must say this is not the first time I have felt this way about this performer. Seeming distracted there was little in the way of assigning an individual character to each movement as everything felt rushed. From America Alisa Weilerstein – playing the Fifth Suite – is probably the most in demand cellist on the international stage today and not without good reason. Weilerstein is a special player and it wasn't long before the hairs stood up on the back of my neck undoubtedly assisted by the mellow tone of her Montagnana (Venice, 1723) cello. Certainly not a performance for adherents of historically informed practice but there is more than one way of playing Bach and Weilerstein chose a more Romantic approach as high on passion as I ever thought imaginable and most importantly it worked supremely well. In stark contrast to Weilerstein's approach, next came Dutch cellist Pieter Wispelwey with Sixth Suite. A period instrument specialist Wispelwey has recorded the complete suites three times. Wispelwey played a five-string piccolo cello (eighteenth century; unknown maker) with no endpin, held between the knees, fitted with gut strings, using a period bow and employing extremely spare use of vibrato. Radiating sovereign assurance Wispelwey obtained a dark grainy tone from his instrument in a performance of such an elevated level it almost took my breath away. Undoubtedly this was a master at work!
This was another special evening at Großen Garten with the music of J.S. Bach the clear winner.
Michael Cookson