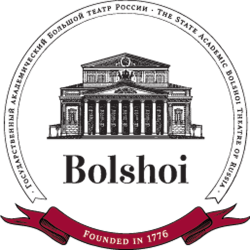 BOLSHOI BALLET IN CINEMA 2018/19 SEASON
LA SYLPHIDE – 11 NOVEMBER 2018*
DON QUIXOTE – 2 DECEMBER 2018
For a review of Don Quixote CLICK HERE
THE NUTCRACKER – 23 DECEMBER 2018*
LA BAYADÈRE – 20 JANUARY 2019*
THE SLEEPING BEAUTY – 10 MARCH 2019
THE GOLDEN AGE – 7 APRIL 2019
CARMEN SUITE/PETRUSHKA – 19 MAY 2019*
*Broadcast live from Moscow
The 2018/19 Bolshoi Ballet in cinema season showcases some of ballet's greatest classical works performed by the world's finest dancers creating a unique cinematic experience. Four classical ballets (La Sylphide, Don Quixote, La Bayadère and The Sleeping Beauty) will be shown on the big screen alongside the beloved Christmas taleThe Nutcracker. The evocative 1920's jazz ballet The Golden Age and Edward Clug's latest choreographic work Petrushka alongside Carmen Suite completes the season.
The season opens on 11 November 2018 with the Bolshoi's production of La Sylphide live from Moscow. One of the world's oldest surviving ballet, La Sylphide tells of the story of James who on the day of his wedding is awoken with a kiss from an ethereal winged creature, a Sylph. Entranced by her beauty, James risks everything to pursue this unattainable love. La Sylphide has been re-staged for the Bolshoi by August Bournonville expert Johan Kobborg and is performed to music by Herman Severin Løvenskiold. Starring the Bolshoi Ballet Principals, Soloists and corp de ballet this production is the ultimate romantic masterpiece.
Alexei Fadeyechev's acclaimed staging of Don Quixote follows on 2 December 2018. Inspired by stories of brave knights, Don Quixote of La Mancha and his faithful servant Sancho Panza set out on an adventure to meet his ideal woman, Dulcinea. Bolshoi Principal dancers Ekaterina Krysanova (Kitri)  and Semyon Chudin (Basilio) lead a spectacular cast of toreadors, flamenco dancers, gypsies and dryads in virtuosic dancing that is quintisentially Bolshoi. Set to music by Léon Minkus the production also stars Alexei Loparevic (Don Quixote), Olga Smirnova (The Queen of the Dryads), Anna Tikhomirova (a street dancer) and Kristina Krysanova (Mercedes).
A festive tradition for the whole family, the timeless classic The Nutcracker is broadcast live from the Bolshoi stage for two hours of enchantment and magic on 23 December 2018. On Christmas Eve Marie's Nutcracker doll magically transforms into a prince taking them both on a wonderful adventure. Along with Tchaikovsky's cherished score, Yuri Grigorovich's choreography, the Bolshoi's Principals, Soloists and the accomplished Bolshoi corps de ballet this promises to be the perfect pre-Christmas treat for the whole family.
20 January 2019 sees live from Moscow one of the greatest works in classical ballet history La Bayadère. Set in India, it tells the tragic love story of the temple dancer Nikiya and the warrior Solor. When the Rajah and his daughter Gamzatti discover their forbidden love it gives way to heated passions and murderous intrigue. Featuring dazzling sets, costumes and one of the most iconic scenes in ballet, the 'Kingdom of the Shades',  this production is a must see. With choreography by Yuri Grigorovich and music by Léon Minkus it stars the Bolshoi's Principals, Soloists and corp de ballet.
The resplendent fairytale ballet The Sleeping Beauty can be seen on 10 March 2019. Princess Aurora succumbs to the curse of the Evil Fairy Carabosse on her sixteenth birthday, falling into a deep slumber of one hundred years. Only the kiss of a prince can break the spell. A classic fairytale ballet, The Sleeping Beauty features scores of magical characters including fairies, Little Red Riding Hood, Puss in Boots, and the beautiful young Princess Aurora performed by Olga Smirnova. It also stars Semyon Chudin (Prince Désiré), Alexei Loparevich (The Evil Fairy Carabosse), Yulia Stepanova (The Lilac Fairy), Vitaly Biktimirov (Catalabutte), Artemy Belyakov (Bluebird), Anastasia Denisova (Princess Florine) and the Bolshoi Soloists and corp de ballet. With choreography by Yuri Grigorovich set to Tchaikovsky's sumptuous score this is classical ballet at its finest.
Yuri Gregorovich's celebration of the 1920s The Golden Age can be seen on 7 May 2019. A young fisherman Boris falls in love with Rita. He follows her to The Golden Age cabaret, a favorite nightly haunt and realises that not only is she is the beautiful dancer 'Mademoiselle Margot', but also the love interest of local gangster Yashka. It starsNina Kaptsova (Rita), Ruslan Skvortsov (Boris), Mikhail Lobukhin (Yashka) and Ekaterina Krysanova (Lyuska). With its jazzy score by Shostakovich and beautiful tangos, The Golden Age is a refreshing and colourful dive into the roaring 20s.
The final screening is a double bill of Carmen Suite/Petrushka live from Moscow on 19 May 2019. Carmen Suite is a passionate one act ballet by Cuban choreographer Alberto Alonso, originally conceived for legendary Bolshoi prima ballerina Maya Pliesetskaya. Set to music by Georges Bizet and Rodion Shchedrin it centres on the free spirited Carmen who finds herself caught in a love triangle.  This is followed by a new contemporary work Petrushka by Edward Clug set to music by Stravinsky.