Switzerland Puccini, Turandot: Soloists, Chorus of the Zurich Opera, Philharmonia Zurich / Giampaolo Bisanto (conductor), Zurich Opera, Zurich 25.5.2018. (JR)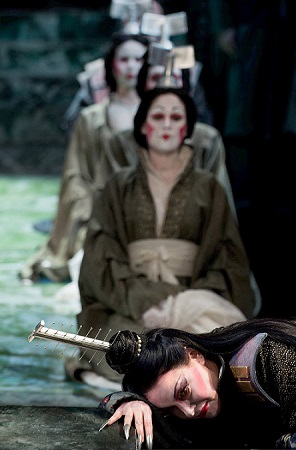 Cast:
Turandot – Martina Serafin
Liù – Guanqun Yu
Calaf – Aleksandrs Antonenko
Timur – Wenwei Zhang
Ping – Yuriy Yurchuk
Pang – Spencer Lang
Pong – Iain Milne
Altoum – Boguslaw Bidziński
Mandarin – Ildo Song
Production:
Producer – Giancarlo del Monaco
Scenic assistant – Claudia Blersch
Sets and costumes – Peter Sykora
Lighting – Hans-Rudolf Kunz
Chorus master – Janko Kastelic
In this 2006 Giancarlo del Monaco production of Turandot, now getting another revival, Calaf, Liù and Timur have travelled not from the Land of the Tartars but from modern times back to medieval China and the city of the Emperor. It is a clash of two worlds and their different ways of thinking and behaviour. They arrive in modern dress carrying a Gucci bag, bewildered by what they see in old Peking, but Calaf still manages to fall in love instantly by the vision of the icy and cruel Princess Turandot. I last saw this production on its revival in 2015 (click here) and for a description of the staging I refer you to that review. Masks and headgear still have the distinct whiff of a Doctor Who episode, which makes the whole production look rather tacky. The witty use of a laptop to solve two of the three riddles set by Turandot still produces many giggles when it first appears.
Only one singer remains from the last revival, Wenwei Zhang as Timur, whilse two return from a performance I saw in 2011 (click here) Martina Serafin in the title role and Bogulsav Bidziński, transferring from Pong to Emperor Altoum.
Martina Serafin has grown further into the role, unsurprisingly as she has now sung the role all over the world in major opera houses and must now be one of the Turandots of choice. (My research has not revealed whether she is related in any way to Tullio Serafin, who conducted Callas in the role.) I prefer Serafin to many of those famous names of the past; she has no wobble and is not too shrill. She acts superbly and looks credible both when icily rejecting the amorous advances of Calaf and when she ultimately succumbs, although the production does her no favours in this regard.
Latvian tenor Aleksandrs Antonenko's vocal strength is mightily impressive, it compensates (mostly) for a lack of colour and expression in the voice in his middle register. 'Nessun dorma' was very well rendered, although his acting skills are rudimentary.
Liù received the greatest amount of applause at the final curtain by far. Guanyun Yu has sung the role at the Met. Her looks and the tragic role she plays help her, but it is her crystal-clear soprano which enamours. She sang both 'Signore, ascolta' (Act I) and 'Tu che di gel sei cinta' (Act III) with distinction.
Wenwei Zhang was an excellent Timur and his fine acting skills convinced. Yuriy Yurchuk stood out from the trio of Ministers, Ping, Pang and Pong. His deep Ukrainian baritone overshadowed the rather weak tenors of both Iain Milne and, to a lesser extent, Spencer Lang. Bidziński's Emperor was more hale and hearty than can be the case, but no harm in that. Ildo Song was a strong Mandarin, even when singing backstage.
The chorus were in full voice, even though unappealing in threadbare garb and looking like death warmed up – they are supposed to be downtrodden by a brutal regime. Here they seemed corpse-like.
There were problems in the pit. Originally this run of performances was to have been conducted by the opera house's music director Fabio Luisi, but he is about to conduct a new production of La forza del destino, and perhaps found that all too taxing. In stepped Giampaolo Bisanti who is about to take the post of music director at Bari's opera house, which goes by the name of Teatro Petruzelli. He struggled to keep singers and orchestra together, particularly in the case of Ping. It was not opening night when such timing errors can be overlooked.
We had the Alfano ending written two years after Puccini's death. Puccini died just at the point when Liù dies, and Alfano uses existing tunes from the work to ensure the opera ends happily. Most operagoers would have no inkling that it wasn't all Puccini's composition. In this production Ping, Pang and Pong become Maître d', Waiter and Head Chef as Calaf and Turandot dine at a swanky restaurant on the Bund overlooking the Pudong skyline and Shanghai River while the crowd sing of their new unlimited good fortune. Medieval China has lurched swiftly into the 21st century.
John Rhodes