Argentina Rossini, L'Italiana in Algeri: Soloists, Chorus and Orchestra of Teatro Colón / Antonello Allemandi (conductor), Teatro Colón, Buenos Aires. 9.5.2018. (JSJ)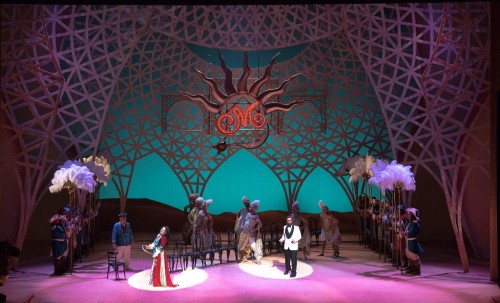 Cast:
Isabella – Nancy Fabiola Herrera
Lindoro – Xabier Anduaga
Mustafa – Nahuel Di Pierro
Taddeo – Damon Ploumis
Elvira – Oriana Favaro
Zulma – Mariana Rewerski
Hally – Luis Gaeta
Production:
Direction – Joan Anton Rechi
Sets – Claudio Hanczyc
Costumes – Mercè Paloma
Lighting – Sebastián Marrero
Chorus – Miguel Fabián Martínez
2018 marks the 150th anniversary of the death of Rossini (13 November 1868 to be exact) and no doubt will be well marked with productions (and hopefully, some new recordings). The Teatro Colón's contribution is arguably the best known of his early works, L'Italiana in Algeri – a buffo, which dates from May 1813 when he was aged 21 and sandwiched between the two dramas, Tancredi and Aureliano in Palmira.
This new production is a co-production with the San Sebastian Musical Fortnight and San Lorenzo del Escorial Festival, where it will be presented later in the year (with a different cast and conductor).
The basic fabric of the production by Joan Anton Rechi is essentially modern but also timeless with a basic room like structure which is filled with strong colours, presumably to represent both the luxury of the Bey's palace and the harshness of the North African climate.
Dress likewise is modern – but there the pleasing broad outline ends, and the more absurd detail intrudes, such as the fainting maids (in awe of Mustafa's presence presumably?), the fighting male transvestites (eunuchs?), Mustafa on an old telephone, curtains that go up and down, etc., etc.
Fortunately, the cast broadly make up for these distractions. Argentine bass Nahuel Di Pierro was a strong Mustafa, both vocally and visually, and Venezuelan mezzo Nancy Fabiola Herrera was a colourful Isabella.
According to the programme our Lindoro – Spanish tenor Xabier Anduaga, is barely 23 years of age and while undoubtedly showing great promise, with a firm and powerful voice, it is still in need of refinement.
On the other hand, no details are given in the programme about Damon Ploumis, the Taddeo, and while well-acted, his diction was poor.
All the other cast – Luis Gaeta as Hally, Oriana Favaro as Mustafa's wife Elvira and Mariana Rewerski as her slave/confidante Zulma played their roles to perfection.
Musical direction was by Antonello Allemandi who presented a lively reading.
But still a mystery is the curtain when one walked into the theatre with the image of a banknote announcing 'Casino Algeria'!
Jonathan Spencer Jones