Switzerland Ligeti, Brahms: Lisa Batiashvili (violin), Chamber Orchestra of Europe / Sir Antonio Pappano (conductor), Tonhalle Maag, Zurich, 23.5.2018. (CCr)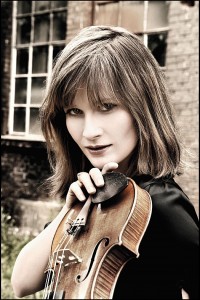 Ligeti – 'Concert Românesc'
Brahms – Violin Concerto in D major, Op.77; Serenade No.1 in D major, Op.11
An evening of Brahms in Zurich has a sort of logic to it: Zurich, the small, staid city that punches above its weight in the calibre of music and musicians on offer; and Brahms, the ambitiously conservative composer of music that is less than mad but more than good. Add to this the fact that the Zurich's chief concert hall is temporarily housed in a makeshift wooden temple, a university-scale setting that hosts hurricane-force philharmonic gusts, and you get a concert on a most interesting scale.
Antonio Pappano conducted – he of the Royal Opera House in London, and a fabulous craftsman for performances of Italian opera. The opening was Györgi Ligeti's 1951 Concert Românesc, a smart way to begin this smart programme. With its sparely dark strings, confidently delicate woodwinds, and tight rotation between jittery, playful and foreboding, this brisk piece ended with perfect snap under Pappano's baton.
Violinist Lisa Batiashvili then arrived for the core of the evening, Brahms's Violin Concerto. She is well known in Zurich, having been the Tonhalle's artist in residence for the 2015-16 season. It is hard to imagine a musician with more technical – mechanical, physical – command of her instrument than Batiashvili. Just watching her poise tells you all you need to know: her violin perfectly perpendicular to her ramrod body, forearm stitching from one end of the bow to the other in flawless swoops, everything staying exactly on its axis.
Pappano in the first movement summoned huge sound, despite the medium-size Chamber Orchestra of Europe. He and his soloist seemed to share a vision of what they wanted from their Brahms: reining in any potential for romanticist syrup, but keeping the dynamics big. Climbing her musical staircase of an entrance with the first major theme already announced in the orchestra, Batiashvili did a lot less lingering and relishing than you might expect during this and any further bravura passages. Nor did the conducting spare much time for elastic metres or vicissitudes in the dynamics. A crisply vigorous Brahms, not given to any excess: this was a satisfying opening.
Taken to an extreme, the approach showed its limits in the second movement. Delivered too loud, the music's prayerfulness turns to hissing. There were passages in which the violin solos were outright austere, and listening was like watching a ballerina on an assembly line. Batiashvili's mechanical excellence was, in moments at least, only that: mechanical.
The third and final movement is quintessential Brahms, and here the whole thing came together between orchestra, conductor and soloist. It was never quite as soaring and exuberant as Beethoven, and it showed how stubbornly grace eluded Brahms when he came at it frontally. But the balanced eruptions and ascending tension were thrilling nonetheless, given that Pappano kept them sweeping boldly along.
The audience was enormously enthusiastic. Batiashvili was brought on for several rounds of applause, and an encore: an orchestration of Bach's Chorale Prelude 'Ich ruf' zu dir'. The orchestra and soloist did not immediately gel here, but Bach's perfect melody was lovingly conveyed.
The final work was Brahms's Serenade in D major. Composed before his symphonies, it should really be mentioned in the same breath as them. This is a less costive Brahms than what we get in some of his later works, and of the six movements there are several that are outright lush. The winds were allowed to amble, and the big sweeping climaxes had less of the leaden inevitability with which Brahms elsewhere struggled. This was the finest conducting and orchestral playing of the evening.
Again, the audience showered approval, and the final encore was Rossini's overture to La scala di seta. It gave Maestro Pappano a chance, with its hairpin dynamic twists and gay ascents, to show what a conductor is capable of with music closest to his heart. The entire Chamber Orchestra of Europe, and Clara Andrada's flute and Kai Frömbgen's oboe in particular, had one more chance to shine.
Casey Creel