Germany Dresdner Musikfestspiele 2018 [8]: Gregory Porter and Band, Semperoper, Dresden, 20.5.2018. (MC)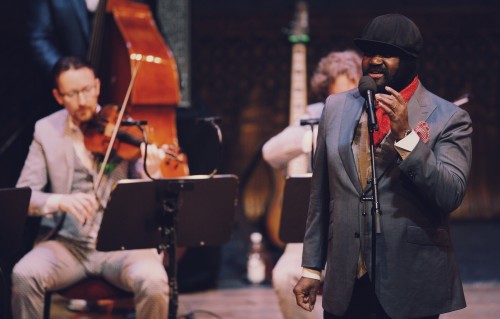 Gregory Porter (vocals), Tivon Pennicott (tenor saxophone), Jahmal Nichols (double bass/electric guitar), Ondřej Pivec (organ), Albert 'Chips' Crawford (piano), Emanuel Harrold (drums). Kaiser Quartet (Adam Zolynski, Jansen Folkers [violins], Ingmar Süberkrüb [viola], Martin Bentz [cello])
Dresdner Musikfestspiele attracts internationally famous performers and orchestras mainly from the classical music world but each year there a number of concerts by performers from other genres including jazz and this year we heard jazz singer-songwriter Gregory Porter. I am not sure how many concerts Porter has played in opera houses but the stylish surroundings of Semperoper, packed to the rafters, must be a rewarding and inspiring environment for any artist.
The bearded Porter was a commanding presence of sartorial and – of course – he was wearing his now trademark headgear, a balaclava and peaked cap which he describes as his 'jazz hat.' For this morning concert the Dresden audience certainly relished Porter's artistry who together with his five-piece band was as tight as one could imagine, seeming buoyed by the occasion. As many jazz players do, all were wearing hats of various types. Additional backing was provided by Hamburg based Kaiser Quartet who wore coordinated suits which looked plain grey from a distance but were actually highly patterned, and I smiled at the attempt at individuality wearing different coloured handkerchiefs in their top pocket.
Using a seamless sequence of numbers Porter's unique vocal qualities were greatly appreciated by this enthusiastic Dresden audience. I counted about sixteen songs, including two encores, largely taken from his albums 'Liquid Spirit', 'Take me to the Alley', 'Nat King Cole & Me'. Disappointingly Porter didn't include my particular favourite, 'Hey Laura'. Porter showed a comforting, mellow groove with the ballad 'Holding on' from the album 'Take Me to the Alley' a song which enabled him to display his golden vocal to great effect. Tivon Pennicott, an exceptionally talented and clearly humble musician, gave a sultry sax solo which immediately won the approbation of the audience. An up-tempo number 'On My Way to Harlem' from the 'Be Good' album was sung by Porter with an intensely soulful quality and containing another wonderful sax solo by Pennicott. Also, from 'Take Me to the Alley' was the bluesy mid-tempo, foot tapping number 'Don't Lose Your Steam' again with Pennicott's mean sax solo. An incredibly memorable, mid-tempo work 'In Fashion' from album 'Take Me to the Alley' with prominent piano throughout including solos from 'Chips' Crawford and a striking organ part too. I couldn't help thinking how similar part of the music was to 'Bennie and the Jets' by Elton John and Bernie Taupin. Highly successful was Porter's cover of 'Papa was a Rolling Stone' a hit for The Temptations in 1972 achieving a funky groove assisted by Jahmal Nichols' riveting bass solo. Porter's voice was smooth as silk with the soulful 'No Love Dying' from album 'Liquid Spirit' featuring Pennicott's sax and Pivec's organ solos both stunningly played.
This was a tremendously entertaining concert marred only by how the sound engineers had mic'd Porter's voice which was slightly muffled and not always easy to hear the words – unforgivable as the Semperoper has such a renowned acoustic. Nevertheless, I feel sure the Dresden audience will remember this concert from Gregory Porter and his band for a long time to come.
Michael Cookson