Germany Wagner, Götterdämmerung: Soloists and Chorus of Leipzig Opera, Leipzig Gewandhaus Orchestra / Ulf Schirmer (conductor), Leipzig Opera House, 13.5.2018. (JMI)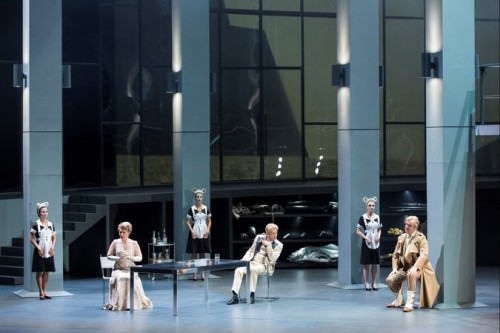 Cast:
Brünnhilde – Christiane Libor
Siegfried – Thomas Mohr
Hagen – Rúni Brattaberg
Gunther –Tuomas Pursio
Gutrune – Gal James
Waltraute – Kathrin Göring
Alberich – Peter Sidhom
Norns – Karin Lovelius, Kathrin Göring, Olena Tokar
Woglinde – Magdalena Hinterdobler
Wellgunde – Sandra Maxheimer
Flosshilde – Sandra Kanke
Production:
Direction – Rosamund Gilmore
Sets – Carl Friedrich Oberle
Costumes – Nicola Reichert
Lighting – Michael Röger
Choreography – Rosamund Gilmore and Dancers
Leipzig's Ring has come to a brilliant end with a remarkable performance of The Twilight of the Gods: an attractive production, excellent musical direction and a cast with two superb protagonists.
 As on the previous days, the staging is by Rosamund Gilmore, with one basic set for the whole opera and a more prominent dance presence than earlier. There is a large room with tall pillars, to which props are added for the interior scenes, among them a white piano to be used as a bier for Siegfried's corpse and to which Brünnhilde will ascend for her Immolation Scene. In the interior scenes the entire left of the stage is a large window, while for the outdoor scenes the window is closed and a smoke machine is used to create ambiance. In Act I, on the right of the stage, a terrace representing Brünnhilde's rock is placed. The production works well in general, although Siegfried's scene with the Rhine daughters is less successful. Costumes are modern and attractive, and the lighting is outstanding.
Overall, this has been a satisfying staging of the Ring; the only weak point was the first two acts of Siegfried. Perhaps it's not an exceptional production, but it puts itself at the service of the plot and not the other way around, as so often happens lately.
Ulf Schirmer's musical direction was excellent on this occasion, and one could say that it was the best reading of the entire Ring. The tension never waned, which is an additional merit in an opera as long as this one. The only downside is that there was a certain excess of orchestral volume in the wonderful music for Siegfried's Funeral Music. But in general, it was a marvelous musical version that made the trip to Leipzig worthwhile. Both the great Gewandhaus Orchestra and the Leipzig Opera's Chorus left a strong impression.
The role of Brünnhilde was once again sung by Berlin soprano Christiane Libor, whose performance was magnificent from beginning to end. She is one of the best interpreters of the character today and can sing it successfully in any top opera house in the world. Her voice is powerful, and she is an expressive actress on stage: in short, she is a great Brünnhilde.
Siegfried was sung by Thomas Mohr, who was Loge in Das Rheingold, where he gave a wonderful performance. I cannot say that his voice has all the characteristics of a heldentenor, particularly in terms of his timbre. However, he is a splendid tenor who sang convincingly throughout the opera, including the very difficult narration that precedes Siegfried's death, where he showed that he can deal perfectly with that devilish tessitura.
Rúni Brattaberg was back on stage, this time as Hagen. He was more restrained than usual in the first act, while in the next two he exhibited a tendency to open sounds, as if he were afraid that he would not be heard. He also had some difficulty with the high notes.
Baritone Tuomas Pursio did very well in the part of Gunther, a role more appropriate to his voice than those of Wotan and Alberich, which he sang earlier in the tetralogy. Soprano Gal James was acceptable in the part of Gutrune.
Mezzo-soprano Kathrin Göring was Waltraute, and her performance was the best one she had given in these productions. Her scene with Brünnhilde had a great emotional charge, and both of them handled it well.
Bass-baritone Peter Sidhom was correct in the part of Alberich, and the Norns were nicely performed by Karin Lovelius, Kathrin Göring and Olena Tokar. I found the Rhine-daughters (Magdalena Hinterdobler, Sandra Maxheimer and Sandra Janke) less convincing.
José M. Irurzun