Germany Dresdner Musikfestspiele 2018 [5] 'Cellomania' – Rachmaninov, Shostakovich: Sascha Maisky (violin), Mischa Maisky (cello) and Lily Maisky (piano), Kulturpalast, Dresden, Germany 15.5.2018. (MC)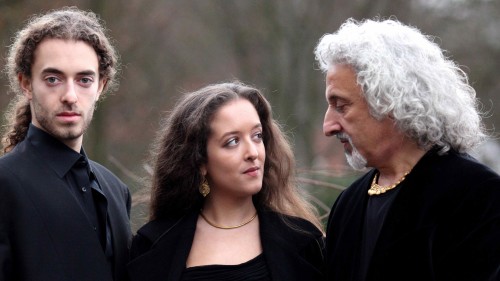 Rachmaninov – Trio élégiaque No.1; Mélodie, Vocalise, Elégie for cello and piano
Shostakovich – Cello Sonata; Piano Trio No. 2
This recital at Kulturpalast, part of the 'Cellomania' series at Dresdner Musikfestspiele 2018, featured   the 'Maisky trio' which comprises of renowned cellist Mischa Maisky, his violinist son Sascha and daughter Lily a pianist. This concert hall holding almost 1,800 people was I would say about 90% full, no mean feat for a chamber concert and testament to Mischa Maisky's popularity. One of the foremost cellists of his generation Maisky first came to my attention with his considerable legacy of recordings made for Deutsche Grammophon which I began collecting in the 1980s. There was certainly no messing about and taking liberties with Dad as the trio was highly professional in approach. In fact, during performance they barely looked at each other preferring to use their ears.
This all Russian programme opened with Rachmaninov's Trio élégiaque No.1 in G minor written in 1892 at Moscow by the 19-year-old composer. Striking was the trio's lyrical approach and attentive playing, bestowing utmost care and attention on the single movement work. Admirable was Mischa's natural feel for expression he so eminently displayed with Lily in the three short Rachmaninov pieces for cello and piano Mélodie, Vocalise and Elégie.
Shostakovich's 1934 Cello Sonata is a pivotal twentieth-century work written for the composer's recital partner cellist Viktor Kubatsky and employed a new simplicity as a counteraction to late-Romanticism. The work was written during a period of emotional turmoil in the composer's life and notably prior to his censure by the Soviet authorities. Throughout the performance one sensed Mischa and Lily completely understood Shostakovich's technical and emotional intentions. Their playing was seamlessly attuned to the light and shade and more expressive gestures contained in the writing.
Very different in disposition is Shostakovich's Piano Trio No.2 a score composed in 1944 against the background of the death of his close friend Ivan Sollertinsky and by the continuing World War conspicuously the conclusion of the siege of Leningrad, claiming the lives of a million people. It did not take long before comprehending the Maisky trio was fully attuned to the composer's emotional sound world. Bleak and anguished, the mood the trio created in the opening movement contrasted with the Allegro con brio exhibiting real fire in its belly. Delving deep into the meaning of the score the Largo stuck in my mind for the violin and cello playing so splendidly together. In the Finale, notable for its elements of Jewish character, standing out was the rhythmic earnestness and the level of anxiety achieved which felt almost unbearable.
In these thoughtful performances every bar felt vibrant and fresh as if approaching these scores for the first time. It was indeed a privilege having the opportunity to see Mischa Maisky, a true master, at work.
Michael Cookson