United States Various, Celtic Universe: (Jordi Savall, viols; Carlos Núñez, Galician bagpipes, pastoral pipes; Pancho Álvarez, viola caipara; Xurxo Núñez, percussion; Andrew Lawrence, Irish harp and psalterium; Frank McGuire, bodhrán), presented by San Francisco Performances, Herbst Hall, San Francisco. 3.5.2018. (HS)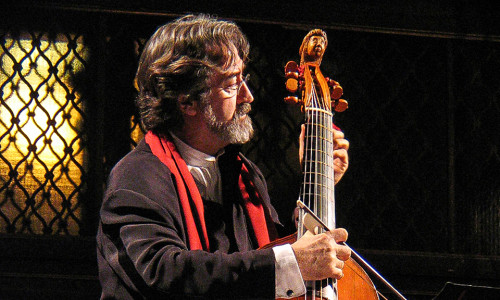 Jordi Savall may be best known to classical music followers as the viola da gamba player behind the scenes in the film Tous Les Matins du Monde (1991), providing the soundtrack for the story of the 17th-century composer and gambist Marin Marais. Presented by San Francisco Performances in Herbst Hall, Savall was joined by a multi-talented group of Celtic musicians, letting down his hair for one of the liveliest — and dare we say, danceable? — early music concerts in memory.
The collective musical acumen among the six players was stunning to behold as they worked their way through a program of eight sets, each focusing on a specific time and location of the Celtic world in Britain, France and Spain. Each set, mostly from 15th, 16th and 17th-century sources, comprised three to five pieces. Some were of folk origin, but others were composed, more or less following the forms of early-music dance suites—a graceful start, interspersing laments and lively numbers.
The strengths of these players quickly became clear. Savall, from Barcelona, was the fulcrum. In contrast to the sometimes-unbuttoned music, he was sober-faced and professorial, but the airs and jigs emerged from his treble viol — a violin-sized instrument played vertically, similar to the cello-like viol he turned to occasionally — with soulfulness and flair.
Carlos Núñez, a master of Galician bagpipes who can stomp and wail with the best of them (and remarkably in tune, it should be added), contributed polished and refreshingly pure playing on various recorder-like pipes, including one that looked like an ocarina and sounded like an enchanted alto flute. Núñez has played with the Chieftains and has his own Celtic band. His younger brother, Xurxo, seasoned this music with deftly wielded drums, tambourines, and other miscellaneous percussion.
For me, though, the star was bodhrán player Frank McGuire. Clad in a black kilt kit, he coaxed melodic elements and sprightly rhythms from the open-sided drum that added just the right peppery notes to the proceedings. His command of dynamics, tone and pulse was breathtaking.
Andrew Lawrence, an early music scholar and opera director best known as a much-recorded harpist, drew delicate filigrees from an Irish harp and the smaller psalterium, an early ancestor of the autoharp. Both instruments produce soft sounds that were often lost in the bustle of the music, but in solos they came through with shape and presence. Pancho Álvarez, a member of Núñez's Galician band, drew similarly quiet subtleties from a viola caipira, a 12-string guitar of Baroque origin.
The first set, 'Caledonia', set the tone with traditional Irish music. The next set, 'Celtic Music in Galicia', introduced different flavors of subtleties. Scottish music appeared in 'The Lord Moira Set' and 'Flowers of Edinburgh'. After intermission came 'The Donegal Set' and 'Carolan's Harp', which included music of Turlough O'Carolan, then a sequence of music from Brittany to Basque country, and to end, 'Irish Landscapes'.
Billed as 'a dialogue between ancient, historical and modern traditions', the 2-1/2 hours flew by with expertly, energetically played, and tasty music —equal parts rhythmic, tuneful and soulful. The U.S. tour, which started in Durham, NC, continues through May 11 with performances in Seattle, Denver, Portland (OR), Toronto and Boston.
Harvey Steiman