United Kingdom Parry, Elgar and Vaughan Williams: Natalie Clein (cello), Eleanor Dennis (soprano), Gloucester Choral Society, Oxford Bach Choir, Philharmonia Orchestra / Adrian Partington (conductor), Royal Festival Hall, Southbank Centre, London, 10.7.2018. (AS)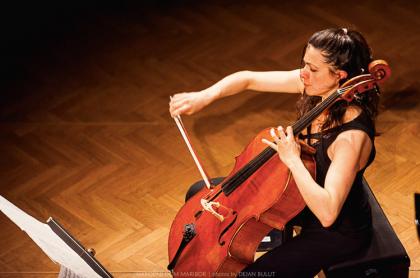 Parry – I was glad; Ode on the Nativity
Elgar – Cello Concerto in E minor, Op. 85
Vaughan Williams – Fantasia on a Theme by Thomas Tallis
Parry (arr. Elgar) – Jerusalem
British composers of the mid-Victorian era are mostly known, if they are known at all, for their church music, and in the case of the slightly later, particularly the composers Stanford and Parry, it was still religious texts that inspired them to compose music that was superior to their efforts in any other genre. Parry's anthem I was glad when they said unto me, based on Psalm 122, is a magnificent late romantic piece, on a par with anything else that was written at the time. It was commissioned for the Coronation of Edward VII in 1902 and has been sung regularly at coronations since then.
In the performance of this and the other Parry works the combined forces of the Gloucester Choral Society and the Oxford Bach Choir produced a very good sound, not perhaps quite of the quality of the best London choirs, but fully up to the needs of the repertoire. Adrian Partington chose tempi that were slightly on the slow side in I was glad, though not ruinously so. The section where at Coronation services the raucous broken adolescent voices of Westminster school traditionally shout out, rather than sing, their tribute to the new monarch was retained (it is often cut out), and it was sung here with rather more refinement than one hears in the recording of the 1953 Coronation.
If Elgar's Cello Concerto had been chosen for this concert for box office reasons, there was certainly a decently populated Royal Festival Hall to hear Natalie Clein's quite outstanding and refreshingly positive performance of it. She has a strong, beautiful tone quality and a superb technique, which she used to great effect in a reading that quite avoided the indulgent, slushily sentimental accretions that frequently invade performances of this work, though passion and emotion were certainly present. There was some lovely phrasing in the first movement, but it was a noble reading, well-integrated so that one was always and unusually well aware of the underlying triple rhythm. After a bright, springy rendering of the second movement's Allegro, ma non troppo section Clein played the Adagio in a serene though deeply-felt manner: there were no over-emotional bulges of phrase and not a hint of sentimentality. Not even the slow, introverted section near the end of the finale tempted Clein to over-indulge emotionally, and as a whole it was an outstanding presentation of the great work.
Adrian Partington is not a demonstrative conductor. There is seemingly a gentlemanly quality in his batonless direction, but he can certainly get good results, as he showed in his performance of the Vaughan Williams Tallis Fantasia. He captured the work's rhythmic ebb and flow very satisfyingly, obtaining a warm response from the Philharmonia strings, and generating considerable tension in the climaxes.
Parry's Ode on the Nativity is a very rarely performed work. Written for the Three Choirs Festival of 1912, it is a setting of part of a poem by the 15th-century Scottish poet William Dunbar. The affirmative nature of the writing is reflected by Parry in a setting which is strongly lyrical in nature, melodically attractive and superbly scored for solo soprano, chorus and quite a large orchestra. In the solo part Eleanor Dennis sang warmly and responsively, but with a degree of vibrato that didn't quite suit the style of the music. Adrian Partington is clearly an admirer of the work, for he conducted with splendid enthusiasm and energy, getting an alert response from his vocal forces, especially in the last part of the work, which climaxes in a joyous celebration of the infant Jesus's birth.
It will no doubt be a very long time before this work is heard again in London (and almost certainly not on Ascension Day, as on this occasion!), but fortunately there is a recording on the Lyrita label, to which curious readers are referred. They will not be disappointed by what they hear (review).
To have Jerusalem as the concert end-piece with audience members invited to sing with the choirs à la Last Night of the Proms could have been a bit gimmicky, but Partington stage-managed the situation gracefully and with good humour.
Alan Sanders