Germany Verdi, Il trovatore: Orchestra and Chorus of the Deutsche Oper / Giacomo Sagripanti (conductor), Deutsche Oper Berlin, 9.5.2018. (JMI)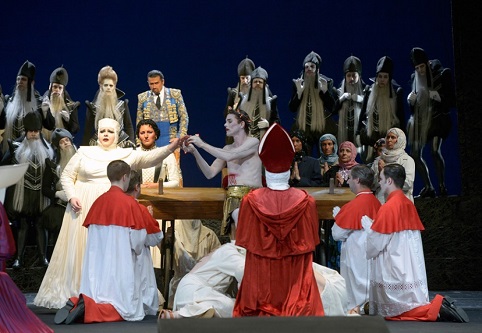 Cast:
Manrico – Murat Karahan
Leonora – Angela Meade
Azucena – Anita Rachvelishvili
Count Luna – Simone Piazzola
Ferrando – Marco Mimica
Inez – Alexandra Ionis
Ruiz – Burkhard Ulrich
Production:
Original production – Hans Neuenfels
Set & Costume Designer – Reinhard von der Thannen
My stay in Berlin has come to an end with this performance of Il trovatore, which was well served musically and featured two remarkable singers, Angela Meade and Anita Rachvelishvili.
I had a chance to see this Hans Neuenfels production a couple of years ago, and what I wrote about it then still holds true. (review)
The musical direction was entrusted to Giacomo Sagripanti, whose reading was energetic and provided strong support for the singers. There were a few imbalances in the choruses, which was probably due to a shortage of rehearsals. I found Maestro Sagripanti much more in his element here than in Il viaggio a Reims which he conducted this season at the Liceu. The orchestra was impressive, and the chorus was more convincing than it had been in previous days.
Manrico was sung by tenor Murat Karahan, whom I was seeing for the first time, and he made a positive impression. His voice is attractive and well handled, and he shines particularly at the top notes; however, he is a bit short in the centre and his low notes are a little weak. His main aria in Act III was not brilliant, but he improved in the famous 'Di quella pira', crowned with a powerful and sustained top note.
Soprano Angela Meade was again Leonora; she sang the part here two years ago. This time she was replacing Maria Agresta, and I think we won with the change: she is one of the best Verdi sopranos of today, and her performance was excellent.
Anita Rachvelishvili in the role of Azucena was exceptional from beginning to end. She is the great Verdi mezzo-soprano of our time, and it is difficult to think of an Azucena better than hers. I hope to see her again soon.
Baritone Simone Piazzola as Count Luna sounded better to me than on previous occasions, and his interpretation was solid. Marco Mimica was well suited to the part of Ferrando, and the secondary characters were nicely covered by Burkhard Ulrich (Ruiz) and Alexandra Ionis (InezOri).
José M. Irurzun