United Kingdom Various composers, Anna Netrebko and Yusif Eyvazov: Royal Philharmonic Concert Orchestra / Jader Bignamini (conductor), Royal Albert Hall, London, 23.5.2018. (JPr)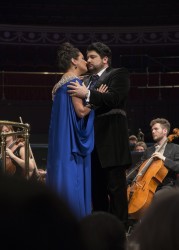 Verdi – Duet 'Già nella notte densa' (Otello Act I); 'Ballabili' (Dance, Otello Act III); 'Ritorna Vincitor', from Aida, Act I; 'La vita è inferno all'infelice… O tu che in seno agli angeli' (La forza del destino Act III); La forza del destino (Overture)
R. Strauss – 'Cecilia' Op.27
Sorozábal – 'No puede ser' La Taberna del puerto Act II)
Berlioz – La damnation de Faust (Part IV: Marche Hongroise)
Puccini – Duet 'Mario! … Son qui!' (Tosca Act I); 'Nessun dorma' (Turandot Act III); Intermezzo (Manon Lescaut)
Tchaikovsky – Polonaise, from Eugene Onegin
Rimsky-Korsakov – 'La sposa dello zar' (The Tsar's Bride Act IV)
Fikret Amirov – Balash aria (Seville Act II)
Catalani – 'Ebben…ne andrò lontana' (La Wally Act I)
Giordano – Duet 'Vicino a te' (Andrea Chénier Act IV)
This was a gala occasion filling the Royal Albert Hall when the audience – with a preponderance of Russian speakers – came to praise Anna Netrebko and indulge her wish to share the concert platform with her tenor husband Yusif Eyvasov. Do not get me wrong, Netrebko is – for her repertoire – undoubtedly the finest soprano of her generation but the revelation was Eyvasov who proved he thoroughly deserved to be singing at her side. His warm burnished sound and open-throated vocalism recalled the Italian tenors of yesteryear. The burly Eyvasov seems to have infinite lung capacity and his top notes were free, firm and ringing. This was never more so than in one of his splendid solo contributions as he held on as long as possible to the climax of 'Nessun dorma' which was gloriously sung. I have heard Pavarotti and all the leading tenors of this generations: Eyvasov has the potential to become recognised as a superstar tenor – in his own right – and not just known for who he is married to.
There is little to be read that probably hasn't been written already about Anna Netrebko. On this occasion she showed – royal wave to the audience apart – how she was content to be the most undiva-ish of divas and simply happy to honour and do full justice to everything she was singing whilst allowing Eyvasov his chance to shine. Her magnificent voice is now an exceptional instrument without any gear changes from full, rich and darkly-tinged chest notes, through a robust and opulent middle register to resplendently secure top notes. These can often be loud – or very loud – but Netrebko has the prodigious facility to go from richly passionate singing – 'Ritorna Vincitor' for example – to Marfa's 'mad scene' from Rimsky-Korsakov's The Tsar's Bride which had an affecting and deeply touching vulnerability. Here the young heroine succumbs to poison, imagining the joy of her wedding to her dead fiancé. This certain whetted the appetite for Netrebko's planned performances of Elsa in Lohengrin at Bayreuth next year when such textured shading and limpid singing should be much in evidence.
Another thing to praise about this concert is that Netrebko and Eyvasov were certainly not 'playing it safe' and the programme was not typical of an 'opera gala' with only 'Nessun dorma' and that instantly familiar warhorse the overture from La forza del destino. The latter was rousingly played by the accomplished Royal Philharmonic Concert Orchestra – displaying baleful brass and luxuriant strings — who sounded remarkably well-prepared. Jader Bignamini seemed the perfect conductor for this eclectic repertoire and accompanied his singers with attention and discretion. Given their moments in the spotlight on a sensitively lit platform the Italian maestro and his orchestra shone in their showpieces, Berlioz's unsurprisingly martial Marche Hongroise; Tchaikovsky's charming Polonaise (Eugene Onegin); a deeply evocative Intermezzo (Manon Lescaut); and a remarkable first hearing – for me at least – of 'Ballabili' some typically jolly Verdian ballet music for Otello which is always left out in staged performances it seems.
Just as the Rimsky-Korsakov aria has been a nod to Netrebko's Russian homeland so Eyvasov paid homage to his heritage with 'aria of Balash' from what appears to be prominent Azerbaijani composer Fikret Amirov's only opera, his 1953 Seville. This seemed to have a Spanish inflection, but I had no idea what he was singing as there is little information available on this and certainly there was nothing in the lavishly illustrated programme about the aria or indeed any of the other music we heard. Nevertheless, Eyvasov seemed to evince much pride and passion for what he was singing as was to be expected.
It is not surprising that the duets from Tosca and Andrea Chénier – operas Netrebko and Eyvasov have recently appeared together in – were two of the very many highlights in this memorable concert. Their Tosca Act I duet transported everyone to the church of Sant'Andrea della Valle in Rome: Eyvasov was the ardent Mario and Netrebko – who got to the platform by coming down some stairs at the side of the stalls clutching a bouquet – was ideal as his warm-hearted, passionate, and jealous Floria Tosca. And although it was rather a downbeat ending to their official musical items, the final duet ('Vicino a te') from Andrea Chénier – as the two lovers rejoice that their death by guillotine will unite them for ever – was searingly emotional and spectacularly sung with the (obvious) chemistry between the pair palpable. Netrebko and Eyvasov took a little time to warm up during their opening Act I duet from Otello, and since both have sung these roles before, this might be something some lucky people might get to see them performing together in the future. It was wonderful how everything Eyvasov did he appeared to 'make his own' including Alvaro's famous aria from La forza del destino (a role he will sing once with Netrebko at Covent Garden next season); that wonderful 'Nessun dorma'; and outdoing Domingo with a rousing zarzuela romanza, Sorozábal's 'No puede ser'. As good as it was Netrebko perhaps does not now have the ideal voice for Strauss's soaring 'Cecilia' but – another 'famous aria' for connoisseurs – 'Ebben…ne andrò lontana' from Catalani's La Wally revealed all her trademark intensity and ardour.
It was a very generous programme from both soloists and orchestra but there was to be more, though – yet again – what we heard was somewhat unexpected. After onstage presentations by pianist and composer Farhad Badalbeyli and the Azerbaijan Ambassador to the UK of the 'Order of Friendship' to Netrebko and 'People's Artist of Azerbaijan' to Eyvasov we heard Badalbeyli's own 'Ave Maria' exquisitely sung by Eyvasov as his wife looked on affectionately. They then joined together one final time for the Neapolitan song-like 'Cantami' by the Ukrainian-born Russian composer Igor Krutoy (from their recent CD 'Romanza') and Netrebko and Eyvasov seemed very together and much in love. Long may it last and it was a fitting conclusion to an evening that will live long in the memory of all those in the Royal Albert Hall.
Jim Pritchard
For more about Anna Netrebko click here and for Yusif Eyvasov click here.