Switzerland Verdi, La forza del destino: Soloists, Chorus of the Zurich Opera, Philharmonia Zurich / Fabio Luisi (conductor), Zurich Opera, Zurich 27.5.2018. (JR)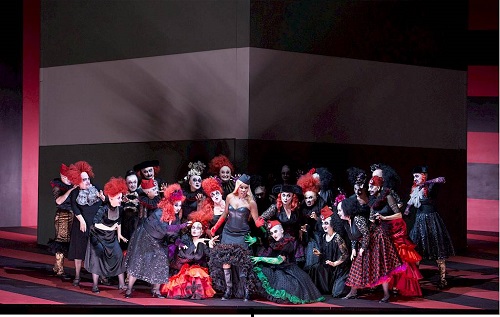 Cast:
Donna Leonora – Hibla Gerzmava
Don Carlo di Vargas – George Petean
Don Alvaro – Marcelo Puente
Preziosilla – J'Nai Bridges
Marquis di Calatrava, Padre Guardiano – Christof Fischesser
Fra Melitone – Gezim Myshketa
Mastro Trabuco – Jamez McCorkle
Production:
Producer – Andreas Homoki
Set – Hartmut Meyer
Costumes – Mechthild Seipel
Lighting – Franck Evin
Choreography – Kinsun Chan
Chorus master – Jano Kastelic
Dramaturgy – Kathrin Brunner
Ever since its opening night, La forza del destino has a reputation for being cursed. The first performance was delayed by nine months when its soprano became gravely ill. A baritone actually died on stage in the Met's 1960 production. Superstitious Luciano Pavarotti refused to sing it; Franco Corelli agreed, but carried out some rituals beforehand and afterwards to ward off the curse. And, sure enough, on the opening night of this Andreas Homoki production, half-way through the wonderful Overture, part of the set, a wall in three parts, moved backwards – as it was supposed to do – and got loudly stuck on a roof panel, and the three parts came apart. After some audience consternation and giggles, down came the Safety Curtain; more giggles. On soldiered Luisi to bring the Overture to an end. Out came Andreas Homoki to say they had not had any such trouble during rehearsals, but he did not believe in the curse. He asked us to forget what had just happened and they would start all over again. So Luisi played the Overture a second time (not quite as well as first time round). In the days when overtures were de rigueur in the concert hall, preceding a concerto and then a symphony, this overture was a firm favourite. It contains snippets of all the gorgeous tunes that Verdi wrote for the opera, so I did not mind hearing it twice.
Many people have a problem with this opera. It has been described as a difficult piece, mainly I suspect on account of its rambling structure. The composer struggled with it, and it went through several revisions; nevertheless the first night was a flop. Verdi's musical inspiration seems to have left him towards the end of the opera; as a whole, however, it contains undeniably some of his finest music. It is late middle-period Verdi, coming after La traviata and Il trovatore, around the same time as Don Carlos, and before Aida, Otello and his final work Falstaff.
Whilst the plot is simple, it is implausible and spans several decades and two countries, Spain and Italy. Consequently, you are never quite sure where you are and in what time period. Homoki's production did nothing to elucidate.
The story begins with the Marquis of Calatrava telling his daughter Leonora that she cannot marry the man she loves, Don Alvaro, because he is a half-breed and half-caste. Don Alvaro confronts the Marquis holding a gun but with the words 'Look, I'm unarmed' drops the gun, which promptly not only goes off but shoots and kills the Marquis. Leonora and Alvaro run away and are, rather inexplicably, separated. Leonora's brother Carlo goes after them both to seek revenge for his father's death. Leonora ends up in a hermit's cave outside a monastery. Unknown to her, Alvaro is hiding there as a monk. Remarkably Carlo finds them both, and then kills them.
The production is a typical one for Homoki. The moving set of panels form shapes and structures behind which singers and the chorus can appear, disappear and hide. This becomes tedious in the last act, when Padre Guardiano sings a few lines and then slopes off stage left, only to re-appear moments later, stage right. It does not help that he is dressed in exactly the same clothes as he wore when singing the role of the Marquis, and indeed at the end he (as the Marquis) embraces his son Carlo and his stabbed daughter Leonora.
Homoki likes the grotesque; the chorus (whether beggars, street-vendors or soldiers) are dressed like clowns, with white make-up, pink pork-pie hats and bright orange hair. It turned much of the opera into burlesque. The infernal trio (Preziosilla, Trabuco and Fra Melitone) prowled the stage throughout; Preziosilla and Trabuco's colourful Incan/Mexican costumes underlined their outsider status. The war scenes towards the end of the opera had the chief rivals in modern battle fatigues.
Russian soprano Hibla Gerzmana sang the role of Leonora, making a fine debut in the role and at the house. Last year she sang Desdemona in Dresden, before that Lucia and Violetta in Moscow, Anna Bolena in Milan and Mimì in Munich. She has a very strong voice, with spot-on intonation and phrasing, as well as theatrical presence. I was troubled by rather audible breathing in Act I, but she settled thereafter; her Italian has a distinct Russian inflection.
Argentinian tenor Marcelo Puente was a replacement for Younghoon Lee. Puente was variable: sometimes impressive, sometimes strained, especially at the top, and under the note lower down.
George Petean as Carlo could not have been better though he could have acted a little more convincingly as the enraged sibling. Christof Fischesser's sonorous bass is a marvellous instrument which never fails to enthral.
J'Nai Bridges sparkled visually (in a snazzy black suit, long blonde hair and long red gloves) as Preziosilla, the fortune-teller; she also sparkled aurally, her chesty low register was beguiling though she struggled a little with the faster passages.
Jamez McCorkle in his natty bullfighter's costume impressed in every way as Trabuco.
Albanian baritone Gezim Myshketa stepped in to sing the role of Fra Melitone at extremely short notice for indisposed local Ruben Drole and made a very favourable impression indeed; he is due to sing the part in some of the forthcoming performances.
The chorus were well drilled and acted their parts with clear relish. The male chorus was often spine-tingling.
Luisi in the pit was his usual whirlwind self, coaxing exquisite playing from 'his' orchestra.
In summary, this was a valiant attempt to try to save this slightly odd sprawling saga of an opera. The audience gave Homoki a mixed response, hardly any cheers, mainly muted applause and several boos.
Readers in the UK who may have missed the David Pountney production at Welsh National Opera earlier this year (Carlo Rizzi conducting) get the chance to see the opera next season (March/April 2019) at Covent Garden; Jonas Kaufmann and Anna Netrebko sing, Antonio Pappano conducts.
John Rhodes