United States Mahler, Das Lied von der Erde: Stuart Skelton (tenor), Christian Gerhaher (baritone), London Symphony Orchestra / Sir Simon Rattle (conductor), David Geffen Hall, New York, 6.5.2018. (RP)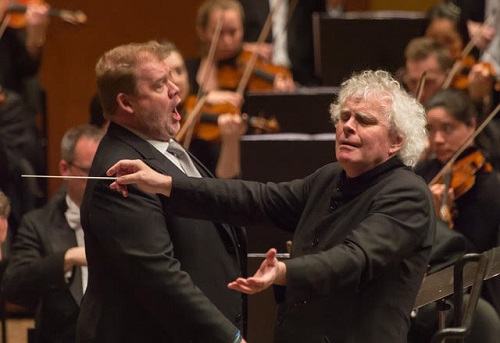 The London Symphony Orchestra's tour with its new music director, Simon Rattle, has been chronicled in Seen and Heard International with reviews of Mahler's Ninth Symphony in London, Zurich and Birmingham. Having crossed the Atlantic Ocean, the LSO are playing four concerts in as many nights in New York and Newark. The New York audiences are the lucky ones, as they get to hear all three of Mahler's final symphonies, accepting the contention of Rattle and many others that Das Lied von der Erde is one in everything but name.
Writing in the program, Rattle makes the point that these are Mahler's New York symphonies, reflecting the sights and sounds that he experienced while he was the head of the New York Philharmonic from 1909 to 1911. (He had made his Metropolitan Opera debut on New Year's Day 1908 conducting Tristan und Isolde.) Mahler fashioned the texts for Das Lied von der Erde from a German translation of eighth-century Chinese verses, but the musical inspiration came from cylinders of Chinese music that he heard in New York.
I have never heard, and don't expect to ever again hear, a tenor perform these songs as impressively as Stuart Skelton did on this occasion. The first, 'Das Trinklied von Jammer der Erde', is the greatest challenge with its treacherously high tessitura and the daunting orchestration to overcome. It couldn't have been easy soaring above the LSO's waves of sound, but Skelton made it seem so, and fun as well.
In the subsequent two songs, Skelton could lighten his voice. It literally sparkled in 'Von der Jungend', and in 'Der Trunkene in Frühling' he reduced it to a shimmering pianissimo that segued beautifully into the violin solo. His voice was full of swagger and laughter as he yearned for drink in the latter song's final measures. As with his Peter Grimes in Edinburgh last summer, I was left thinking that it doesn't get much better than this.
To be up front with my prejudices, I favor an alto (or mezzo-soprano) to a baritone in the song cycle, although Mahler sanctioned both. But I was intrigued that Christian Gerhaher would be singing this performance; he is an artist I admire greatly. In addition to his fine song recitals, his Wozzeck for Zurich Opera and a Britten War Requiem at the 2013 Lucerne Festival were unforgettable. This performance won't be on that list.
His singular ability to delve deep into the text and infuse it with meaning was there, but the voice was just too spare to project Mahler's musical lines. The three songs that Mahler wrote for the lower voice are much different in nature than their high-spirit9ed companions, but they still require an instrument of substance.
There was little color in his voice, let alone bloom. Phrases were often clipped, at times reduced to a mere two measures. Although he mustered enough volume to make an impressive climax in 'Von der Schönheit', the utterances of eternity in the final song, 'Der Abschied', were parched and dry, mere raspy whispers.
With two such disparate soloists, Rattle nonetheless created a cohesive whole out of the six songs. The chief difference was that Skelton's voice was an organic part of the overall symphonic texture, while Gerhaher's singing was set in musical quotation marks of sorts, as Mahler himself did to an extent. During the extended orchestral passage in the middle of the final song Gerhaher sat, as if to emphasize the point.
Rattle and the LSO were in fine form. In the first song, the brass sliced through the air, and the strings, especially the violins, simply took flight in Mahler's swirling melodies. There was no fussing about in Rattle's reading of the score: this was Mahler big, bold and brilliant. Not that subtlety was lacking. The emotional impact was heightened by the many solos that pepper the score. Flutist Adam Walker and oboist Olivier Stankiewicz received ovations as hearty as those for Rattle and the vocal soloists.
At the end, the audience was up on its feet, cheering loudly. Through the mayhem an older woman carefully worked her way to the stage with a bouquet of red and white roses. They were for Rattle, who bent down to accept them. The final surge of applause was just for him.
Rick Perdian