Germany Dresdner Musikfestspiele 2018 [4] 'Cellomania' – Haydn, Mozart: Johannes Moser & Daniel Müller-Schott (cellists) & Dresdner Kapellsolisten / Helmut Branny (conductor), Martin Luther Kirche, Dresden, Germany 14.5.2018 (MC)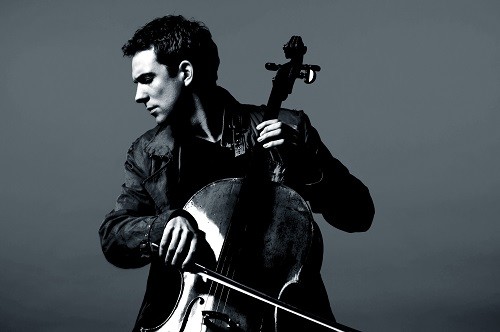 Mozart – Divertimento, KV 136; Symphony No. 29, KV 201
Haydn – Cello Concerto No. 1, Hob. VIIb:1; Cello Concerto No. 2, Hob.VIIb:2
A focus of Dresdner Musikfestspiele 2018 is 'Cellomania' a series of concerts and recitals featuring many of the finest cellists in the world. International cellists Johannes Moser and Daniel Müller-Schott, both Munich born and close contemporaries, were the soloists at this well attended concert at Martin Luther Kirche. In the north side of the city the church is located at the opposite side of the River Elbe to the Frauenkirche and Semperoper.
The programme of works from the classical era consisted of two Haydn Cello Concertos and a pair of works from the teenage Mozart, an early Symphony and a Divertimento for strings.
Dresdner Kapellsolisten opened the concert with the Divertimento, KV 136. The sixteen-year-old Mozart wrote this Divertimento in D major at Salzburg after having returned from Italy and not surprisingly it follows the scheme of an Italian sinfonia. An agreeable work that the Dresdner Kapellsolisten conducted by Helmut Branny undoubtedly enjoyed, giving an especially buoyant and upbeat quality to the closing Presto.
Haydn's Cello Concerto No. 1 in C major was written in the 1760s for his long-time friend Joseph Franz Weigl, principal cellist of Prince Nicolaus's Esterházy Orchestra. Thought lost until 1961 when musicologist Oldřich Pulkert unearthed a copy of the score in Prague. Authenticity of the score has been questioned, although it is now generally thought to be a genuine Haydn score. When he plays Johannes Moser displays a lively, rather animated character which made a fascinating proposition when added to the lovely rich sound from his cello, an Andrea Guarneri (1694) that projected strongly through the church. Adopting wide dynamics Moser was happy to play very softly and I loved his bold and determined playing of the Finale: Allegro molto which felt more like a Presto.
In 1783 Haydn composed his Cello Concerto No. 2 in D major for cellist Antonín Kraft a member of Esterházy Orchestra. As with the C major concerto there was doubt over its authenticity as a Haydn piece with suggestions that it was Kraft's own work. It seems however that the concerto is now deemed authentic after Haydn's autographed score was unearthed in 1951. Displaying a more reserved exterior Daniel Müller-Schott's playing style was less extrovert and rather more classical in approach than Moser. Müller-Schott tackled the technical challenges with all the astonishing virtuosity and general calmness I have come to expect. My highlight was the intense concentration Müller-Schott gave to the Adagio that created a near spiritual quality. Müller-Schott plays a Matteo Goffriller (Venice, 1727) cello which produced a stunning dark, mellow sound.
For the concluding work of the evening we returned to Mozart who was now eighteen when he produced his Symphony No. 29, KV 201. This is a work that displayed Mozart's evolving compositional assurance. Credit is owed to Dresdner Kapellsolisten who played well all evening and must have been tired from their endeavours yet were able to blend enthusiasm and expertise whilst maintaining splendid unity. Conductor Branny was an encouraging force ensuring the required levels of vigour and commitment were sustained right to the final note.
A splendidly satisfying concert which served to enhance my admiration of the two Haydn Cello Concertos. It is testament to the ability of both soloists Johannes Moser and Daniel Müller-Schott who made playing these splendid works seem easy.
Michael Cookson