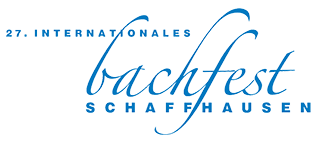 Switzerland J.S. Bach: Chorus and Orchestra of the J.S. Bach-Stiftung/Rudolf Lutz (conductor), Julia Doyle (soprano), Alex Potter (countertenor), Daniel Johannsen (tenor – Evangelist), Peter Harvey (bass – Jesus), Johannes Kaleschke (tenor – arias), Matthias Helm (bass – Pilatus), Stadtkirche St. Johann, Schaffhausen 10.5.2018 (JR)
Bach – St John Passion
Switzerland is full of 'Stiftungen', or Foundations, usually set up for philanthropic or charitable purposes. One such is the J.S. Bach-Stiftung (St. Gallen), whose admirable stated aim is the performance (together with audio-visual recording) of all of Bach's vocal works. To this end they have formed their own ensemble of players and singers. The project started in 1999 under Rudolf Lutz, together with a well-known Swiss businessman and banker, Konrad Hummler. Concerts began in 2006.
Rudolf Lutz is an accomplished keyboard player, vocal trainer, composer and conductor as well as a follower of authentic, historically correct performance. He does not, however, pare the chorus down to the bone; his chorus consists of roughly 32 singers, eight to each part.
The International Bach Festival started life just after World War II and is now held every second year. I am unsure why Schaffhausen has taken this composer to its heart but the festival is now well established, well supported financially, attracts the finest music-makers and the concerts are well attended. It was heart-warming to see a very large church packed to the rafters for a liturgical choral work, even if there were many octogenarian women in the audience. This year one of the main attractions was a St. John Passion with the forces, if one can call them that, of the J.S. Bach-Stiftung (St. Gallen). To help you place the performance geographically: Schaffhausen is a small Swiss town on the Upper Rhine just north of Zurich, on the border with Southern Germany, best known for its waterfall. St. Gallen is a small town north-east of Zurich near Lake Constance and Switzerland's border with Austria, best known for its Business School and its splendid, baroque Abbey library (a UNESCO World Heritage site).
This was a St John Passion of high quality, from the very opening pages where the baroque players proved they were masters of their art and from the opening declamatory cries of 'Herr' from the chorus. Their ability to get their tongues around the tricky parts of 'verherrlicht worden bist' showed that nothing would faze them technically thereafter.
The soloists were a fine bunch. British soprano Julia Doyle's clear and pure voice was perfect for the role, particularly in 'Ich folge Dir gleichfalls mit freudigen Schritten'; she has sung with John Eliot Gardiner and Philippe Herreweghe. Alex Potter, also a Brit, is a well-known countertenor; it took me a while to get used to his slightly strangulated tone, compared with the more boyish voice of Michael Chance on the celebrated Gardiner disc (Archiv) to which I am used and currently addicted. Austrian tenor Daniel Johannsen was a first-class Evangelist, telling the story with zeal. He studied with Dietrich Fischer-Dieskau, Nicolai Gedda and Christa Ludwig, and it shows. He has sung with Harnoncourt, in Dresden and in Israel, and Graham Johnson invited him to participate in the Schubert song cycle at Wigmore Hall. I cannot fault him in any way; he was a joy to listen to throughout and received, by far, the warmest applause of all.
German tenor Johannes Kaleschke took over for the tenor arias, his voice a shade warmer than that of Johannsen, so highly appropriate. Both basses impressed and were never stentorian.
Lutz kept a steady pulse throughout. There were some minor problems with balance, the soloists standing in front of him so that at in the middle of a couple of arias, when there was a gear change in tempo, there was an imbalance between soloist and orchestra, soon corrected.  The players of the more esoteric baroque instruments (oboe da caccia, viola d'amore) were all highly competent and clearly versed in the intricacies of their instruments. I was also taken by the fine sound of the strings.
The chorus were very fine and clearly well-rehearsed. Having recently sung the work myself in an amateur choir of 100 plus, and with the Tonhalle Orchestra, I missed the occasional fortissimos one can engender, but this was a smaller scale performance. Occasionally the orchestra drowned out sections of the chorus, the acoustics of the cavernous church were not as ideal as a concert hall. I was surprised that only two of the chorus knew the main choruses by heart (such as 'Ruht wohl'), some needed the score for the most part, including the chorales. Their intonation, diction and concentration (such as in the tricky 'Wohin?' interjections) were however faultless.
Lutz threw in some inventions: in between two verses of one chorale, 'Wer hat Dich so geschlagen' he interjected a continuo interlude, which I felt inappropriate, even if historically possibly unobjectionable. There was a short organ introduction to the Second Part before the chorus began 'Christus, der uns selig macht', which gave the chorus a longer and welcome break; and the same between the two verses of 'Ach, grosser König'. The 'turba' choruses were all taken as fast as possible and the chorus were more than up to the task; particularly good was 'Lasset uns den nicht zerteilen'.
The first verse of the final and moving chorale 'Ach Herr, lass dein lieb Engelein' was sung a capella, a nice touch. As was the very ending, no immediate applause but (on request before the concert began) the opening of the church doors and the solemn tolling of the church's Great Bell.
Before the concert, I heard an excellent pre-concert talk by Professor Dr. Andreas Kruse (Heidelberg); he said the work reminded him of a poem written by the German theologian Dieter Bonhoeffer in a Nazi concentration camp shortly before he was executed; and then proceeded to deliver the poem to the audience by heart.
It all made for a very moving experience.
John Rhodes