United Kingdom Yazz Ahmed's Hafla Band: Yazz Ahmed (trumpet, flugelhorn, electronics), George Crowley (bass clarinet), Ralph Wyld  (vibraphone), Naadia Sheriff (piano, electric piano), Dudley Phillips (bass guitar), Martin France (drums). Dora Stoutzker Hall, Royal Welsh College of Music and Drama, Cardiff, 8.6.2018. (GP)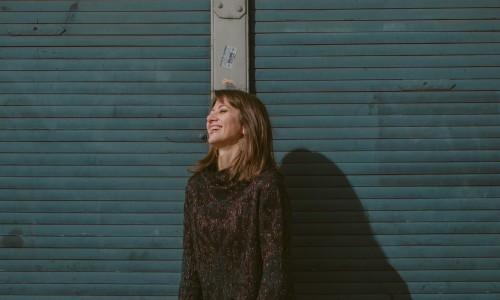 Before you ask, 'Hafla' does not, as I initially imagined, designate a particular kind of music; rather, as an Arab friend informs me, 'Hafla' is a noun which signifies a 'social or family get together', a 'party' or a 'celebration'. Certainly, there was much that was celebratory – and deserving of celebration – in the music heard in this fine concert.
Jazz's incorporation of other musics into its language has been a great source of enrichment in recent years, even if it has sometimes disturbed members of the 'jazz police', purists who worry about transgressions beyond the supposed 'boundaries' of jazz. This is not the place to engage in that debate at any length, though I cannot resist saying that I believe the objection, more often than not, to be based on a misconception about jazz's origins and history. Jazz, I'd suggest, has never been a pure-bred music; it has always been a matter of fusion and assimilation.
More specifically, jazz has had dealings with Arabian music for some years now, through figures such as the Anerican bassist, Ahmed Abdul Malik; coming from the jazz tradition (he worked with figures such as Earl Hines and Art Blakey) he sought to integrate Arabic elements into his own music in a series of albums recorded either side of 1960. Some important later figures have, as it were, reversed the process, in that having grown up, musically-speaking, in the Arab tradition, they then sought to absorb something of jazz into their work. One such is the Lebanese-born player of the oud, Rabih Abou-Khalil who has recorded albums with such jazz musicians as Charlie Mariano (Between Dusk and Dawn, 1986), Sonny Fortune (Bukra, 1986), Steve Swallow (Blue Camel, 1992) and Kenny Wheeler (Blue Camel and The Sultan's Picnic, 1994). More recently still, Anour Braheem, a player of the oud from Tunisia, has recorded albums with John Surman and Dave Holland (Thimar, 1998) and Jack DeJohnette, Holland and Django Bates (Blue Maqams, 2017).
The origins of Yazz Ahmed's fusion of traditions are different again. She was born, and spent her earliest years, in Bahrain. Her maternal grandfather was British trumpeter Terry Brown, who worked with John Dankworth, Ronnie Scott and Tubby Hayes. When Ahmed moved to London at the age of 9, she was fascinated by the music her grandfather played and took up the trumpet herself. She went on to become a member of the National Youth Jazz Orchestra from 2000 to 2013.  After that she worked on the London jazz scene, but also played with the art rock band These New Puritans (one of whose tunes 'Eternal Organ' was played in this concert), as well as the Manic Street Preachers, Radiohead and others. Gradually she was inspired to study her musical roots in the Arab world, in part by hearing Rabih Abou-Khalil's Blue Camel.  This growing interest and her desire to fuse Arabic scales and rhythms with her 'western' musical inheritance also led her to commission the manufacture of a quarter-tone flugelhorn 'that would enable [her] to play truly centred quarter tones, the 'blue notes' in Arabic music.' (Quoted from an online interview click here.) The resulting synthesis makes for exciting, varied and uplifting music. In the same interview Ahmed says: 'I think it's important to be true to ourselves when creating music, to explore all genres and landscapes, and to take risks. I also feel that jazz, as a hybrid art form, should sound different if it comes from London, Helsinki, Vancouver, Addis Ababa or Beijing, reflecting and absorbing local sounds and traditions'.
Yazz Ahmed and her accomplished septet, began their concert with a piece written in honour of Haifaa al-Mansour (b.1974), the first female film director in Saudi Arabia. Full of Arabic rhythms and colours, there were nods to Ahmed's jazz inheritance too. Her own trumpet work, without being merely derivative, was informed by the work of Miles Davis, and in the remarkably inventive work of George Crowley on the bass clarinet, one heard a familiarity with Etic Dolphy and other jazz masters of the instrument. There followed 'Whispering Gallery', a piece commissioned by Serious and EFG London Jazz Festival, and premiered at the Festival Hall in November 2014. It incorporates field-recordings made in St. Paul's (as the piece's title might suggest). This was subtle music, which included a particularly lovely contribution (on electric piano) from Naadia Sheriff. Without a break this segued into 'El Emadi' in honour, we were told, of 'one of the most ancient Arab tribes'. After a percussive opening, there were fine solos by Ahmed and Crowley. Crowley's playing was particularly impressive, making use of the full range of the bass clarinet, from bottom to top (and seemingly beyond!). Though it is right that one should praise the solo work of some of the group, this was essentially ensemble music, out of whose textures solo voices emerged and then sank back, always clearly part of a larger design. Yazz Ahmed herself undertook a kind of onstage 'conducting', using a vocabulary of hand gestures to direct the length and timing of individual contributions and changes of tempo and rhythm. Since she also operated some onstage electronics which manipulated both her own sound and that of other musicians, she was more than just a player and a composer of this music.
'La Saboteuse' (the title track of Ahmed's most recent CD) involved a startlingly beautiful duet/dialogue between Crowley and Ahmed, supported by Sheriff, Phillips, France and Silvester, as well as some fine playing by Ralph Wyld. 'The Shoal of Souls' (another track from La Saboteuse), an evocative elegy for the many 'souls lost at sea' in recent years, was powerfully moving.
In this second half of the programme, several numbers began with the admirable Dudley Phillips (who currently teaches at the Royal Welsh College in Cardiff) playing, unaccompanied, some deep but quiet chords which gradually built into a melody, in the playing and elaborating of which the rest of the group joined him. Though a simple structural device, this was very effective. A sequence of three pieces gave us Ahmed's composition in honour of Rosa Parks, from her suite Polyhymnia, in praise of courageous women, written for the all-female ensemble Tomorrow's Warriors. This dignified and relatively formal piece was bookended by two compositions inspired by Bahraini folk music, particularly the songs of the pearl divers and both replete with Arabic idioms. Sheriff's work at the electric piano was especially beautiful here as, more gruffly, Crowley's was. In the last of these three pieces there was a magnificent flugelhorn solo by Ahmed, as well as brilliant work by Ralph Wyld (at the vibraphone) Martin France (drums) and Corrina Silvester (various percussion). It ended the evening joyfully – this was, indeed, celebratory music. Now one felt, as well as 'knowing' the meaning of the word Haafla'!
Glyn Pursglove