Spain Berlioz, La damnation de Faust: Generalitat Valenciana Chorus, Comunitat Valenciana Orchestra / Roberto Abbado (conductor), Palau de Les Arts, Valencia, 23.6.2018. (JMI)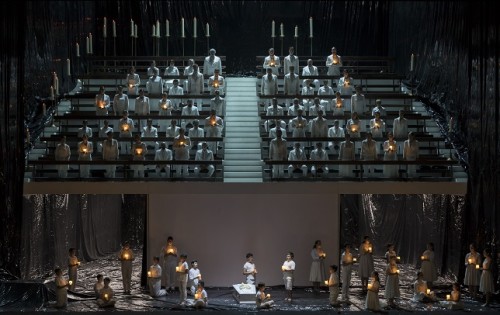 Cast:
Faust – Celso Albelo
Marguerite – Silvia Tro Santafé
Méphistophélès – Rubén Amoretti
Brander – Jorge Eleazar Álvarez
Production:
Director – Damiano Michieletto
Sets – Paolo Fantin
Costumes – Carla Teti
Lighting – Alessandro Carletti
This Damiano Michieletto production, which premiered last December in Rome, serves to remind one that he is without a doubt one of the most imaginative stage directors today. It is enough to remember his recent L'elisir d'amore in Valencia or the Lucia di Lammermoor done in Barcelona.
Here again, Michieletto's work is very clever. The stage is in two levels, with the chorus positioned in the upper part, as if it were a concert version. The action takes place in the lower part, where images filmed by an on-stage camera are projected on a large screen. The costumes are contemporary and satisfactory.
The plot is partly structured as memories of Faust's childhood and youth, which lead him to attempt suicide. It is well narrated, although the production in general is slightly superficial and mainly concerned with effects. The protagonists do not receive much direction – especially in the case of Faust – and often there is an excessive number of extras on stage, even with the chorus positioned above.
The musical direction was in the hands of Roberto Abbado, music director of Les Arts, who, by the way, is conducting only this opera during the season now ending. His reading was correct although somewhat noisy; it was certainly a far cry from the May 2009 concert version at Teatro Real led by Nicola Luisotti. Both the orchestra and the chorus were excellent.
Faust was played by Celso Albelo, whose voice seems a bit light for the character. He was not well helped by the production. Like all tenors, he sometimes had to fight with this score, but he knew better than many others how to solve the problems.
Valencia's mezzo soprano Silvia Tro Santafé was Marguerite and she did well, although I also found her voice somewhat light for the character. The staging did not help her either: she was required to throw multiple glasses of water over her head in the second act.
Bass Rubén Amoretti has proved on many occasions to be a guarantee of success in secondary roles. This was not entirely the case with his Méphistophélès, a key character in the opera. Amoretti did well as far as his stage presence went, but he fell a bit short in meeting the vocal demands that are made on Méphistophélès.
Baritone Jorge Eleazar Álvarez as Brander was good in his 'Song of the Rat'.
José M. Irurzun