United Kingdom English National Ballet Emerging Dancer 2018: Nominated dancers, English National Ballet Philharmonic / Gavin Sutherland (conductor). Live streamed from London Coliseum, London, 11.6.2018. (JPr)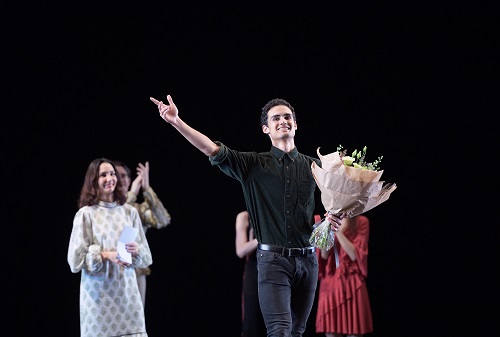 Finalists:
Precious Adams, Isabelle Brouwers, Fernando Carratalá Coloma, Giorgio Garrett, Daniel McCormick, Francesca Velicu and Connie Vowles
Judges:
Julio Bocca, Lauren Cuthbertson, Johan Kobborg, Kerry Nicholls and Tamara Rojo
This annual competition is now in its ninth year and allows English National Ballet to recognise and nurture its talent in order to encourage excellence in the company. In times past, I have been in the audience watching this live, but decided this year to join those watching the live stream online via YouTube, Facebook or Twitter. Apparently 86,000 did this in 2017 and it might be more this year. The finalists perform a pas de deux and a solo in front of a panel of distinguished judges and at the end of the evening the awards are handed out. These are the Corps de Ballet Award (for someone in the Company who has gone beyond the call of duty), the People's Choice Award (voted for by members of the public during each season) and the Emerging Dancer. Despite – as here – being introduced by the relaxed and personable actor and dancer Will Kemp it can all be a rather perfunctory evening when you are there in the theatre. There will be some introductory videos and then the dancers walk on, do their party pieces and walk off, get their award – or not – at the end and that is it. Watching online brought much more including an informal online host, Pips Taylor, and allowing for more informative videos, backstage interviews and feedback from those looking in.
We were constantly reminded how the finalists were coached for their performances by their peers and what we were seeing was summed up by a previous finalist, ENB Soloist James Streeter, who said: 'It's not about who comes first, second, third, fourth … It really is about taking part and what they have gained from it.' Then mentioning 'camaraderie … you are going to be watching and supporting' and how ENB is his 'family … we're very personable people and we care for each other.' We heard this sort of thing again and again throughout the evening and this extended to Tamara Rojo during the presentation of the awards as she praised the 'exceptional talent of the young dancers who have been performing tonight' and how good it always is 'to see that growth and that flourishing of every member of this Company, those that are on stage and those that help them.'
Having visited various venues in previous years such as the Lyceum Theatre, the London Palladium and Sadler's Wells everything benefitted from English National Ballet being 'at home' for the first time for their Emerging Dancer event with the wonderful English National Ballet Philharmonic – under the always supportive baton of their music director Gavin Sutherland – in their familiar pit. This certainly seemed to put the dancers more at ease than ever before and there was some exceptional dancing and it must have been difficult to pick a winner. Strangely James Streeter – talking during the interval – seems to have been given the gift of prophecy as he hinted that it might not always be the one who is best on the night but someone who might show other qualities such as how they cope with adversity during a performance. More of this later. It was the three pas de deux that were more significant for me than the eclectic mix of contemporary solos. It would be intriguing to know what had more sway with the judges in the end.
Precious Adams and Fernando Carratalá Coloma drew the short straw and performed first bringing us Marius Petipa's Harlequinade pas de deux to Riccardo Drigo's music. Adams sparkled as a fluttering, coquettish Columbine and Coloma was an irresistible and stylish Harlequin; Connie Vowles and Giorgio Garrett in Swiss garb were suitably flirty and charming in a typically pastoral, dainty and bouncy Bournonville pas de deux from William Tell danced to music from Rossini's opera. Neither of these are works that most in the audience would know and Francesca Velicu and Daniel McCormick were at some advantage performing the very familiar pas de deux (choreography by Petipa and Konstantin Sergeyev) from English National Ballet's own staging of Le Corsaire. This was much more 'show-offy' than what we had previously seen, Velicu was exquisite throughout whilst the bare-chested McCormick initially dazzled then fell during his variation. To his credit he professionally quickly recovered his nerve and continued to soar and turn like a dervish.
I am not certain whether it was because the camerawork drew me into the contemporary solos more than if I had been sitting in the London Coliseum but – with apologies to the choreographers concerned – despite a few intriguing moments I had a sense of ennui and sameness from the familiar tropes of twisty, sliding footwork, voluptuous arms movement, disjunctive phrases, nervous twitching, handwringing, chest beating and gymnastics to pulsating soundtracks, often in a pool of light and wearing little more than rehearsal clothes. I wish this sort of thing could engage my emotions more than it does though I am grateful many will have appreciated all of this more than me of course!
The long-limbed Precious Adams's A Point of Collapse was a new solo with choreography redolent of nervous angst and the electronic sounds of Mthuthuzeli November, Junior Artist of Ballet Black; Fernando Carratalá Coloma danced – ticking clock and ringing phone notwithstanding – the rather similar The last call in royal blue pyjamas and this was new choreography by Victor Ullate Ballet dancer, Mariano Cardano, and the music was Alexander Balanescu's Aria; Connie Vowles's Be all / End all, was another new piece – again quirky and unsettlingly – by Royal Ballet Young Choreographer, Charlotte Edmonds, to music from Carl Orff's Carmina Burana. At least Giorgio Garrett's Fraudulent Smile by choreographer Ross Freddie Ray set to Kazimierez (recorded by Nigel Kennedy and the Kroke Band) brought something different. Partly paying tribute to the great white-faced mimes of the past such as Marcel Marceau this was a schizophrenic work as the frequently smiling clown battled his hidden demons. This was by far the most intriguing of the six contemporary solos we saw. Francesca Velicu's Toccata was yet more new work this time by Royal Ballet of Flanders Principal and former English National Ballet First Artist, Nancy Osbaldeston, and set to Paul Constantinescu's Suite for Piano played by Mihaela Ursuleasa and it brought us more twitching and tumbling; finally Daniel McCormick spun and skipped through the random steps of a solo from Leatherwing Bat by American dancer and choreographer Trey McIntyre set to Boa Constrictor and Leatherwing Bat by folk group Peter Paul and Mary.
That was not it as far as the dancing was concerned as before Tamara Rojo's concluding words and announcements firstly last year's recipient of the People's Choice Award, Georgia Bould, brought ease and grace to an extract from La Sylphide. However, this – even in close-up – looked a little lost on the vast and bare London Coliseum stage. Then last year's joint Emerging Dancer Award winners, Aitor Arrieta and Rina Kanehara performed the Act III wedding pas de deux from The Sleeping Beauty currently on at the London Coliseum (review click here). Arrieta rose to the challenge of the Prince's highly difficult solo variations with youthful verve. His partnering of Kanehara's refined, and technically impeccable, Aurora was secure, especially in the infamous fish-dive poses.
In the end Georgia Bould was named as the recipient of the Corps de Ballet Award for her exceptional work over the last year, while Alice Bellini was awarded the People's Choice Award. And indeed, Daniel McCormick did rise from the floor to win the Emerging Dancer Award. Speaking after the event Tamara Rojo said how 'It was incredibly hard to pick a winner, but the judges felt that Daniel had that little bit extra. He's special, he has a hunger to continue to learn, an openness to all the different styles English National Ballet has, and such courage as a young dancer to put himself out there.' Rojo had said earlier at the end of the evening how the finalists 'are all winners', and indeed they were and so was English National Ballet.
Jim Pritchard
For more about English National Ballet click here.