United Kingdom Wagner, Lohengrin: Soloists, Royal Opera Chorus and Orchestra of the Royal Opera House / Andris Nelsons (conductor). Royal Opera House, Covent Garden, London, 17.6.2018. (JPr)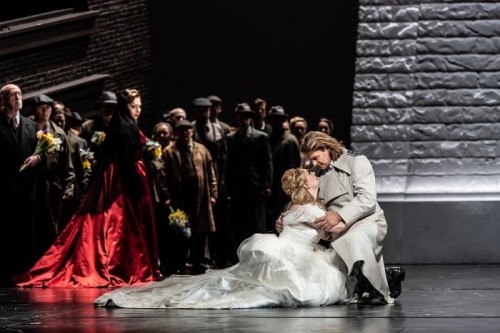 Production:
Director – David Alden
Set designer – Paul Steinberg
Costume designer – Gideon Davey
Lighting designer – Adam Silverman
Video designer – Tal Rosner
Movement director – Maxine Braham
Cast:
Lohengrin – Klaus Florian Vogt
Elsa von Brabant – Jennifer Davis
Ortrud – Christine Goerke
Friedrich von Telramund – Thomas J. Mayer
King Heinrich I – Georg Zeppenfeld
Herald – Kostas Smoriginas
First Noble of Brabant – Konu Kim
Second Noble of Brabant – Thomas Atkins
Third Noble of Brabant – Gyula Nagy
Fourth Noble of Brabant – Simon Shibambu
Much has been made of the fact that this is the first new Lohengrin production at Covent Garden in more than 40 years. That production by Elijah Moshinsky was overloaded with Christian and pagan symbolism including strange crosses, extravagant totems, crucifixes, religious banners, skulls and reliquaries. There were also monks, nuns and angelic figures with candles in their hands that continually paraded from one side of the stage to another. We appeared to have been in Byzantium of the distant past or at the court of Ivan the Terrible.
Although Covent Garden may not have seen a new Lohengrin since 1977 there has been much of interest elsewhere. In 1987 at Bayreuth the filmmaker Werner Herzog gave us something that was spectral and inspired by Caspar David Friedrich; Tim Albery had 'a green hill far away' for his 1993 English National Opera production; Keith Warner's much-admired Bayreuth 1999 Lohengrin was geometrical, influenced by T. S. Eliot's The Waste Land and explored the duality of the characters. No one can forget Hans Neuenfels's rat laboratory also at Bayreuth first seen in 2010 and another significant recent staging has been Kasper Holten's 2012 battlefield version for Berlin's Deutsche Oper. Tempus fugit and I was at Covent Garden in 1977 when Moshinsky's production was first put on (with René Kollo singing Lohengrin) and all these other versions I have seen often more than once.
Elsa, a young princess of Brabant is accused of her brother's murder and cannot prove her innocence. The young knight Lohengrin appears in a boat drawn by a swan. He is none other than the son of Parsifal and guardian of the Holy Grail and he proclaims Elsa's innocence. He is prepared to fight for her honour and declares his love for her with one condition only: she must never ask his identity or lineage. The witch Ortrud, whose husband Friedrich von Telramund accused Elsa of fratricide, encourages Elsa to renege on her promise and urges her to ask Lohengrin the forbidden questions. This she eventually does with tragic consequences. Lohengrin is Wagner's last opera in the classic German Romantic style but it lays the groundwork for his use of leitmotif in his revolutionary opera masterworks to follow.
Basically, the plot concerns the victory of good over evil in the conflicting worlds of the flesh and the spirit such that spiritual love overcomes earthly passion. What is meant by 'spiritual' here? For Wagner it was the 'unconscious' and he wrote: 'Elsa is the unconscious, the involuntary (unwillkürliche) into which Lohengrin's conscious, voluntary being yearns to be redeemed: but that yearning is itself the unconscious, involuntary in Lohengrin, through which he feels akin in being to Elsa'. Wagner elsewhere also refers to Lohengrin as both saint and redeemer. Does the conflict in this opera also become one between Wagner the artist and his audience? If we assume that in a Hitchcockian way Wagner puts himself – probably consciously – into all his operas, then it can be considered that Lohengrin may be Wagner as misunderstood genius in the same way that Rienzi and Tannhäuser represents him as the social outcast. The Dutchman sees him as betrayed idealist whilst Wagner/Wotan is the unheeded prognosticator. Nevertheless, even with its philosophical meaning in some doubt, Lohengrin can still work magnificently in simple dramatic terms alone.
So what does David Alden do with Lohengrin, remembering that his previous Wagner in London was his 1996 Tristan and Isolde for English National Opera set in a disused theatre (of dreams)? Well the introduction in the programme informs us that Alden and his designers Paul Steinberg (sets) and Gideon Davey (costumes) took 'the turbulence of 20th-century history as their departure point for a production of disturbing, dream-like menace.'
If Alden has a political point to make he does not address it full-on and his Lohengrin 'tells' us very little as a result. It looks as if we are in Central Europe during the first part of the 20th-century and somewhere that has suffered the destruction and deprivation of a long war. The drab setting features off-kilter brick facades of bombed out buildings with gaping windows, utilitarian gangways and steel bracing. That King Heinrich is enfeebled pays homage to Neuenfels and Georg Zeppenfeld – who sang the part at Bayreuth – seems to have a very similar costume. This militaristic society seems to be teetering on the brink of totalitarianism and is holding Elsa in an underground cell. The masses seem to base their reaction to Lohengrin's arrival – not in shining armour but a white suit – on the premise that false hope is better than no hope. The people soon salute their supposed redeemer with quasi-Nazi salutes (seen in Holten's Berlin Lohengrin), and his swan emblem soon adorns a huge monument and is on his standard, as well as, all the flags we see hanging down in Act III. I was certain these would soon fall down and indeed they did near the end of the opera and again this has been used before by Stefan Herheim in his Bayreuth Parsifal. However, it did allow for the coup de théâtre of the missing Gottfried (played by Reuben Nelson McAlistair Antunes) to emerge from under all the flags and perhaps offer renewed hope at the close to the beleaguered community.
The tropes of modern opera production were in evidence as chairs were often placed around merely to be thrown over at a whim and there was more blood-letting this time by Ortrud during her 'Entweihte Götter!'. The Bridal Chorus involved Elsa, Lohengrin, the Herald and others roaming the stalls before they reach the bedroom with August von Heckel's mural Lohengrin arrives in Antwerp from Neuschwanstein Castle prominent on its white walls. There were also some good ideas such as Tal Rosner's video for the beating wings of Lohengrin's swan and some celebratory fireworks at the start of Act II.
I always felt Andris Nelsons and his current cast would have trouble eclipsing the wonderful performances of Semyon Bychkov and his singers in the final revival of the Moshinsky production in 2009 and that proved to be the case. I described the musical performance then as having 'a vibrant energy that makes a long evening fly by and leaving you wanting to hear it all again.' After an admittedly spellbinding Prelude with exquisitely soft strings, Lohengrin's swan-drawn boat soon was becalmed in Act I under Nelsons. Lohengrin involves such a lot of declamatory singing that when the mind isn't engaged by action on stage it must be by the music. Things do improve during the final two acts and Nelsons makes his orchestra the pivotal force in the drama just as Wagner intended it to be and the Royal Opera orchestra play superlatively for him. The enhanced Royal Opera Chorus deserves special praise for acquitting themselves so magnificently in this Lohengrin, they cannot have had too many more extended or demanding assignments this season. They sang throughout with rousing energy and near-perfect unison.
Klaus Florian Vogt has his detractors as Lohengrin and it would probably surprise them to know what an operatic superstar he is in Germany. For me his pure toned, slightly bleached tenor has an otherworldly quality to it which is perfect for the swan knight which is his signature role. Vogt's voice almost demands you pay close attention to what he is singing and his 'In fernem Land' was captivating. Much has been made of how Jennifer Davis took on the role of Elsa after Kristine Opolais withdrew. Of course, she is not the complete singer yet but after overcoming some early nerves she gave a performance of considerable dramatic conviction and depth, embodying all of Elsa's hopes and fears prior to the denouement when all her dreams come to naught. When we first see Christine Goerke's Ortrud she reminded me of a slightly more alluring Rosa Klebb from the 1963 James Bond film From Russia with Love. Dramatically she was rather terrifying – in the best sense – and full of vindictive malice. Vocally however she seemed rather tired and her concluding 'Fahr heim!' made little impact. Because of this I am surprised to see Brünnhilde feature so prominently in her career. Thomas J. Mayer's singing was undermined by an ongoing ailment for which an announcement was made but his Telramund was somewhat less craven than usual. Georg Zeppenfeld was a wonderfully neurotic and vacillating King Heinrich at Bayreuth and so he was here too, and Kostas Smoriginas completed the principal cast as a strongly sung Herald shown disfigured and crippled by war.
Jim Pritchard
For more about what is on at Covent Garden click here.