United Kingdom Joyce DiDonato and Antonio Pappano in Concert: Royal Opera House, Covent Garden, London, 4.6.2018. (JPr)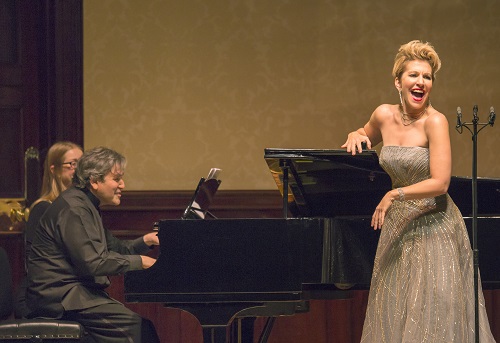 Haydn – 'Tesso mio ben … Dove sei, mio ben tesoro?'; 'Ma, a chi parlo? … Ah! Che morir vorrei!' (Arianna a Naxos)
Enrique Granados – '¡Ay majo de mi vida!'; '¡oh muerte cruel!'; 'De aquel majo amante' (La maja dolorosa)
Pablo Luna – De España vengo
Ravel – 'Asie'; 'La Flûte enchantée'; 'L'Indifferent' (Shéhérazade)
American Songs: 'The Siren's Song' (Jerome Kern, Guy Bolton and P.G. Wodehouse); 'Go Little Boat' (Jerome Kern and P.G. Wodehouse); 'All the Things You Are' (Jerome Kern and Oscar Hammerstein II); 'With a Song in my Heart' (Richard Rodgers and Lorenz Hart)
The details of what Joyce DiDonato would be singing was withheld until only shortly before this concert with Antonio Pappano at the piano. This seemed to have divided opinion – from what I overheard from people entering the auditorium – which ranged from 'If I had known I wouldn't have come to hear American songs' to 'It will be lovely when she gets to the American songs'! This shows you cannot please everyone.
Joyce DiDonato is a remarkable artist; there is an engaging warmth to her persona on the recital platform, she is a marvellous communicator whether singing or just speaking, and her expressive voice with its exquisite tone is evidence of a superb technique. Addressing the audience before her encores DiDonato mentioned that it was the end of a long season and there was just a hint of that in her voice on this occasion. Her rhythmic precision, sustained legato, and dynamic shading were flawless, but her famed coloratura was not tested by this carefully crafted selection of songs. The middle of her very high-lying mezzo had its usual radiance and eloquence, although the passage work was not quite up to speed and the top wasn't as clear as usual, nor were her lower notes always quite there. In Pablo Luna's De España vengo – which includes lines something like 'I come from Spain, I am Spanish' – much-needed sultriness and uninhibited passion was missing as it had been earlier for Enrique Granados's La Maja Dolorosa. It is generally known about the interest the work of Goya aroused in Granados, which is reflected in his work Goyescas. La Maja Dolorosa, with a text by Fernando Periquet, even though a minor work, is also the fruit of that interest in the world that Goya portrayed in his paintings. DiDonato tackled all the prevailing romanticism of songs suffused with sorrow and pain with her usual care and commitment.
The most substantial work in DiDonato's entire programme was the one she began with: Haydn's cantata Arianna a Naxos, and here we first experienced how sensitive an accompanist Antonio Pappano would prove to be throughout the concert. They had performed together at the Wigmore Hall in 2014 and this was sung then. DiDonato captured every emotion that Haydn puts his heroine through; love, desolation, grief and vengeful fury with all her consummate vocal skill.
The second half continued in much the same vein as the first and I had the urge for DiDonato to sing something where she could 'cut loose'. However, it began with more luxurious and languid vocalism courtesy of the sensual, yet sophisticated, orientalism of Ravel's Shéhérazade which mixes French (musical) impressionism with a fascination with the Arab world.
Finally (officially) there was that eclectic quartet of American songs. DiDonato's homeland notwithstanding we did not get very close to Broadway with her quaintly operatic renditions. All had a delicious lightness and playfulness but 'The Siren's Song' from Leave it to Jane needed perhaps a touch more eroticism, though no one was left in any doubt how heartfelt was her 'All the Things You Are' from Very Warm for May and a concluding 'With a Song in my Heart' from Spring is Here. These allowed for many admiring glances to Pappano who has few opportunities these day as an accompanist but was the ideal partner for DiDonato on this occasion, virtuosic in his own right, but otherwise seconding her every utterance.
There was warm applause from the sell-out audience in the Royal Opera House and it was rewarded by three encores: a return to Spain for Rossini's Canzonetta Spagnuola which had a hint of DiDonato's familiar fireworks, more Rossini with a suitably spirited La Danza and an imaginatively reinterpreted 'I Love a Piano' – the Irving Berlin standard made famous by Judy Garland – allowing Pappano some entertaing riffs and runs.
The evening concluded with Pappano donning his usual hat as the Royal Opera's current music director and handing over to DiDonato her richly-deserved recent Olivier Award for Outstanding Achievement in Opera. This was won jointly with Daniela Barcellona for their performances in Rossini's Semiramide which Pappano conducted (for a review click here).
Jim Pritchard
For more about what is on at the Royal Opera House click here.