United Kingdom Tchaikovsky, The Sleeping Beauty: Dancers of English National Ballet, English National Ballet Philharmonic / Gavin Sutherland (conductor). London Coliseum, London, 7.6.2018. (JPr)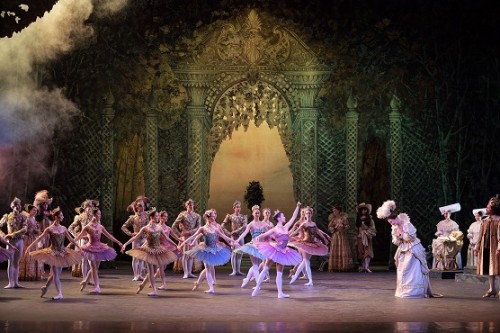 Production:
Choreography (after Marius Petipa) – Kenneth MacMillan
Set design – Peter Farmer
Costume design – Nicholas Georgiadis
Lighting design – Neil Austin
Cast included:
Maria Alexandrova – Princess Aurora
Aaron Robison – Prince Désiré
Stina Quagebeur – Carabosse
Alison McWhinney – Lilac Fairy
Fernando Carratalá Coloma – Bluebird
Julia Conway – Fairy of the Woodland Glade/Princess Florine
Michael Coleman – Cattalabutte, Master of Ceremonies
Jung ah Choi – Fairy of the Golden Vine
Tiffany Hedman – Diamond
Recently there was a fascinating profile of Sir Kenneth MacMillan on BBC Four to mark the 25th anniversary of his death which called him 'Ballet's Dark Knight' and there had been the well-publicised issues which mired English National Ballet in some tabloid-style controversy. The best riposte to both is this restaging of MacMillan's The Sleeping Beauty for American Ballet Theatre in 1986 and adopted by ENB in 2005. This famous nineteenth-century ballet is one of the greatest tests for a classical company and especially for one like ENB that always must balance artistic ambition against box office income. After the excellence of their Voices of America programme in April (click here) and now Sleeping Beauty, if the recent travails had any affect it has been to redouble the efforts of all concerned for artistic director Tamara Rojo and her 'team'. From an ensemble aspect, it is clear that – whether corps de ballet, senior or guest dancer – all are up for the challenge and English National Ballet are in superb shape whether in modern dance or a ballet, such as this, requiring traditional tutus.
Kenneth MacMillan based his production on Russian ballet master Nikolai Sergeyev's notation. His own contributions were apparently the Garland waltz, variations for Prince Désiré and Princess Aurora in Act II, the journey to the castle and the Awakening, and the Jewels divertissement. After a nod to Jacobean times in the Prologue, the ballet's time span bridges the mid-seventeenth and mid-eighteenth centuries with Nicholas Georgiadis's costumes based on paintings by Van Dyke and Tiepolo a hundred years apart. This is all showcased by Peter Farmer's equally sumptuous sets.
Désiré does not appear until the second act and Aurora – of course the heroine of The Sleeping Beauty – has not appeared until after a (too?) lengthy Prologue and an interval. She dances almost immediately with the four Princes her parents offer as her prospective husbands. This is the infamous Rose Adage. Each man presents the Aurora with a single rose as they partner her in slow extensions to the side and turns en pointe. Between each change of partner there are – ideally – long balances before taking the next suitor's hand. Aurora remains in position and only at the last moment reaches a hand out for support. Like that other supreme test for the ballerina, Odile's 32 fouettés in Swan Lake, it challenges her technique, but it should also demonstrate acting ability as Aurora is supposed to go on an emotional journey from naive 16-year-old girl to womanhood through a loss of innocence.
Maria Alexandrova has been one of the much-loved stars of the Bolshoi Ballet in recent years and now – having left them on her own terms – this is the first time she has ever guested with a UK company. There was certainly an aura about her Aurora! Her performance was captivating, but I suspect more Bolshoi than MacMillan. Although danced with the sangfroid and concentration of a gymnast going through her routine for the umpteenth time it was apparent we were in the presence of a true artist. Nevertheless, her Princes were very attentive and close by for a helping hand and time never particularly stood still during the Rose Adage. Alexandrova's sense of serene detachment worked well in Act II's Vision Scene and her dancing gained fluidity as she relaxed more for the last act wedding celebrations. She brought a Russian bravura to the spectacular trio of fish dives with one particularly making me catch my breath. Given that it is a new pairing Alexandrova was very solidly partnered by the increasingly impressive Aaron Robison as a long-limbed, elegant danseur noble Désiré. He brought charisma and heroic vigour to his solos and is tall, athletic, with a powerful jump higher than anyone else on stage with him. Earlier Robison's Act II melancholy adagio solo was beautifully controlled and elegiac.
Marius Petipa – for it is his steps this Sleeping Beauty pays homage to – and MacMillan's choreography give the young ENB dancers a number of solo opportunities, firstly, as the six fairies bringing Aurora the gifts she will need in life. A dancer who always catches the eyes was Tiffany Hedman as the Fairy of the Crystal Fountain, and later as Diamond in Act III, and Julia Conway seemed another exciting ENB prospect as the Fairy of the Woodland Glade and an equally enchanting Bluebird. Alison McWhinney was the sternly authoritative Lilac Fairy. It is always great to see the veteran Michael Coleman bustling about once again as the fussy and ultimately forgetful Master of Ceremonies. His Act I vignette – as Cattalabutte tries to conceal some banned knitting needles behind his back – was redolent of someone who has spent so much of his life in ballet. Stina Quagebeur was an absolutely wonderful Carabosse, the wicked fairy who put a vengeful curse upon Aurora. Truth be told the Prologue does holds up the story somewhat and the performance only took off when she appeared in her Tudor-inspired dress, red permed wig and ruff. She was like a psychotic Queen Elizabeth I and in the very best way reminded me of the great Glenda Jackson's portrayal of 'The Virgin Queen'.
This production leaves nowhere for dancers to hide, and nobody did from King Florestan XXIV (Grant Rae) and his Queen (Jane Haworth) to Red Riding Hood (Francesca Velicu) and the Wolf (Joshua McSherry-Gray). I wish I could give all who deserve it a namecheck whether attendant, cavalier, prince, knitting woman, peasant or courtier as everyone knew what they were doing, why they were doing it, were fully engaged and totally natural in their performing style.
Finally, some wonderful violin solos and horn calls emphasised the fine playing of the familiar Tchaikovsky score by the always reliable English National Ballet Philharmonic who displayed their virtuosity once again. In times past most ballet reviews tended to ignore the music, however, this is impossible now because of what ENB's music director, Gavin Sutherland, continually achieves with them. Even more importantly he is always a very supportive conductor and, on this occasion, followed Maria Alexandrova especially closely as you might expect.
As danced with ENB's evident commitment and technical accomplishment this is a fine Sleeping Beauty however it is not my favourite staging and that remains the one Rudolf Nureyev first created for them in 1975 when they were London Festival Ballet. I saw that many times then, and in subsequent revivals, with the late Eva Evdokimova or Patricia Ruanne dancing Princess Aurora. I have also seen the ballet many times at Covent Garden and remember especially the marvellous performances of Lesley Collier and Miyako Yoshida. Truth be told at the end I wished this had been that more realistic – or as much 'realism' as a fairy-tale allows – Nureyev staging. I think there is a Genesis song 'I know what I like' and his truly magical panorama boat ride is something I can never get out of mind when I see this ballet. In the absence of that returning anytime (soon?) to the London Coliseum this Sleeping Beauty is probably the best version currently to be seen.
Jim Pritchard
For more about The Sleeping Beauty and the various casts click here.