United States Tarantella! Rhythms of the Old Mediterranean: Amanda Powell (soprano and guest co-director), Brian Kay (plucked instruments and guest co-director), Apollo's Fire / Jeannette Sorrell (co-director), Bath United Church of Christ, Akron, Ohio, 12.6.2018. (MSJ)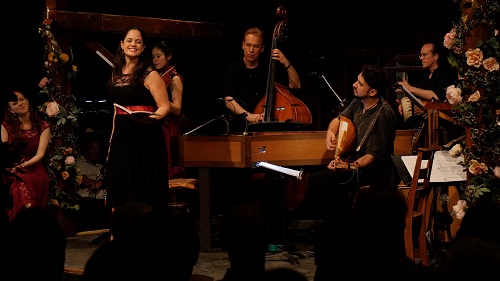 Program: Traditional Mediterranean and Middle Eastern works
Classical music is undergoing a paradigm shift. The days of a narrowly defined formal repertory are numbered, as the search for cultural relevance calls for a wider net. This summer concert by Apollo's Fire — titled Tarantella! Rhythms of the Old Mediterranean — was classical in the sense of the players' polish and scholarship. But the repertory was a mixture of folk music and courtly music from hundreds of years ago. Most important of all, Apollo's Fire performed it with the same intense sense of adventure they would bring to a Handel oratorio or a Mozart symphony.
The leadership for this event — a revamped version of a program they have previously presented — was split between soprano Amanda Powell, plucked-string instrumentalist Brian Kay, and Apollo's Fire music director Jeannette Sorrell, who also played the lautenwerck, a gut-string harpsichord. But the ensemble was unified in the meaning of the program. The excellent booklet showed an image from the Cantigas de Santa Maria codex (1252) of a Christian and a Muslim playing music together. Brian Kay explicitly talked about this theme between presentations of two numbers from the codex, saying, 'We humans can be better if we sing together.' Demonstrating the theme in action, now and then all the players put down their instruments to sing along in refrains.
The program was divided into themed sections, moving next across the region to sample various cultures. Hammered dulcimer player Tina Bergmann led it off with a harmonically tart Greek dance. Amanda Powell brought a theatrical flair to the Cypriot love song 'To Yasemi', accompanied by Dave Morgan on an almost jazzy plucked upright bass and René Schiffer on strummed viola da gamba. Kay then accompanied himself on oud in the darkly intense Middle Eastern song 'Nassam Alayna El Hawa'.
The whole band joined together on the 'Lamento di Tristano', an Italian take on the Arthurian legend that later inspired Wagner. Powell and Kay shared vocals on a humorous French song, 'Mon Amy s'en est Allé', each playfully flirting with some of the ensemble members before contritely returning to sing with each other for the refrain.
Kay kicked off the second half with a sprightly 'Branles' by Pierre Attaingnant, followed by a general ensemble romp on the famous 14th-century 'Saltarello' that has been covered by the goth rock group Dead Can Dance. That was followed by a scorching 'Tarantella' — the traditional whirling Italian dance thought to cure the bite of the tarantula — featuring violinist Emi Tanabe.
Powell returned to the forefront in two Sephardic songs, the strange and mournful 'Y Una Madre' and the charming 'Tres Hermanikas', the latter describing adventures of one of three sisters, acted to comic effect. Recorder player Daphna Mor was featured on a pair of Greek and Arabic wedding dances, introduced by her own recollections of her family background from Plovdiv, Bulgaria, and Palestine.
The evening closed with Powell's breathtaking performance of the lament 'Con Que la Lavare' and another instrumental tarantella, driven by percussionist Rex Benincasa. The audience response demanded an encore, and received it with a repeat of one of the earlier dances.
Compelling from beginning to end, the program demonstrated the value of musical exploration, something Apollo's Fire does with utter brilliance. Particularly in an area like northeast Ohio, where there are limited opportunities to hear music like this, they are providing a striking blend of education and entertainment, clearly relished by the packed house. One wonders what they might do with some of the material recently being conjecturally reconstructed by the European Music Archeology Project and released in recordings on the Delphian label? Celtic horns and bird-bone flutes would mark a new level of exploration for this fearless group.
Mark S. Jordan