United States Getty, Usher House and The Canterville Ghost: Soloists of LA Opera, LA Opera Orchestra / Sara Jobin (conductor), The Broad Stage, Santa Monica, 24.6.2018. (JRo)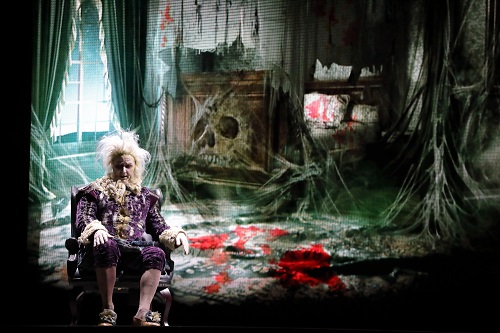 Usher House
Cast:
Edgar Allen Poe – Dominic Armstrong
Roderick Usher – Keith Phares
Madeline Usher (voice) – Summer Hassan
Madeline Usher (dancer) – Jamielyn Duggan
Dr. Primus – Matthew Burns
Child Roderick – Hilary Ginther
Child Madeline – Augusta Caso
Attendant – Kevin Wetzel
The Canterville Ghost
Cast:
The Ghost (Sir Simon de Canterville) – Matthew Burns
Hiram Otis – Keith Phares
Mrs. Otis – Jessica Ann Best
Virginia Otis – Summer Hassan
Lord Canterville – Kevin Wetzel
Duke Cecil of Cheshire – Dominic Armstrong
First Otis Twin – Augusta Caso
Second Otis Twin – Hilary Ginther
Production
Libretto – Gordon Getty
Director – Brian Staufenbiel
Set Design – Dave Dunning
Costume Design – Callie Floor
Lighting Design – Nicole Pearce
Projection Design – David Murakami
Choreography – Yayoi Kambara (Usher House)
Wigs and Makeup – Kate Casalino
Halloween arrived early this year in Southern California with the LA Opera presentation of Gordon Getty's Usher House and The Canterville Ghost, dubbed the 'Scare Pair', at the intimate Broad Stage. The first, based on Edgar Allen Poe's short story 'The Fall of the House of Usher', was played as gothic horror, adding plot complications to Poe's largely interior story of a sentient, crumbling house and its unhinged occupants. Second on the bill, The Canterville Ghost, from a story by Oscar Wilde, was a frolicsome haunted-house tale, played for humor and with a dash of tenderness.
In an effort to expand Poe's plot and add external drama, Getty includes a sinister Dr. Primus who, much like the evil Dr. Miracle in Offenbach's The Tales of Hoffmann, holds sway over a neurasthenic heroine – in this case Madeline Usher of the ill-fated Usher family. In place of the omniscient narrator who is the boyhood friend of Madeline's twin, Roderick Usher, Getty substituted Poe himself – a reasonable decision, presumably made to add another dimension to the opera.
Unfortunately, the reasonable dramatic decisions ended there. With a libretto that 'tells' rather than 'shows', the piece was buried under text-heavy explanations of arcane details. Action was reduced to extended passages of description. In the highly problematic conclusion, as the house violently crumbles, destroying its inhabitants and disappearing into the bog, Roderick, standing in the living room with a terrified Poe, claims to hear his now dead sister murdering Primus, breaking out of the family crypt beneath the house and ascending the stairs. Unfortunately, we see nothing of this, and the opera shortly arrives at its uninspired conclusion.
The highlight of both operas was the solid singing of the cast. As for the score of Usher House, it was largely built of extended recitative and unaccompanied vocal lines punctuated by predictably spooky music – quivering strings, ethereal percussion and silent movie-like sound effects. There was one lyrical aria, 'Where is my lady, oh where has she gone?', sung by Dominic Armstrong as Poe, which only served to show how much musical potential was untapped.
With his clear, expansive tenor, Armstrong made a dashing Poe, though his habit of staring wide-eyed into space in fright and bewilderment could have been more nuanced. Keith Phares as Roderick Usher, with a warm and pliant baritone and sensitive acting, was the only cast member who elicited real compassion in an otherwise rather camp production. Madeline Usher was primarily a dancing role – Summer Hassan sang her few lines from offstage. Dancer Jamielyn Duggan sensitively handled the compelling choreography of Yayoi Kambara at a moment when music and movement meshed to become an engrossing depiction of madness.
Matthew Burns' Primus was a cardboard villain in a largely thankless role, but his comedic gifts and expressive voice made him superb as Sir Simon de Canterville's ghost in the second opera. In a masterfully engineered white wig with wild hair standing on end like an electrocuted cartoon character, Burns sang luminously and gamely haunted the new American owners of his family home. As a pairing, the two operas made sense – both concerned with ancient dynasties living cursed lives (or deaths) in their ancestral homes.
There was plenty of humor all around in The Canterville Ghost, and the entertainment value of the piece was undeniable. Unfortunately, an overreliance on video projection in both operas created bland and inexpensive looking sets, though the projections in Canterville were less intrusive.
The music in Canterville was less ponderous though hardly memorable. Once again there were dramatic problems: numerous mini-scenes came to abrupt ends as the music stopped entirely or sound effects filled empty space to allow scenery to be moved or singers to exit. Once or twice would be understandable, but repeated so frequently it created musical and dramatic issues that diluted the opera's impact.
Once again, the singing was at a high level, from the Otis twins of Augusta Caso and Hilary Ginther to the impassioned soprano of Summer Hassan's Virginia, the only family member who had the sympathy to release the ghost from his eternal chains. Jessica Ann Best was charming as the indomitable Mrs. Otis, and Phares, singing the role of Hiram Otis, handled the comedy as effortlessly as he did the tragedy in Usher House. Kevin Wetzel and Armstrong as Canterville relations rounded out the excellent cast. Armstrong and Hassan were given a touching duet at the opera's conclusion, which added a layer of sentiment to the finale. Sara Jobin effectively conducted 36 members of LA Opera Orchestra.
Jane Rosenberg