Switzerland Mendelssohn, Mahler: Julia Fischer (violin), Tonhalle-Orchester Zürich / Herbert Blomstedt (conductor), Tonhalle Maag, Zurich, 29.6.2018. (JR)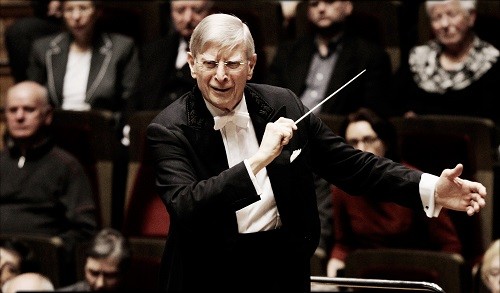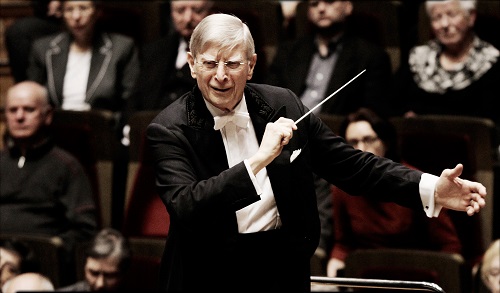 Mendelssohn – Violin Concerto op.64
Mahler – Symphony No.1
In a few days Herbert Blomstedt will be an astounding 91. In addition to being a very fine and much admired conductor, he is now also a phenomenon. I can think of many conductors who – wrongly in my view – keep going despite being very ill, frail or even semi-paralysed (I recall seeing the last appearances of Karajan, hardly able to move in his corset). Today's audience does not, in the main – and I know I am generalising – want to see very old men on the podium, however great they may once have been. Blomstedt remains a remarkable exception; he still conducts with the vigour of someone much younger, and more importantly his interpretations are full of energy. He has hardly slowed down tempi; he still has plenty to say in the music he conducts (and I am told he talks a great deal at rehearsals, too). He can still conduct a Mahler symphony (even if it is 'merely' the relatively short First) with a concerto in the first half: repeat the concert on three consecutive nights, and stand throughout.
Blomstedt brought us two works with an obvious connection to Leipzig, where Blomstedt has lived and worked as Principal Conductor of the Gewandhaus Orchestra. Mendelssohn of course lived, worked and died there (aged 38); Mahler had also worked in Leipzig for many years as second conductor at the Opera and wrote his first symphony there.
Julia Fischer was the soloist, playing a modern violin, not her 1742 Guadagnini. The modern instrument is from the workshop of Philipp Augustin, made in 2011 in Staufen im Breisgau, just south of Freiburg (the alchemist Doktor Faustus is said to have come from Staufen). It does not always have to be an old instrument as Julia Fischer proved with her crisp-sounding modern instrument; I believe the Vienna Philharmonic provides 'ordinary' violins to all its players.
Back to the music: the Mendelssohn is probably the world's favourite and most performed violin concerto and it deserves to be. It is full of melody and gives the soloist every chance to display his/her talents. These were much in evidence with Julia Fischer; she was simply perfect. Fischer made the work sound fresh and new, even though we all knew every bar, almost every note. In the cadenza you could have heard a pin drop. We were rewarded with an encore, a contemplative Bach Sarabande, which cleansed and purified the palate after the thicker textures of Mendelssohn.
For this concert, Blomstedt seated the violins antiphonally, a sort of stereo effect, but aesthetically unpleasing as the second violins face the back of the hall; and their sound also seems to fade away too. Blomstedt occasionally chose a slower than usual tempo for parts of the Mahler symphony, for example the offstage trumpets. The second movement, Scherzo, was joyous, but also with measured gait. 'Frère Jacques' was played with impeccable intonation (it is not always thus, deceptively tricky for the double bass) before the great cymbal crash leads into the thrilling Finale. Blomstedt kept his powder dry until the very end when he asked the horn section to stand for the final peroration. At this stage I recall seeing Michael Tilson Thomas kneel before the LSO, no chance of Blomstedt doing that. This was a very fine performance, Blomstedt, even at his great age, still has plenty to say. As he walked off after much cheering (including from the orchestra members who clearly revere him and call him 'Blomi'), he held up the score and patted it, humble man that he is, to say that it was not he who should be congratulated, it was all in the score. This high quality concert brought the Tonhalle Orchestra's season to a perfect and satisfying close.
John Rhodes