United Kingdom Cole Porter, Kiss Me, Kate: Soloists, Chorus and Orchestra of Opera North / James Holmes (conductor), London Coliseum, 20.6.2018. (JPr)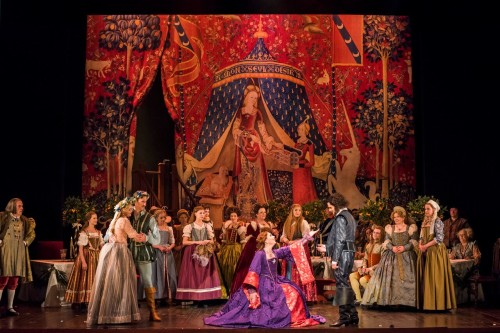 Production:
Director – Jo Davies
Revival director – Ed Goggin
Choreographer – Will Tuckett
Set and Costume designer – Colin Richmond
Lighting designer – Ben Cracknell
Cast:
Lilli Vanessi/Kate – Stephanie Corley
Fred Graham/Petruchio – Quirijn de Lang
Lois Lane/Bianca – Zoë Rainey
Bill Calhoun/Lucentio – Alan Burkitt
Mobster – Joseph Shovelton
Mobster – John Savournin
Hattie – Aiesha Pease
Paul – Stephane Anelli
Harry Trevor/Baptista – James Hayes
Hortensio – Jack Wilcox
Harrison Howell – Malcolm Ridley
Gremio – Piers Bate
Firstly, I must write how splendidly Opera North perform their 2015 Kiss Me, Kate on this rare foray to London and for that alone I would give them five stars. However, my issue is with what and where they were performing.
What goes on backstage has formed the basis of a significant number of works in all genres such as Richard Strauss's opera Ariadne auf Naxos, a play Lend Me a Tenor and musicals 42 Street and Crazy for You. One of the best of these 'show within a show' theatrical events is undoubtedly Cole Porter's 1948 Kiss Me, Kate. This is always excellent material because unless you are in the know, I suspect most audiences will always wonder what really happens backstage before a curtain rises or after it falls. Porter's lyrics for Kiss Me, Kate are some of his wittiest and there is a light-hearted – if rather wordy – 'life becomes art' Pirandello-inspired book by Bella and Samuel Spewack. However, a musical with 'I Hate Men', 'Why Can't You Behave?', 'Too Darn Hot', 'So in Love' and 'Always True to You in My Fashion'' cannot fail to entrance theatregoers, even if again – as here – it cannot assuage some concerns I had as the evening went on.
Fred Graham is an egotistical and louche actor-impresario who has adapted The Taming of the Shrew into a musical and is trying it out in Baltimore. Naturally he takes the role of Petruchio, and playing Kate is his ex-wife Lilli Vanessi, a temperamental movie actress. Fred is pursuing Lois Lane a blond fledgling 'actress' in the company and when he sends her flowers and a romantic note Lilli gets them by mistake, setting the stage – literally – for fireworks to start. Although about to marry the politically ambitious Harrison Howell, Lilli initially assumes that Fred is still in love with her – which is quite possibly true – and soon discovers who the note was really meant for. This happens just before her pivotal scene with Fred in Shrew and it all kicks off.
All productions of Kiss Me, Kate must come to terms – especially in the current #MeToo climate – with how Shakespeare's original story is not a very PC one since it requires the fiercely independent and headstrong Kate to eventually become totally submissive and compliant. To help bring this about she is even put over Petruchio's knee at one point and spanked. Admittedly Lilli/Kate does get to slap the face of Fred/Petruchio, nevertheless the book still retains a lot about chastising women who should know their place. I think the show could be updated: when Petruchio sings 'I've Come to Wive it Wealthily in Padua' it needed a Spamalot approach and unfortunately this production predates Donald Trump or more could be done with Howell, the skirt-chasing republican from Georgia!
Also, the words 'critical edition' applied to anything means that someone – here David Charles Abell and Seann Alderking – has painstakingly collected together every random scrap of – as here – lyrics, music and routines ever associated with the show. I am in no way denigrating the value of this achievement, however, just because you have this material available doesn't mean you have to try and perform as much as you can.
I felt Kiss Me, Kate was crying out for cuts and after nearly three hours (with one short interval) I realised that it was possibly 30 minutes too long. Surely nobody disputes it is all very slow to get underway, despite the spirited scene setter 'Another Op'nin, Another Show'. All you really need before the amusing play-within-a-play begins is to establish the relationship between Fred, Lilli and Lois and find out that Lois's boyfriend, Bill Calhoun, is an inveterate gambler who has signed Fred's name to a $10,000 IOU. One of the exhumations was 'Harlequin Ballerina' described in the programme as 'a Stravinskian passage which accompanied a commedia dell'arte dance sequence prior to its excision during previews in Philadelphia.' Now it holds up the Padua street scene for no good reason and goes a long way to prove that first thoughts aren't always the best.
Jo Davies's production – revived here by Ed Goggin – leaves Kiss Me, Kate alone as much as possible. Colin Richmond's sets are functional and together with his costumes believably recreate the backstage shabbiness I have known in many theatres and an 'on stage' setting for Shrew inspired, I understand, by some of Renaissance artist Benozzo Gozzoli's murals. What Jo Davies does is to heighten the sexual fever of a touring company – though I hope Opera North is not so rife with it! – and the all the Carry On film-style innuendo. Of course, Porter's lyrics offers Davies plenty of scope especially with 'Tom, Dick or Harry' including its 'A dicka dick' finale and Lois's almost endless 'Always True to You in My Fashion'. It had the look of a 1950s Hollywood musical film though Opera North's sets were undoubtably designed for more intimate theatres than the barn-like London Coliseum and it all looked a bit lost on stage at times. I must add here how sensitively the singers were miked and this is not always the case in the West End.
Also suffering over-inflation was the music however superbly it was played by the orchestra filling the pit. David Charles Abell tells us that Porter's orchestrators – Robert Russell Bennett and Don Walker – conceived the score for a line-up of only 25 musicians. Of course, there should not be any need in 2018 for quite so much 'doubling' of instruments as there was then, but even though, Kiss Me, Kate needn't have sounded quite so lush. It was great to see James Holmes back at the London Coliseum where his career as a conductor began. The passion he has for 'classic' musical theatre was clear for all to hear in a lovingly shaped and articulate performance from his orchestra.
Vocally the charismatic Quirijn de Lang has more than a hint of his predecessors Howard Keel (the 1953 MGM movie) or Robert Goulet (the 1968 TV film) as Fred/Petruchio and was convincingly raffish throughout. He overcame the tongue-twisting demands of 'I've Come to Wive it Wealthily in Padua' with aplomb and brought reflective whimsy to 'Where is the Life That Late I Led?' (with more innuendo about 'the leaning tow'r of Pisa'). I genuinely felt he had some regret and then a rekindled love for Stephanie Corley's Lilli/Kate and she was at her best when the pair were warring. She snarled wonderfully during 'I Hate Men' making me truly believe she actually did, but there was also an affecting vulnerability to 'So in Love'. Corley imbued the controversial 'I Am Ashamed That Women Are So Simple' with considerable irony to convince us that it is just a deus ex machina for Lilli to get back with Fred.
Another wonderful reason to see this Kiss Me, Kate is the splendid performance of Zoë Rainey as the tart-with-a-heart Lois/Bianca, she is an engagingly natural comedienne with a refined sense of style for her character from the singular pained air she brought to 'Why Can't You Behave?' to the cheery, self-deceiving edge she gave 'Always True to You in My Fashion'. There was more than a hint of Marilyn Monroe about Rainey's Lois. Alan Burkitt did well in the underwritten role of Lois's boyfriend, Bill Calhoun (Lucentio in the play). If it wasn't clear already what a fine dancer Burkitt was he taps up a storm when given some significant time centre stage during 'Bianca'. Throughout he seemed to channelling Danny Kaye to great effect.
Every time they are on stage Joseph Shovelton and John Savournin are simply scene-stealers as the 'little and large' couple of gun-toting hoodlums who show up to collect on Fred's debt. To their initial dismay and eventual delight, they end up taking part in Shrew. Theirs was a typically British 'Carry On Capone'-style take on a pair of heavies, but they thoroughly deserved their repeated return for yet one more verse during a front of curtain pun-filled 'Brush Up Your Shakespeare'. That showstopping song is Porter's tribute to the Bard and to theatre itself.
Act II begins with a performance of 'Too Darn Hot' led by a vibrant Stephane Anelli (Paul, Fred's dresser) in an extended jazz dance sequence from Kiss Me, Kate's accomplished choreographer Will Tuckett. It picks up considerable 'steam', enabling the members of an eclectic ensemble to fully demonstrate their dancing prowess. Like most musicals of Broadway's 'Golden Years' this is no exception as it now runs headlong to its end after the overlong first half. Lilli realises her boorish new admirer Harrison Howell (Malcolm Ridley) is not the man for her and as Kate, she makes her submissive return to Fred/Petruchio and 'All's Well That Ends Well' … oh sorry wrong play!
Jim Pritchard
For more about Kiss Me, Kate at the London Coliseum click here.