Estonia  Verdi, Don Carlo: Soloists, Lithuanian National Opera Chorus and Orchestra / Martynas Staškus (conductor), Estonian National Opera House Tallinn 7.6.2018. (GF)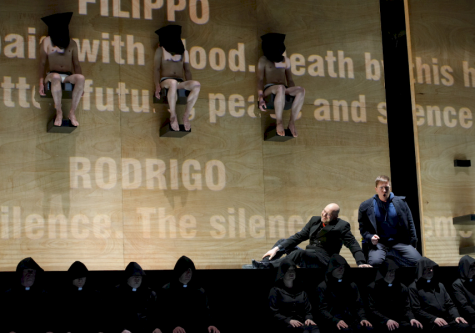 Production:
Director – Günter Krämer
Set Designer, Dramaturg – Herbert Schäfer
Costume Designer – Isabel Ines Clathar
Cast:
Philip II – Askar Abdrazakov
Don Carlo – Kamen Chanev
Rodrigo – Eugenijus Chrebtovas
Voice of the Grand Inquisitor – Liudas Mikalauskas
Elisabeth of Valois – Viktorija Miškūnaitė
Princess Eboli – Eglė Šidlauskaitė
Tebaldo / Voice from Heaven – Simona Liamo
Countess of Aremberg – Ina Tervydytė
The Grand Inquisitor – Česlovas Nausėda
Flemish Envoys – Vladas Bagdonas, Arūnas Malikėnas, Deividas Staponkus, Šarūnas Šapalas, Rokas Šveisteris, Žygimantas Galinis
Just as in June last year the Estonian National Opera was able to offer guest appearances from a nearby company, the Lithuanian National Opera in Vilnius who, besides a ballet performance, also mounted their two-year-old production of Verdi's Don Carlo. It is a work of large proportions – a complete performance of Verdi's original from 1867 will take four hours – but fortunately director Günter Krämer opted for the four-act version from 1884. It keeps the otherwise sprawling score in tight reins without losing anything essential. On the contrary the strands of the various conflicts are elucidated with admirable clarity, especially in this bare and rather timeless production, free from distracting exterior elements – it has much in common with Brecht's epic theatre.
There are only two acts, and with practically non-existent sets and props the various scenes move imperceptibly from one to the next, creating a taut and powerful dramatic intensity that keeps the audience breathlessly captivated. The beginning of the first act is spellbinding even before the orchestra have played a single note: a group of figures in black cowls enter in complete silence from the side of the auditorium and sit down at the front of the stage, facing the audience. Behind them, on a narrow strip of stage a bit above the stage-floor, the action takes place. Entrances are made, primarily, from that group of individuals in black – consisting of choristers as well as soloists – who simply stand up and climb onto the stage. When they have done their bit of acting they normally return to their initial position as passive listeners: a fascinating collective drama. Gradually the central characters grow before our eyes and become individuals in their own costumes. These are more or less present-day and not spectacular 16th century outfits. The odd-person-out, Don Carlo himself, lies on the stage from the beginning, dressed in a white straightjacket: in spite of his heroism and struggle for freedom he is a lame duck. There is very little histrionic action; instead the measures that are taken are basically symbolic, and this is the great gain achieved by this concept. All the intrigues are clearly visualized and explained without big gestures but rather with a glance or a secret message furtively passed behind someone's back.
The power of the church is graphically illustrated in the confrontation between Philip II and the Grand Inquisitor. The latter, physically weak, almost blind, can hardly walk, he is half-carried by his assistant, and he can only whisper instructions to the assistant, who in his turn conveys the messages. It is a bizarre, surrealistic scene, frightening even, and we witness how the frail Inquisitor pronounces the death sentence for Posa and hands over a pistol to the assistant, who carries out the deed. The extent of the activities of the Inquisition is also illustrated by projecting statistics, albeit of debatable reliability. What is beyond doubt is that the statistics most definitely rendered the drama even more chilling and I believe many a spectator felt relieved when it was over.
This illuminating dramatic concept is one thing, but its execution was exceptional as well, dramatically as well as musically. I have heard some excellent Lithuanian singers on various occasions and even visited the National Opera in Vilnius, although unfortunately off-season. This guest appearance was a golden opportunity for a closer acquaintance with the company and made one hope to see more of them in future. The orchestral playing was of the highest quality and the chorus delivered big-voiced singing, in particular in the auto-da-fé scene, though on a very crowded stage. I don't know how much smaller the Tallinn Opera stage is and how much the company had to adjust the production, but technically everything went smoothly.
Among the soloists Kamen Chanev in the title role is worthy of great praise for his heroic singing, delivered bravely with pinioned hands and half blindfolded. His vocal stamina was impressive indeed. His friend Rodrigo – or Posa – was well acted and emphatically sung by Eugenijus Chrebtovas. When the two friends come together in the first act in the famous duet 'Dio, che nell'alma infondere', they were joined by a young monk who jumped up from the row of anonymous black cowls and then returned without much fuss. He turned out to be Liudas Mikalauskas, who later returned as the Voice of the Grand Inquisitor – to great acclaim. A fresh and sonorous bass voice. But we mustn't forget Česlovas Nausėda, who acted the mute role of Grand Inquisitor so convincingly. The most interesting male character in this work is however the many-faceted Philip II, and many in the audience were probably looking forward to the opening of the second part, after the interval when he sings 'dormirò sol'. The role was sung with deep involvement and great sensitivity by Askar Abdrazakov, a typical Slavonic bass with blackness and authority. He is older brother to Ildar Abdrazakov, today possibly the greatest in this Fach. This was indeed a memorable reading of one of the truly great bass roles.
The full-blooded but miserable Princess Eboli hasn't too much to sing, but 'O don fatale' is a smash hit for a brilliant mezzo-soprano and Eglė Šidlauskaitė had all the attributes for a truly dramatic tour de force. The same goes for Viktorija Miškūnaitė in the much bigger role of Elisabetta de Valois. She sported a dark-tinted lirico-spinto soprano with considerable heft up high and great warmth as well. Hers was a reading of deep insight, crowned by a masterly 'Tu che le vanità' in the last act.
Don Carlo in whatever version has long been one of my favourite operas, but seldom have I felt so carried away by a production as with the present Günter Krämer version. To see it one probably has to go to Vilnius, but it is a beautiful town and Don Carlo is more than worth the trip. Don't miss it!
Göran Forsling