Switzerland Richard Strauss:  Gautier Capuçon (cello), Herbert Müller (viola), Anton Sorokow (violin), Vienna Symphony Orchestra / Philippe Jordan (conductor), Tonhalle Maag, Zurich, 9.5.2018. (JR)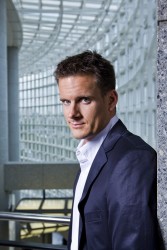 R. Strauss – Don Quixote op.35; Ein Heldenleben op. 40
Can one have too much of a good thing? That thought kept crossing my mind during this all Richard Strauss programme; even I, an ardent fan of this composer's music, had my doubts, despite the fact that two of Strauss's arguably finest tone poems were on offer. Perhaps I was suffering from an overdose, having heard the Tonhalle Orchestra only two days earlier under Lionel Bringuier in a performance of Don Quixote (for review click here).
Whilst the Tonhalle Orchestra certainly had done a very creditable job with Don Quixote, the Vienna Symphony's performance was simply in a different league. Several factors contributed to this, mainly the sensitive and passionate playing of Gautier Capuçon (compared with the rather more prosaic Thomas Grossenbacher, the Tonhalle's principal cellist) and Jordan's more engaged and compelling conducting. Admittedly Capuçon had a huge advantage over Grossenbacher, Capuçon playing a luscious 1701 Matteo Goffriller instrument (Goffriller was a Venetian luthier – auction record 13 years ago for one of his cellos a mere $620,000). Capuçon cut through the thick orchestration with ease in a way in which Grossenbacher simply could not. Herbert Müller, principal viola with the orchestra, reminded us how warm and burnished the viola can sound in the right hands; he almost stole the show from Capuçon. Jordan controlled the dynamics to perfection, crouching down athletically when quiet was required, and had the structure of this complex, episodic work entirely in his grasp.
By way of encore, Capuçon and Müller were joined by the front desk of the cellos for some wistful Shostakovich; a nice touch to include both soloists.
One cannot compare Don Quixote with Ein Heldenleben, both are fine works in their own very different way. Don Quixote is the more amusing, its themes ravishing especially when played on such warm instruments as the cello and viola. Heldenleben is the broader work, thrilling at times, bombastic at others, with the uplifting opening theme which becomes the work's main melody. Strauss wrote both works in the same year (1897), shortly after Also Sprach Zarathustra and apparently stated that, if possible, the two works should be played together. That is rarely done, so full credit to Jordan and the Vienna Symphony for programming them together.
Ein Heldenleben gave all sections of the orchestra the chance to display their individual and collective prowess; on this performance, I would put them a notch above the Tonhalle Orchestra, the Viennese perhaps with the fuller sound and more ebullient playing, slightly less polished than their more restrained Swiss counterparts. (There is a constant contest between Vienna and Zurich outside the concert hall, on the ski slopes in winter sports competitions and also vying for top position as 'the most desirable city in which to live in the world'.)
The solo violin part was taken by the orchestra's leader, Anton Sorokow, and he was nothing short of magnificent. Jordan, with his sweeping arm gestures mimicking Don Quixote's windmills, never let this lengthy work sag and highlighted many a nuance.
Two encores followed rapturous applause: a rumbustious Brahms' Hungarian Dance and, inevitably, we could not go home without a Johann Strauss Polka. The Vienna Symphony played this every bit as well as their Philharmonic counterparts, and so much better than any orchestra outside Vienna. On this evidence, Jordan – who takes over as Music Director at the Vienna State Opera in 2020 – should be a prime candidate to conduct the traditional Neujahrskonzert someday soon. Jordan will relinquish his post at the Vienna Symphony in 2020 when he takes over at the opera, and Andrés Orozco-Estrada will take his place.
The Vienna Symphony are in the middle of a Central European tour taking in Paris, Cologne, Basle, Geneva, Lugano and two smaller German towns, Bad Kissingen and Garmisch-Partenkirchen. Jordan has done much during his tenure to bring this orchestra – with its fine tradition – out of the shadows of that other orchestra in Vienna.
The audience gave an especially warm reception to Philippe Jordan. He is Swiss and the son of Lucerne-born conductor Armin Jordan, who was at the helm of the Orchestre de la Suisse Romande in Geneva for many years; Philippe grew up in Zurich, was a member of the Zürcher Sängerknaben, and every performance he gives here feels like a sort of homecoming.
He knows the Zurich audience have a soft spot for their local lad.
John Rhodes