United Kingdom Tchaikovsky, Swan Lake: Dancers of The Royal Ballet and Orchestra of the Royal Opera House / Koen Kessels (conductor). Directed for the screen by Ross MacGibbon and relayed to Cineworld Basildon, Essex. 12.6.2018. (JPr)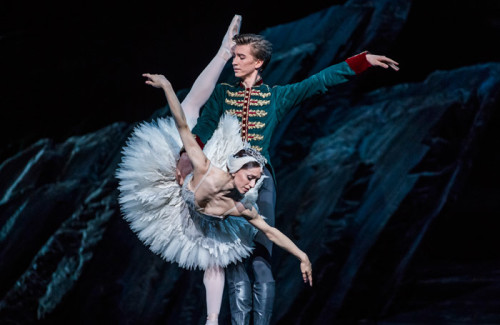 Cast:
Odette/Odile – Marianela Nuñez
Prince Siegfried – Vadim Muntagirov
Von Rothbart – Bennet Gartside
The Queen – Elizabeth McGorian
Benno – Alexander Campbell
Prince Siegfried's Younger Sisters – Akane Takada and Francesca Hayward
Production:
Choreography – Marius Petipa and Lev Ivanov
Additional choreography – Liam Scarlett and Frederick Ashton
Production – Liam Scarlett
Designer – John Macfarlane
Lighting designer – David Finn
Plus ça change, plus c'est la même chose ('the more it changes, the more it's the same thing). A replacement was undoubtedly needed for Anthony Dowell's previous Swan Lake which I saw in its first run in 1987 and many times subsequently until a cinema broadcast during a last outing in 2015 (review click here). I don't think I was alone in considering it 'cluttered' and 'overwhelmed by Yolanda Sonnabend's Fabergé-inspired fussy and over-embellished designs'. Liam Scarlett is artist in residence with The Royal Ballet and his remit seems to have been two-fold; firstly, to make – as we heard from him – the characters 'real' and 'the fairy-tale world we go into believable' and also give the swans back their tutus thereby replacing Sonnabend's long skirts that hid the dancer's legs.
Any reasonably successful Swan Lake needs little more than Tchaikovsky, Marius Petipa and Lev Ivanov's 1895 steps, a royal court, a moonlit lakeside and some swans. In this regard Scarlett succeeds, but otherwise he does little to bring the ballet into the 2010s. For me it was dramatically inert, the story-telling somewhat muddled and the staging could have been from anytime last century. The new technologies that have entered opera in recent years, such as sets and images that are projected, as well as, video, need to be embraced soon by ballet. I recall how in Derek Deane's version for English National Ballet the swans appear as apparitions from a mist of dry ice during the white acts and it is absolutely magical. In Scarlett's Swan Lake the audience could applaud the money spent on John Macfarlane's red and gold Act III set and his lavish costumes for the guests at the royal ball, but when we were by the lakeside in Acts II and IV all we saw was a dingy backcloth and a bit of black jagged rock.
Scarlett starts with a Prologue where Odette is transformed from Princess to swan by the rather creepy sorcerer Von Rothbart (although we also see that in Derek Deane's version). I understand Siegfried and his friend Benno get new solos, though even then Siegfried still never dances as much as he should. The Act I pas de trois is recast for Benno and Siegfried's sisters and they dance again in Act III; Scarlett has re-choreographed some of the ensemble and national dances in the first and third acts; given Act III a new ending and reimagined Act IV, adding a pas de deux for Siegfried and Odette and reinstated music cut from Dowell's Swan Lake. Much of the new choreography blends seamlessly with Petipa/Ivanov though – having seen his Sleeping Beauty and Romeo and Juliet recently – seems to pay homage to Kenneth MacMillan. He retains Frederick Ashton's Neapolitan Dance in Act III which for a brief moment – thanks to Marcelino Sambé and Meaghan Grace Hinkis – takes us to another production entirely.
What is the sense of place and time? At the start we are outside the palace with a prominent pine tree and a backdrop strongly redolent of Caspar David Friedrich. This seems fin de siècle Germany and as the ballet progresses I began to think I was seeing Swan Lake meets Mayerling with Prince Siegfried as the unhappy and conflicted Rudolf. So not only Germany, also Austria and possibly Russia, since Von Rothbart skulks around a lot like Rasputin amongst the Romanovs. At the palace the part-time sorcerer seems to be a Chancellor-like figure and in charge of the military. Later he shows his hand as he wrestles the crown from the Queen's head as the court is in disarray at the end of Act III. No dramaturg is listed as having assisted Liam Scarlett, but one may have been useful to ensure that we were a little clearer about what the malign Von Rothbart's motivations were during this Swan Lake as despite him often being onstage he remained – perversely – a peripheral figure.
One of Scarlett's good ideas is to link Acts I and II as the morose Siegfried seems transported to the lake having got his father's crossbow as a birthday present. Unfortunately, having several black swans appear at the moment of the Queen's downfall and Von Rothbart's gloating in Act III meant an interval was now required – for the swans to change their costumes – before the final act. This was a wonderful coup de théâtre, but it would have been better to repeat the transition that had happened earlier.
The downbeat ending was a little undercooked as Von Rothbart succumbs too easily because Odette chooses to jump into the lake and drown herself. This involved her climbing that rock at the back but – even on the biggest cinema screen imaginable – her sacrifice made little impact. The defeated Von Rothbart might have revealed his 'other self' to Siegfried yet he simply expires on the rock. The final image we are left with is Siegfried forlornly cradling Odette's body whilst the music – with the orchestra under Koen Kessels particularly excelling here – suggesting redemption and the triumph of good over evil. Although we can appreciate in this new #MeToo world Siegfried coming to terms with what he has done; he has lost the only woman he has loved and has doomed her to remain a swan forever. Nevertheless, the more familiar denouement of both dying together and ultimately being united beyond the grave, might still have been the better ending.
The closeup camerawork cruelly exposed that for some of the dancers it looked as if the end of the season cannot come too soon. Perhaps it was the frantic nature of some of Scarlett's new choreography but the corps de ballet seemed to be playing catch-up at times and the swans were not as well drilled as I have seen in the past. The casting of this performance cannot be criticised with several of the Royal Ballet's leading dancers on stage together. To be honest we get too much from Benno and Siegfried's two sisters, yet Alexander Campbell certainly revelled in the role of the Prince's friend and both Akane Takada and Francesca Hayward danced tidily. Bennet Gartside as Von Rothbart did the best with what he was given but – at hinted above – this wasn't much.
Marianela Nuñez is a great dancer and her frequent pairing with Vadim Muntagirov can be the stuff ballet dreams are made of. However, Scarlett's production kept their emotional temperature at cool. Ania Safonova's violin drew us into the Act I white pas de deux and Nuñez's mime as Odette was sublime and crystal clear with no words needed as she told the confused Siegfried about Von Rothbart's curse. This Odette was more human than otherworldly and although her dancing had its usual refined delicacy and lyrical grace it was less spontaneous than usual. There was an impression that some of her solos throughout the evening were taken at carefully measured tempos. Later, Odette's realisation in Act IV of her only choice of action still did not connect with me as much as it should have. Nuñez was undoubtedly at her best as the seductive temptress Odile, her technically infamous fouettés being spot on and some of the best I ever have seen.
Vadim Muntagirov's every expression showed he was experiencing love for the first time with Odette. He was the epitome of someone whose royal duties and the need to make a suitable match weighed heavily on his young shoulders. Muntagirov is still far from a Byronic figure, but this was another exceptional performance in his long line of recent successes. With his exquisite partnering, long elegant limbs, bravura spins and soaring jumps Muntagirov is by far the Royal Ballet's current leading male dancer.
Liam Scarlett deserves credit for having taken on such a herculean task as a 'new' Swan Lake and I expect this cygnet to develop into a fully-fledged swan in coming years.
Jim Pritchard
For information about the 2018/19 cinema season and to find a cinema near you click here.