Switzerland Monteverdi, L'incoronazione di Poppea: Soloists and Chorus of Zurich Opera, Orchestra La Scintilla Zurich / Ottavio Dantone (conductor), Zurich Opera 24.6.2018. (JR)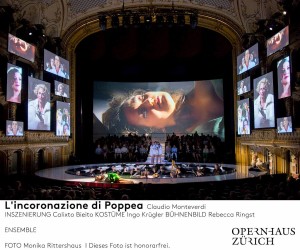 Cast:
Cupid – Jake Arditti
Fortune, Damigella – Florie Valiquette
Virtue – Hamida Kristoffersen
Nero – David Hansen
Ottavia – Stéphane d'Oustrac
Poppea – Julie Fuchs
Ottone – Delphine Galou
Drusilla – Deanna Breiwick
Nutrice – Manuel Núñez Camelino
Arnalta – Emiliano Gonzalez Toro
Seneca – Nahuel Di Pierro
Valletta – Gemma Ni Bhriain
Lucano – Thobela Ntshanyana
Littore – Michael Hauenstein
Liberta – Kristofer Lundin
Production:
Producer – Calixto Bieito
Set – Rebecca Ringst
Costumes – Ingo Krügler
Lighting – Franck Evin
Video design – Sarah Derendinger
Dramaturgy – Beate Breidenbach
Forty years ago Nikolaus Harnoncourt brought Monteverdi's last opera L'incoronazione di Poppea to Zurich and it was a resounding success, given an outstanding production. The opera itself, 375 years old, was forgotten for about 250 years but is, in recent decades, along with other Monteverdi operas, enjoying quite a revival. It was performed only a few days ago in Cincinnati (review click here) and we have John Eliot Gardiner and William Christie to thank for other fine, recent performances.
Full enjoyment of this opera depends on the listener's liking, or perhaps simply acceptance, of 'recitar cantando' (or 'singing speech/spoken singing'). It is certainly not everyone's cup of tea. A fine production and fine singers can, however, alleviate what to some may seem rather tedious, lacking choruses, a fuller orchestra and hummable melodies. Zurich is fortunate to have found fine singers and an enthralling staging which overcomes these hurdles with ease.
Calixto Bieito has pulled out all the stops for this production and, despite the lasciviousness of the plot, keeps naked flesh and sexual innuendo (including some homoeroticism on the part of Nero) to a tasteful minimum. The set deserves special mention. It centres round an elliptical catwalk, which juts into the stalls. In the middle, raised, sit the baroque ensemble, the tops of their theorbos jutting magnificently upward. The stage itself has a central staircase and rear platform, from which the singers descend. Left and right of the staircase are seats, about 120 of them, filled by members of the audience (including members of the Opera House administration) who have been displaced from the front stalls and front boxes. They cannot fidget or allow themselves to fall asleep, though there is no chance of that with all the goings-on. Cameras are everywhere to capture facial expressions, especially of Ottone. Fifteen giant video screens are placed left and right of the stage, so the singers can watch themselves and preen, and we can watch them do so. Video images of the gods frolicking in soapsuds, a blood-stained Seneca dying in his bath (he cuts his wrist with a razor blade in this production) and golden confetti complete the visual display. Bieito, in an interview, says he shied away from the idea of portraying Nero as a fashion guru, but the catwalk is a metaphor of our lives today, with our penchant for selfies, Instagram and Twitter. Shakespeare's 'All the world's a stage…' becomes 'All the world's a catwalk…'.
The production succeeds at all levels. Bieito looked nervous as he emerged at the curtain call, but he need not have feared. The première audience lapped it up.
Costumes were a modern mix. Males were often topless, or with white shirts bearing their chests; blue suits, white pocket handkerchiefs and brown shoes were the order of the day. Seneca wore a smart short dark blue raincoat to signify his elevated status. The women were all glamorous, Poppea in a less than classy lurid green dress, displaying her underwear (Nero pops briefly underneath at one stage, the only really lurid scene). Drusilla is a Marilyn Monroe look-a-like with a very short gold lamé dress, Ottavia wears classy French haute couture. The gods are amusingly portrayed as naughty children in short white nightshirts, with coquettish Fortune discovering her puberty by tantalisingly peeling off a succession of her knickers (I counted ten) and hurling them into the audience. Virtue gorges herself on berries and does a lot of chuckling. The gods watch the proceedings and comment on them from time to time from, for the most part, the platform at the back of the stage.
There is much humour (just one example, when Poppea sticks her stiletto heel into Nero's groin, he jumps an octave), much groping, much bloody ketchup, there is also glitz. At the end, just before the coronation (wedding) itself, all the singers emerge with golden balloons and gallons of gold confetti are thrown around (including into the front Stalls). Finally Nero appears in traditional garb, Poppea in a modern wedding dress and veil. The final amusement of the evening is a personal one; Julie Fuchs is six months' pregnant (she has had to pull out of her next scheduled production in Zurich), and she displayed her 'bump' to the audience. Fuchs has been frustrated by Hamburg Staatsoper for cancelling her appearance as Pamina due only to her pregnancy, citing 'health and safety risks'.
Vocally, honours were pretty even: there were no weak links. The gods were a finely matched trio, led by counter-tenor Jake Arditti (his father, Irvine, leader and founder of the Arditti Quartet) as Cupid. Florie Valiquette (Fortune) is a Canadian newcomer to watch, a first-rate actress with a charming voice; Hamida Kristoffersen (Virtue) supplied a balance with her more lyrical soprano.
Australian counter-tenor David Hansen (Nero) was simply spectacular. Stéphane d'Oustrac (Ottavia) was also in another league, visually and aurally magnetic whenever on stage. Julie Fuchs (Poppea) was convincing of voice and action throughout. Nahuel di Pierro's sonorous bass was also splendid to hear as Seneca, the deep notes resonating with full bloom. Deanna Breiwick charmed us too as Drusilla, Delphine Galou was memorable more for her facial expression than her admirable contralto in the trouser role of Ottone. Emiliano Gonzalez Toro's tenor was strong as Arnalta, and he is a fine actor too. Manuel Núñez Camelino's lighter tenor rather paled in comparison as Nutrice.
La Scintilla played with verve under the expert direction of Ottavio Dantone. His choice of instruments was judicious, particularly the use of the guitar. In the final duet sung by Nero and Poppea 'Pur ti miro, pur ti godo', the guitar accompanies the pair and the melody could have been penned by Elton John for a royal wedding.
John Rhodes